Posted February 01, 2012 on AP on Fox
The call came in the early morning hours, jarring Shaun Ellis from a deep sleep. Two buddies were on the line with some news that would shake the veteran defensive end even more. His best friend, Yusef Jenkins, was dead, shot five times in an altercation that began when he returned a car seat to the mother of his child in Anderson, S.C., where he and Ellis grew up. ''They were like, `Yusef is gone. He's dead.' I'm like, `He's dead? Stop playing,' '' Ellis recalled. ''And, sure enough, it was a true story.'' The funeral was four days later, and Ellis went home to pay his respects. ''He and I grew up together since we were knee high,'' Ellis said. ''We always played sports together - basketball, football, baseball. He was my teammate. It definitely hit me very hard to go see him buried.'' Ellis still holds thoughts of his friend close to his heart as he prepares to take the field Sunday for the New England Patriots in the Super Bowl. He's done it all season as a way to honor Jenkins, and to keep himself motivated on the field. ''I just want to go out and just play hard for him and just keep his memory alive,'' Ellis said Wednesday, speaking publicly about the tragedy for the first time. ''He's one of the reasons that basically kept me motivated. Every day I think about him. It's a tough pill to swallow. I miss him.'' The killing was part of a tumultuous year where Ellis gained a son, was sent packing from a job he held for more than a decade, and was hired for a new one under Bill Belichick in New England. He also had hip surgery, and his mother had quadruple bypass. But it is his friend who stays closest to his mind. ''It's been a wild ride,'' Ellis said. ''I haven't really talked about it except to some teammates. They know. Sometimes I find myself in my locker just staring away, just thinking about my friend.'' Ellis, who was let go by the New York Jets after 11 seasons, was signed by the Patriots after the NFL lockout ended. He quickly bonded with his new teammates, who soon learned the reason he sometimes seemed deep in thought. They did what they could to help. ''He shared his friend's death with us,'' defensive lineman Gerard Warren said. ''This is a family. I think it's a form of therapy to be able to have people that you can share things with and get it off your heart and off your mind.'' On Sunday, New York Giants right tackle Kareem McKenzie may be blocking his teammate with the Jets from 2001-04. He didn't know until Wednesday that Ellis had lost a dear friend. ''Tragedies affect all of us in different ways,'' McKenzie said. ''Sometimes we have this superficial view of the world because we're insulated from everything that transpires, given that it's football, football, football, week in and week out. And to have something like that happen in your life makes you aware that life is more than just what you do for a living, what you enjoy doing. It's about the connections and the relationships that you have.'' Ellis has tried to focus on the bright spots in a year he will always remember. Among them was the birth of his fourth child, his son, Bryson. ''God has extremely blessed me'' with healthy children, he said. And then there was the morning in August when he was getting his kids ready for school. He usually doesn't answer if he doesn't recognize the caller's number. This time, he said, ''something just said, `answer the phone.' '' So he did. '' `Shaun, this is Bill.' I'm like, `Bill? Belichick?' '' Ellis recalled. ''He's like, `yeah, yeah.' Everything else is history.'' He had other opportunities but chose the Patriots because he felt they had the best chance to win a championship. He admitted that ''it was weird'' to switch over to the Jets' fierce rivals but said he was welcomed warmly, particularly by offensive players who were happy they wouldn't have to face him twice a season. Tom Brady had to be especially grateful after having been sacked by Ellis twice in last year's 28-21 divisional playoff loss to the Jets. ''From day one, when I first got here, Tom embraced me,'' he said. Now they're teammates in the Super Bowl, a chance for Ellis to end his turbulent year at the peak of professional football. Best of all, family members plan to drive his mother - who is recovering well from emergency surgery but can't fly yet - from her home in Anderson to the game. On the field, her son will be thinking about his friend who is gone. He believes that will give him strength, and help him cope. It's his first chance to win a Super Bowl ring, maybe his only chance to finally get some closure. ''Hopefully, we can put a great ending to the story,'' he said.
Original Story:
http://msn.foxsports.com/nfl/story/Pa...
THE BACKYARD
BEST OF MAXIM
RELATED ARTICLES
Joe Montana made the rounds on Super Bowl XLVI's Radio Row today, doing promotional work for Volkswagen. And for a few minutes earlier, he stopped to chat with me about Patriots QB Tom Brady. With one more win, Brady will break the 49ers legend's playoff wins record and will match his four Super Bowl rings. I wanted to talk about. But first, I wondered, what does Montana think...
It's totally normal for an NFL quarterback to appear on the cover of Sports Illustrated. For Patriots QB Tom Brady, that was just last week. But for an owner? That never happens. It did today, though. Owner Robert Kraft will grace this week's SI cover, with his MHK patch showing. This is the story from Peter King. The cover is below:
This will be short and sweet. In case you missed, Tom Brady had this gem to say about the hotels in Buffalo, NY: "Even when I started my pro career, he (His Dad) traveled to Buffalo. I don't know if you guys have ever been to the hotels in Buffalo -- they're not the nicest in the world -- but he would travel to those." Oh, the horror. Oh, the who the hell...
INDIANAPOLIS -- When the Patriots lost 24-20 to the Giants in November, their critics pounced: The dynasty is dead. Tom Brady can't do it anymore. This is the year they stumble. Yeah, so much for that. The Patriots went out and blasted the Jets 37-16 that week at MetLife...
The final game of the 2011-2012 NFL season is finally upon us as Super Bowl 46 is finally here. The two teams, the NFC Champion New York Football Giants and the AFC Champion New England Patriots meet again for the 2nd time in 5 years. Related posts: Previous champions who are contenders to win Super Bowl XLVI Super Bowl XLV Predictions & Preview – Inside the Wheelhouse Examining...
Right here at the 50 yard-line inside Lucas Oil Stadium, all the insanity that Media Day can muster is pitted against Bill Belichick, symbol of sobriety and brusqueness. It is the immovable object versus the unstoppable crazies.
Grant already has one interception against Tom Brady, Rob Gronkowski
Tom Brady overthrew a wide-open Rob Gronkowski in the first quarter. Then he threw an interception in the fourth. He was right on target, though, in his postgame assessment.
INDIANAPOLIS — The highest compliment for Bill O'Brien, the Patriots offensive coordinator who will leave to become the Penn State head coach the day after Super Bowl XLVI, came from receiver Wes Welker. "I haven't been able to tell that he is going to be a coach somewhere else...
NFL News

Delivered to your inbox

You'll also receive Yardbarker's daily Top 10, featuring the best sports stories from around the web. Customize your newsletter to get articles on your favorite sports and teams. And the best part? It's free!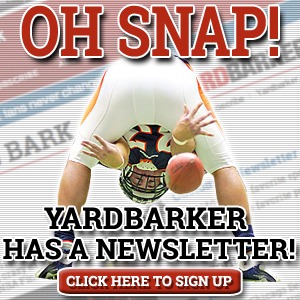 Latest Rumors
The Backyard

Today's Best Stuff

For Bloggers

Join the Yardbarker Network for more promotion, traffic, and money.

Company Info

Help

What is Yardbarker?

Yardbarker is the largest network of sports blogs and pro athlete blogs on the web. This site is the hub of the Yardbarker Network, where our editors and algorithms curate the best sports content from our network and beyond.