Found April 29, 2013 on Awful Announcing:
The biggest storyline as far as the coverage of the NFL Draft heading into the 2013 version was the commotion about NFL insiders tipping picks.  After a couple years of reporters like Adam Schefter beating television with their reports, ESPN and the NFL Network came to an agreement to not spoil picks ahead of time on television.  No tweets.  No insider flashes.  No draftees on phones in the green room.  In truth, ESPN and NFL Network were listening to the fans as a wide majority wanted to first hear the selections from the podium.  Both networks by and large held firm to that strategy over the three days of the draft and kept fans happy by preserving the drama of those announcements for their viewers. But tipping picks on television and tipping picks on Twitter should be two separate things.  Just because ESPN hid Adam Schefter's blackberry didn't mean picks weren't being tipped by others.  A number of NFL reporters NOT working for ESPN and NFL Network were free to try and do what they always do - break news.  One of those individuals was Jason La Canfora of CBS, who was under no pressure, edict, or moral obligation to stop doing his job to protect the television product that is the draft.  He even warned followers last Wednesday: To all the Tweets about people unfollowing me, I have a job to do and if you dont want the info, that's cool. I get it. No one has to follow — Jason La Canfora (@JasonLaCanfora) April 24, 2013 I'm not trying to win votes and for every person unfollowing, others will want the info. It's about reporting info, not silly Twitter count — Jason La Canfora (@JasonLaCanfora) April 24, 2013 La Canfora also tweeted the link to an interview at the Sherman Report that specifically said he would be tweeting any and all draft information (aka tipping picks) as often and as soon as possible... How will I approach covering the draft Thurs nigh, including on Twitter?:shermanreport.com/no-restriction… — Jason La Canfora (@JasonLaCanfora) April 24, 2013 At this point it should have been clear that La Canfora would be trying to have the draft picks before television viewers.  And it was a great situation for him with his top competition (Schefter, Mortensen, Glazer) not engaged in tweeting picks.  La Canfora had the breaking news space almost to himself, which at any other time of year would be a reporter's dream. Nevertheless, throughout the entire draft, people on Twitter were angry at Jason La Canfora for doing what he said he was going to do.  Very.  Angry. Unfollowing people like @jasonlacanfora tipping picks doesn't matter when others I follow RT him — Mikey (@fsmikey) April 27, 2013 @jasonlacanfora stop ******* tipping picks — Nick Whalen (@N__ickk) April 27, 2013 @jasonlacanfora dude are you ******* high? They don't pick for another 2 picks — DaltOnFire ✌ (@dloman62) April 27, 2013 @jasonlacanfora that is what you get for leaking picks. — PDS (@PatDStat) April 27, 2013 @jasonlacanfora Take the rest of the night off. No one needs to know the picks 20 seconds early… #seriously — NNK SkinsFan (@NNKSkinsFan) April 27, 2013 @jasonlacanfora Hey moron, my aren't you tipping picks today? Finish a job when you start it, loser! — Ryan Stern (@RStern33BSP) April 27, 2013 @jasonlacanfora done tipping picks draft nerd?I made 350$ thanks to you. Keep em coming draft monkey — Scranton Strangler (@Scrntnstrnglr) April 27, 2013 @jasonlacanfora quit tipping picks, you're ruining half the fun of the draft for us normal people here at home — Del Nolfi III (@What_the_del) April 27, 2013 "@jasonlacanfora: Bears taking Bostic" instead of tipping picks, maybe you should just try to be correct? — Mike Oldfather (@wildcatmo) April 26, 2013 .@jasonlacanfora Stop tipping picks you douche bag — Sky (@ya_boy_hollywud) April 26, 2013 @jasonlacanfora Quit tipping picks douche — Joe Siedlak (@JSiedlak) April 26, 2013 @jasonlacanfora Why are you tipping picks?...whats your problem Jason? Relax man youre like a spoiled little girl.#Growup — THEBLACKHOLE (@BlackenedHole) April 26, 2013 @jasonlacanforaplease stop tipping picks,making things so anti climactic — Dr.Death (@26DrDeath) April 26, 2013 @jasonlacanfora thanks for tipping picks... UNFOLLOWED — Jake Brahney (@Jakerbaker58) April 26, 2013 @jasonlacanfora stop tipping picks douchebag! — timothy mildrich (@mctimmy83) April 26, 2013 @jasonlacanfora Stop tipping picks!!!WTF man!!! — B.J. Boyce (@gq2scoops) April 26, 2013 Can we all agree that @jasonlacanforais a complete douche for tipping picks when everyone else agreed not to? I think so. #NFLDraft — Matteo (@Raffaele_MD) April 26, 2013 @jasonlacanfora whether we follow u or not someone we do will RT u tipping the picks. Nfl fans now cant use twitter during the draft, thanks — Jamesballanger (@BJamesie) April 26, 2013 @jasonlacanfora STOP TIPPING PICKS YOU ASS!!!!!!!! #NFLDraft — Charles Kangas (@CKBucksNation91) April 26, 2013 @jasonlacanfora QUIT TIPPING THE PICKS!!!!!!!!!!!! — Barry Holland (@louisianajedi) April 26, 2013 @jasonlacanfora STOP ******* TIPPING PICKS — Conner (@Conner_87) April 26, 2013 @jasonlacanfora Way to break the gentlemens agreement about not tipping picks — Nicholas Krotec (@NKrotec) April 26, 2013 @jasonlacanfora Cheers for tipping picks you're such a good "journalist" — Cian O'Connor (@Cianoff) April 26, 2013 Is it really Jason La Canfora's fault that... A) His own followers couldn't get or didn't understand the memo that he was going to tip picks. B) His followers continued to follow him after they discovered he was tipping picks. C) His followers didn't understand that he wasn't beholden to the agreement between ESPN and NFL Network since he works for neither ESPN nor the NFL Network. D) Other people on Twitter didn't understand that tweets can be shared and "retweeted" and being on Twitter carries an inherent risk of discovering picks being tipped. Obviously, the answer is yes.  What a jerk.
Original Story:
http://www.awfulannouncing.com/2013/a...
THE BACKYARD
BEST OF MAXIM
RELATED ARTICLES
Ivory is going to get his opportunity to be a workhorse back for the Jets. They definitely need someone to take the pressure off their 22 quarterbacks they currently have on the roster. Details of the deal provided by Pro Football Zone. The Jets have rewarded recently-acquired RB Chris Ivory with a 3yr/ $10M deal. Great opportunity for the former Saint there — Jason La Canfora...
Jason La Canfora reports that the Dolphins will host free agent RT Tyson Clabo on Tuesday. Dolphins GM Jeff Ireland told reporters following the draft they were likely to add a veteran tackle at some point and they Bryant McKinnie visited with the team on Monday. Eric Winston is also believed to be an option for Miami as well. What is still somewhat confusing is the fact that the...
NFL News

Delivered to your inbox

You'll also receive Yardbarker's daily Top 10, featuring the best sports stories from around the web. Customize your newsletter to get articles on your favorite sports and teams. And the best part? It's free!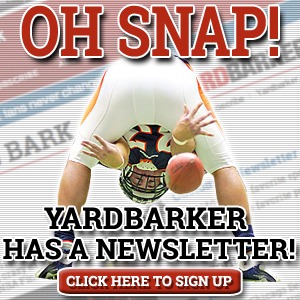 Latest Rumors
Best of Yardbarker

Today's Best Stuff

For Bloggers

Join the Yardbarker Network for more promotion, traffic, and money.

Company Info

Help

What is Yardbarker?

Yardbarker is the largest network of sports blogs and pro athlete blogs on the web. This site is the hub of the Yardbarker Network, where our editors and algorithms curate the best sports content from our network and beyond.