Found June 13, 2013 on BlackSportsOnline:
  As reported by Deadspin, last spring Seattle Seahawks head coach Pete Carroll was visited by retired general and the Army's former vice chief of staff Peter Chiarelli. During his visit to Seahawks headquarters Carroll figured what better time would he have to question a high-ranking official about the truths regarding the 9/11 attacks. According to sources the meeting between Chiarelli and Carroll started off amicably as the two discussed the team and traumatic brain injury research. Then as the general began discussing his eye-witness experience with brain injuries during his time in Iraq, the conversation took a different turn. Carroll reportedly asked if the September 11th attacks were real or had they been planned by the US government. He specifically questioned the validity of the attack on the Pentagon and according to former NFL linebacker Riki Ellison who was in attendance, asked Chiarelli about a number of September 11th conspiracy theories. "Every 9/11 conspiracy theory you can think of, Pete asked about," said Riki Ellison, the former NFL linebacker who now runs the Missile Defense Advocacy Alliance and introduced Carroll to Chiarelli. Ellison, along with Seahawks offensive line coach Pat Ruel, was at the meeting as well. "And he didn't stop at 9/11—he had lots of questions about the role of the military today." Carroll isn't crazy, Ellison said. He's just skeptical. "Pete grew up in California during Vietnam, and during Watergate. That's just the perspective he brings to the table." A source that knows Chiarelli said that the conversation got a little hostile and that he had to leave the room because it bothered him so much. However, Ellison said that wasn't true and that the conversation remained jovial despite Carroll's questions. If you have questions about the validity of 9/11 then why not ask about them when you have a high-ranking official right in front of you, but the truth of the matter is, that even if some of Carroll's questions were valid Chiarelli wasn't going to tell him.
Original Story:
http://blacksportsonline.com/home/201...
THE BACKYARD
BEST OF MAXIM
RELATED ARTICLES
Russell Wilson Seattle Seahawks quarterback Russell Wilson, who was selected in the third round of the 2012 NFL Draft, said focusing on the now will help him overcome the "sophomore slump." "I don't even know those words," said Wilson.  "I am not worried
Magic Johnson, Chris Paul, Rajon Rondo, Russell Wilson? Cross-sport comparisons are usually inaccurate and don't hold much value, but it is very interesting to look at the new breed of quarterback coming through the college ranks. It is a term I refer to as the "point guard quarterback". They are smart, quick, accurate, and can trick a linebacker or safety with deadly ball...
Tarvaris Jackson has passed his physical and signed a one-year deal with the Seattle Seahawks, ESPN's John Clayton reports. Tarvaris Jackson has passed his physical and signed his one-year deal with the Seahawks. — John Clayton (@ClaytonESPN) June 13, 2013   Photo Credit: BuffaloBills.com Jackson was released earlier this week by the Buffalo Bills after being picked up by...
With the entire Seattle Seahawks' 11-man draft class now under contract, we turn our attention toward the impact the 2013 rookie class will have on Seattle's chances in the coming season. Offseason depth charts aren't worth the zeros and ones they're made of, but they can give us a little insight into the conventional wisdom of where players rank on the team. As of this...
Seahawks cornerback Antoine Winfield admits he signed with the Seahawks because they're a Super Bowl contender. "They have an opportunity to do something that I dream about every night and that's win a championship," Winfield said. "…I don't have too much time left. This is Year 15 for me so I'm trying to get it this year." The Seahawks are certainly one of the...
credit: getty images Terrell Owens is not generating any interest on the free agent market. Owens has not received any calls since he was released by the Seattle Seahawks last August. Appearing on the NFL Neworks "NFL AM" show Owens said he had nothing in the works as far as signing with a team. "Nothing as of right now," he said. "So I understand the process. Obviously...
Former Seattle Seahawks quarterback Tarvaris Jackson can soon drop the word "former" from that title, as ESPN.com's Adam Schefter reports that Jackson is set to sign a one-year deal in Seattle. Jackson's return to the Northwest marks the latest turn in the Seahawks' backup quarterback adventure that began when head coach Pete Carroll tapped rookie Russell Wilson to start...
Seattle Seahawks quarterback Russell Wilson was asked whether he's worried about falling into a sophomore slump in his second NFL season. "I don't even know those words," Wilson saidd, via the News Tribune. "I don't pay attention to it. I think the biggest thing is just focusing on tomorrow and focusing on the day — the rest of the day that I have and the next couple...
(Eds: Adds details, quotes. With AP Photos.) By CURTIS CRABTREE Associated Press Seattle's secondary was already one of the league's best and the Seahawks had signed free agents Cliff Avril and Michael Bennett to help bolster the defensive end position. That left defensive tackle as one of the few positions of need for the Seahawks defense entering the NFL draft in April...
Antoine Winfield had no reason to suspect anything was amiss when he headed to the Minnesota Vikings' practice facility to work out back in March. It was a routine Winfield had repeated countless times during his nine seasons in Minnesota. The last thing the three-time Pro Bowl cornerback expected was for Vikings general manager Rick Spielman to call him upstairs and tell him...
Seattle Seahawks corner back Brandon Browner told Sports Radio KJR that he would like to put his hands around Jim Harbaugh's neck (Credit: Seahawks.com) With the Seattle Seahawks and San Francisco 49ers both making the playoffs last year, the NFC West rivalry has grown more intense over the last twelve months. The match up between the two teams may be growing a bit stronger after...
San Francisco 49ers head coach Jim Harbaugh and Seattle Seahawks head coach Pete Carroll have had an ongoing dislike for each other since Harbaugh was at Stanford, and Carroll was at USC. That dislike has ratcheted up a ton since both teams are rivals in the same division, and both teams engaged in an arms race this off-season via the draft and free agency. Both teams will...
Seahawks News

Delivered to your inbox

You'll also receive Yardbarker's daily Top 10, featuring the best sports stories from around the web. Customize your newsletter to get articles on your favorite sports and teams. And the best part? It's free!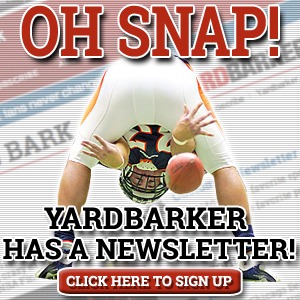 Latest Rumors
Best of Yardbarker

Today's Best Stuff

For Bloggers

Join the Yardbarker Network for more promotion, traffic, and money.

Company Info

Help

What is Yardbarker?

Yardbarker is the largest network of sports blogs and pro athlete blogs on the web. This site is the hub of the Yardbarker Network, where our editors and algorithms curate the best sports content from our network and beyond.