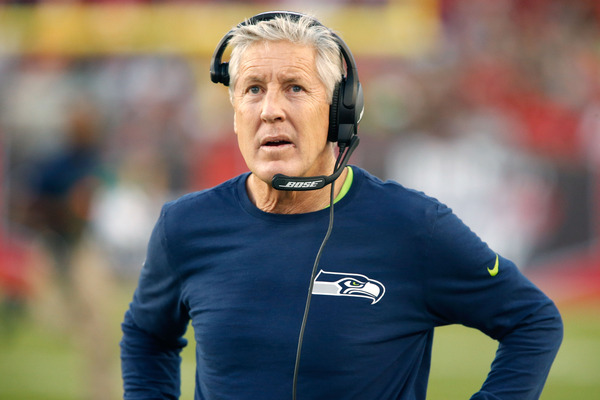 Pete Carroll, a former college coach, isn't a fan of players skipping bowl games.
Reinhold Matay-USA TODAY Sports
Leonard Fournette and Christian McCaffrey have created a lot of buzz with their decisions to skip their respective teams' bowl games, and Pete Carroll is the latest to express his disappointment in the growing trend.
Carroll, a former college coach at USC, told reporters on Thursday that he understands why Fournette and McCaffrey made the choice they did but does not agree with it.
"I don't really like it, I would like guys to play for their teams and battle for their teams and finish up and finish things," Carroll said, according to Mike Florio of Pro Football Talk. "I understand why a guy maybe makes a choice to secure his future more so or be safer or whatever, but I don't agree with it."
As Florio notes, Carroll was not supportive of Mark Sanchez's decision to forego his senior season and declare for the NFL draft when Sanchez played under Carroll at USC. He compared the trend of skipping bowl games to players choosing not to take part in the Pro Bowl.
"I see a little bit of something, you look in the Pro Bowl too and some guys choose not to play in the Pro Bowl now. I think that's somewhat of a trend there," Carroll said. "I don't think you can talk against someone taking the path of, I'm going to look after myself and put myself in the best position for the future and all that. I like doing what's right there in front of us and staying with the people that brought me and work with them and all that and honoring the games that they have, the matchups. It will be interesting to see if those guys were in the finals if they [would have] played."
Most believe believe that McCaffrey would have played for Stanford in the College Football Playoff if the Cardinal made it that far. Fournette would probably do the same with LSU, though he is also dealing with a foot injury.
Ultimately, you can't blame a player who is expected to be a first-round pick for playing it safe when he is about to make millions. Fournette actually responded to some of his critics with this tweet, and he makes a good point. Having said that, star players taking a pass on bowl games is certainly not good for college football as a whole.
MORE FROM YARDBARKER
NFL News

Delivered to your inbox

You'll also receive Yardbarker's daily Top 10, featuring the best sports stories from around the web. Customize your newsletter to get articles on your favorite sports and teams. And the best part? It's free!