Seattle Seahawks head coach Pete Carroll and San Francisco 49ers head coach Jim Harbaugh aren't exactly swapping Christmas cards with one another. Their mutual professional hatred for one another, heck, it's probably personal, goes back to their days as head coaches of USC and Stanford. Who can forget this memorable scene at the end of a Cardinal win in 2009?
The two have continued their frosty relationship since then, and the latest has come from Carroll in wake of Harbaugh's comments about the officiating in last week's game between their teams. Carroll wanted to remind Harbaugh of his comments about the Giants offensive coordinator, Kevin Gilbride. Gilbride had made a passing remark about the play of Justin Smith. This infuriated Harbaugh, as he felt the Giants OC was trying to influence the officiating. However, Harbaugh seemed to be doing the same in regards to the Seahawks defensive backs.
"Wasn't it just a couple weeks ago when they were talking about not doing things like that?" Carroll told Brock & Salk on ESPN 710 in Seattle. "The Giants, Kevin Gilbride, or something like that? You know, I thought there was something about that, you know? Where we don't go out and express our concerns and all."
Get him, Pete! I am interested in seeing what kind of response Harbaugh has once the San Fran media relays this to him. Harbaugh struggles to keep his emotions in check, and will most likely throw a jab back at him. It will probably have to do with how he owns Carroll.
With that all said, Pete did address the criticism head-on.
"I think this was a very normal game for us in terms of how we played, and I'm surprised he felt like the receivers were so overwhelmed," Carroll said. "I thought our guys did a good job. There's always gonna be some calls that you can look at. But our guys played good, solid, hard football. And, you know, Vernon Davis didn't get the ball and their receivers didn't do much, Randy [Moss] got one. I'm sure there's a little frustration on their part."

"If the officials look at it, they won't have anything to even look at," Carroll said. "And I don't think they even need to. It's a regular game. Our penalties have really been going in the right direction, if you look at it. . . . I don't a guy should be able to speak out and go ahead and cause an investigation. It's too easy. I don't think it's gonna happen."
Mr Harbaugh, your turn.
H/T ProFootballTalk
More from The Victory Formation
Jays GM annoyed with Red Sox over trade
Video: Announcer mixes up winner of Jets-Patriots
MORE FROM YARDBARKER
NFL News

Delivered to your inbox

You'll also receive Yardbarker's daily Top 10, featuring the best sports stories from around the web. Customize your newsletter to get articles on your favorite sports and teams. And the best part? It's free!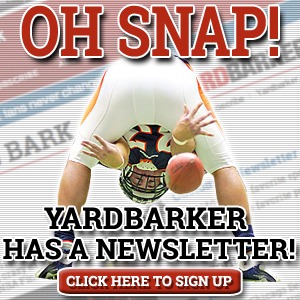 Latest Rumors
Best of Yardbarker

Today's Best Stuff

For Bloggers

Join the Yardbarker Network for more promotion, traffic, and money.

Company Info

Help

What is Yardbarker?

Yardbarker is the largest network of sports blogs and pro athlete blogs on the web. This site is the hub of the Yardbarker Network, where our editors and algorithms curate the best sports content from our network and beyond.