Found July 09, 2012 on Fox Sports Houston:
HOUSTON -- Adrian Peterson's reputation will not go quietly into the night. The Minnesota Vikings running back, who was arrested and charged with resisting arrest early Saturday morning at a Houston night club, has hired Rusty Hardin for legal representation. You probably remember Hardin as the guy who successfully defended Roger Clemens in his perjury trial, and you probably know what this means. The Houston Police Department is about to find out Adrian Peterson doesn't go down easy. According to HPD spokesman Keith Smith, an officer working an extra job at a downtown Houston nightclub called Bayou Club twice told Peterson the club was closed and asked him to leave. The second time around, Peterson shoved the officer, who then told Peterson he was under arrest. Peterson resisted to the point it took three officers to bring him down. The confusing part of the story for most people has been that the only charge against Peterson was for resisting arrest, which begs an obvious question: Resisting what arrest? Resisting his arrest for resisting arrest? This was how Smith explained it. "Say he hadn't resisted," Smith said. "The officer would detain Peterson, call the district attorney, tell them what happened and decide whether any charges would be accepted, whether it would be assault on a police officer and decide what charges there would be, if any. That couldn't happen because Peterson was struggling with the officer. Once he was in handcuffs the DA was called." Peterson, though Hardin, tells a different story. "Adrian Peterson did not resist arrest this past Saturday morning and any suggestion that he pushed, struck or shoved a Houston Police officer is a total fabrication," Hardin said. "He, in fact, was struck at least twice in the face for absolutely no legitimate reason, and when all the evidence is impartially reviewed, it will clearly show Adrian was the victim, not the aggressor." A message left Monday for the district attorney by FOX Sports Houston was not returned. The resisting arrest charge is a Class A misdemeanor, meaning Peterson could have resolved the matter in relative quiet. He has a clean record and would likely face only a fine up to 4,500. But Peterson's spotless image has helped make him one of the NFL's most marketable stars, and he's willing to stand on a stump and bang some pots and pans together to call attention to what he says is a bogus charge, while reminding everybody that he's a good guy. "We have been investigating what happened since Saturday afternoon, and it is absolutely clear to me that the charges should not have been filed, and the Bayou Club owes Adrian an apology for having put out a totally false version of what happened," Hardin said. "Adrian Peterson does not act the way he has been described in the initial reports, and he did not act that way Saturday morning. He was only in that club for 30 to 40 minutes, was never objectionable to other patrons, and never physically resisted any police officer. "Adrian is extremely upset about these false allegations. These charges are totally at odds with the way he has conducted himself throughout his career, and he asks that his fans and the public at large reserve judgment until they hear all the facts. Adrian looks forward to his day in court."
Original Story:
http://www.foxsportshouston.com/07/09...
THE BACKYARD
BEST OF MAXIM
RELATED ARTICLES
The initial reports that surfaced yesterday in the Adrian Peterson arrest somewhat paint him as a victim of over-zealous police officers. That may not be the case as... To read this story, please click the link below.
When news broke that Adrian Peterson was arrested early Saturday morning at a Houston nightclub for resisting arrest, much was still unclear as to what led to the incident. Thanks to Pro Football Talk, we had some of those pieces filled in, but there were still some holes to the story. But now, per TMZ, we have the police's side of what happened, and HPD alleges that Peterson is...
HANDS OFF
Police are claiming that Adrian Peterson shoved an off-duty officer which led to his arrest at a club in Houston after a night of partying.
Minnesota Vikings running back Adrian Peterson wasn't the aggressor and was hit multiple times by arresting officers when he was arrested last weekend, attorney Rusty Hardin told NFL Network. A police spokesperson said Sunday that Peterson pushed an off-duty police officer working security. He was arrested for resisting arrest, fined $1,000 and stayed in jail for several hours...
Getty Images According to TMZ.com, Vikings running back Adrian Peterson was very drunk according to the night club where he was arrested early Saturday morning. The manager at Live at Bayou Place, Daniel Maher, told TMZ that Peterson comes to his club often, but never gets drunk the way he did last night. Maher indicated that Peterson was "throwing his ego around and making people...
Twitter @TomPelissero Thanks to Tom Pelissero of 1500 ESPN in Minneapolis, we have a copy of Adrian Peterson's mug shot. What a pretty mug shot it is. I can't tell if Peterson looks drunk, since I myself rarely drink and don't get drunk. But he does look happy.
Peterson seen practicing more passive resistance Adrian Peterson was arrested in the wee hours on Saturday at a club in Houston and charged with resisting arrest. Depending on who you believe before the video hits the Internet, he was either getting shove-y with an officer trying to clear out the club or Purple Jesus wanted to get some water, which a power tripping cop didn't take...
TMZ has released the video of Minnesota Vikings RB Adrian Peterson's arrest. Peterson was arrested early Saturday morning in Houston for resisting arrest. The details so far have been fishy at best. 
EDEN PRAIRIE, Minn. High-profile attorney Rusty Hardin said the facts presented against Minnesota Vikings running back Adrian Peterson are a "total fabrication" in a released statement on Monday.Peterson, 27, hired Hardin to represent him following Peterson's weekend arrest and charges of resisting arrest following an incident at a Houston area nightclub early Saturday...
HOUSTON -- Minnesota Vikings running back Adrian Peterson was arrested and charged with resisting arrest early Saturday morning in Houston, according to Houston Police Department records. He was held on a 1,000 bond and remained in jail as of early Saturday afternoon, according to the HPD Web site. No other information about the arrest was immediately available. A message left by...
HOUSTON Adrian Peterson's reputation off the field apparently is as important to him as his on-field persona. The hard-nosed Minnesota Vikings running back, who was charged with resisting arrest early Saturday morning at a Houston nightclub, has hired Houston-based attorney Rusty Hardin to represent him. Hardin recently made headlines for his successful defense of major league...
Houston police anticipate a fine for Vikings running back Adrian Peterson stemming from his weekend arrest in Texas. A spokesman told NFL Network Peterson is very likely to be fined because he's facing a misdemeanor charge. Peterson, who hired Roger Clemens' attorney, Rusty Hardin, was arrested early Saturday at a Houston nightclub for resisting arrest. He spent the night...
Vikings News

Delivered to your inbox

You'll also receive Yardbarker's daily Top 10, featuring the best sports stories from around the web. Customize your newsletter to get articles on your favorite sports and teams. And the best part? It's free!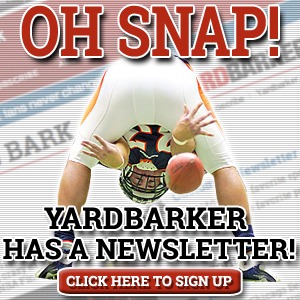 Latest Rumors
The Backyard

Today's Best Stuff

For Bloggers

Join the Yardbarker Network for more promotion, traffic, and money.

Company Info

Help

What is Yardbarker?

Yardbarker is the largest network of sports blogs and pro athlete blogs on the web. This site is the hub of the Yardbarker Network, where our editors and algorithms curate the best sports content from our network and beyond.