Found December 02, 2012 on Fox Sports North:
By Andrew Gruman FOXSportsWisconsin.com GREEN BAY, Wis. Adrian Peterson continues to defy logic. Rushing for 210 yards, including a career-best 82-yard touchdown run, the ultra-talented running back that's less than a year removed from blowing out his knee was the only reason Minnesota was even in Sunday's game. Yet somehow, as ridiculous as it sounds, Peterson tried to take at least part of the blame for the loss. Saying he "missed a couple" and a Christian Ponder interception in the end zone wouldn't have happened if he would have scored on a 48-yard run just two plays prior, Peterson was just performing his role as a leader. Prior to Sunday, only five running backs since the merger in 1960 have rushed for 200 yards and lost. With the Vikings loss to Green Bay, teams with a 200-yard rusher are now 101-8 in the regular season. Even more stunning is in the first six losses by teams with 200-yard rushers, the losing team gave up an average of 35.5 points. Only the New York Jets in 2009 allowed fewer points than Minnesota did with a 200-yard rusher in a losing cause. Thomas Jones rushed for 210 on Oct. 18, 2009 in a 16-13 loss to Buffalo. "It hurts," Peterson, who has now rushed for an NFL-best 1,446 yards this season, said. "The rushing yards mean nothing when you get an 'L'. It's a hard pill to swallow, but we have to move forward. There's two ways to look at it negative and positive. I chose to look at it positive every time." It was Peterson's 12th career game with 150 or more rushing yards, most among active players. Sunday was his third time going over the 200 yard mark, with the others coming in 2007. Getting no help from a putrid passing game, Peterson could have stood at his locker and pointed fingers, he had every reason to. But that's not him, instead he tried to sell the notion that the Vikings didn't win in part because he didn't do enough. "That's the beauty of Adrian Peterson," Vikings coach Leslie Frazier said. "He's the total team guy. He wants to win. I'm just disappointed that we just couldn't win this game when he had such a great day, in this environment. I want to see him celebrate and it's hard to celebrate after this loss." Peterson's big day started with an 82-yard touchdown run, the longest of his career. Breaking multiple tackles along the way, Peterson put Minnesota up 14-10 with 5:21 left in the second quarter. It was as impressive of a run as the sixth-year pro has ever had. "Just got some good blocking up front and it worked out perfectly," Peterson said. "(Fullback Jerome) Felton did a good job on the cornerback and the free safety, the receivers did a good job blocking. I just kept fighting. I was determined to get to the end zone." That wasn't the play that kept racing through Peterson's mind, however. It was the big run he didn't score on that left him frustrated. On the first play from scrimmage in the second half, Peterson burst off left end and appeared as if he had broke another long touchdown run, this time seizing control of the momentum and the game for Minnesota. But he was caught by Packers cornerback Tramon Williams and drug out-of-bounds at the 12-yard-line of Green Bay. Two plays later, Vikings quarterback Christian Ponder threw a bad interception that killed the drive. Instead of at least being up 17-10, if not 21-10, Green Bay had the ball back. "I could have stopped and let him cross my face," Peterson said. "I could have been faster and outran him. I feel there are a lot of things I could have did. Those plays are tough to come by. (Two plays later) we throw an interception, bam. I was like, 'God, this hurts even more'. It shouldn't have come to that." Peterson was incredibly positive for having his banner performance, quite frankly, wasted. Sensing that his team needed to win Sunday to keep Minnesota's slim chances at a NFC North title alive, the NFL's leading rusher came to play. "I knew how critical this game was, and I just wanted to come out and put it on the line, and I can say that we did that," Peterson said. "Our guys came out and played with passion. We just have to eliminate the turnovers and the penalties, and take advantage of the opportunities we had today." With the division title out of the picture, Minnesota sits one game behind Seattle for the final Wild Card spot in the NFC. There's no more margin for error, Peterson feels the Vikings must win out. "To be honest, yeah," Peterson said. "When you just look at it and be real, yeah. That's the way I'm looking at it. We have to finish 4-0." Follow Andrew Gruman on Twitter.
Original Story:
http://www.foxsportsnorth.com/12/02/1...
THE BACKYARD
BEST OF MAXIM
RELATED ARTICLES
Adrian Peterson sprinted 82 yards to give the Vikings a 14-10 lead at half in Green Bay.
GREEN BAY, Wis. -- For the Minnesota Vikings (6-5) to make the playoffs this season, they'll need to win at least one of their two upcoming games with the division-rival Packers (7-4). The first of those two NFC North showdowns is Sunday at Lambeau Field, with both teams' regular-season schedules concluding four weeks later in Minnesota. "I want to go ahead and control...
No disrespect to the Minnesota Vikings who are one of the better stories in the NFL and NFC North particularly. Still they are without their best receiver in Percy Harvin and are riding a very young and inexperienced quarterback in Christian Ponder. The one thing the Vikings (6-5) do have is Adrian Peterson who has miraculously come back from a nasty knee injury to put up MVP-like...
Career-long touchdown run? Check. Franchise day against hated rival? Check. Best 12-game start in Vikings history? Check. Those impressive feats and more were part of Adrian Peterson's comeback tour. Plus, more than a dozen game-day notes that tell the tale of the 23-14 loss.
Adrian Peterson knew what the football game meant when he took the field on Sunday.  He knew of its importance.  He knew that he needed to pull out a victory, that the playoffs could be on the line.  No, not for the Minnesota Vikings, but for your fantasy football team.  For the men and women who drafted him early when everyone else said that he couldn't recover from that ACL...
GREEN BAY, Wis. -- Aaron Rodgers got plenty of help. Adrian Peterson got none at all. The Green Bay Packers won a key NFC showdown against division rival Minnesota 23-14 on Sunday at Lambeau Field. With a win by the Packers (8-4) and a loss by Chicago (8-4), the Packers are tied for first place in the NFC North. The Vikings (6-6), meanwhile, are in deep trouble after losing for...
The Minnesota Vikings will play against the Green Bay Packers on Sunday at 1 p.m. EST on FOX. Green Bay (7-4) is coming off a disappointing loss to the New York Giants last week while Minnesota (6-5) hurt their playoff chances with a loss to Chicago Bears. Green Bay has to feel good about their chances to make the playoffs, their seven wins place them alone as the NFC's first wild...
Two red zone interceptions spoiled the 210-yard performance by Adrian Peterson on the ground. Green Bay was able to hold Minnesota scoreless in the second half with those two interceptions while putting up 13 unanswered points for the 23-14 victory.Green Bay improves to 8-4 and takes over first place in the NFC North with the Chicago Bears loss to Seattle today. Minnesota falls to...
Morgan Burnett's two big plays overcame a whole bunch of them by Adrian Peterson. Burnett picked off Christian Ponder twice, James Starks had Green Bay's first rushing touchdown in almost two months and the Packers overcame a monster day by Peterson for a 23-14 victory Sunday over the Minnesota Vikings. Peterson finished with 210 yards, the most he's had since blowing...
Aaron Rodgers was aided by a good running game while the Vikings had nothing but Adrian Peterson. With the Packers pitching a second-half shutout, they beat the Vikings 23-14 and stayed right in the heart of the playoff race.
Was  Adrian Peterson's epic touchdown run, Robert Griffin III's Monday Night Football debut or the touching leadership of Kansas City Chiefs' coach Romeo Crennel the most memorable selection from the 13th week of the 2012-2013 season? The pictures in this gallery say it all. Please Click Here To View This Gallery
The Green Bay Packers are back atop the NFC North, and they have a very unlikely source to thank. Minutes after the Packers wrapped up their 23-14 victory over the Minnesota Vikings on Sunday afternoon, Seattle beat Chicago in overtime to drop the Bears back into a tie with Green Bay for the division lead. Yes, that would be the same Seattle team that stole a win from the Packers...
NFL News

Delivered to your inbox

You'll also receive Yardbarker's daily Top 10, featuring the best sports stories from around the web. Customize your newsletter to get articles on your favorite sports and teams. And the best part? It's free!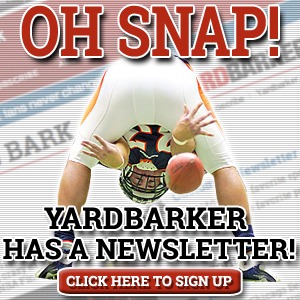 Latest Rumors
The Backyard

Today's Best Stuff

For Bloggers

Join the Yardbarker Network for more promotion, traffic, and money.

Company Info

Help

What is Yardbarker?

Yardbarker is the largest network of sports blogs and pro athlete blogs on the web. This site is the hub of the Yardbarker Network, where our editors and algorithms curate the best sports content from our network and beyond.