Found October 03, 2012 on Denver Sports Chat:
Denver, CO. Broncos vs Patriots….both teams 2-2….Manning vs Brady….This will undoubtedly be the game in week 5 that has all NFL fans across America glued to their TV's, as this individual QB rivalry adds yet another new chapter. It really is, when everything is considered, quite possibly the greatest QB rivalry in the history of the league. These two legends, although not in the same division, have met almost every year throughout their careers. It has been well noted that Brady has had the edge over the years in wins, and overall team success. They have both had their moments though, and many times the Patriots and Colts have had go through each other to reach their ultimate year-end goals. So now that Peyton is back with his new team after a year away from the game, and Tom is looking just as good as he ever has, both guys are playing at very high levels heading into this early season showdown of AFC squads. But for Manning, this game in Foxboro poses an entirely different challenge than he is typically used to. The challenge this week for him is to play well, something he has simply not done during his career in this particular part of the country. Foxboro, Massachusetts has proven to be Peyton's house of horrors over the years. If the Broncos want to upset New England on Sunday, #18 will have the buck his trend of coming up short when facing the Patriots on the road.
As great as all of the legendary NFL QB's have proven to be during their playing days, almost all of them have had a place or two where they just do not play well. For John Elway, he and his Broncos always seemed to have problems getting the job done at Kansas City. For Dan Marino, having to win at Buffalo was an annual chore. Brett Favre had a horrendous record when playing at Minnesota. For Peyton Manning, his stats and his team's success have headed directly south when he has played the Patriots in Foxboro. It is without a doubt, the place where he has put up his worst overall numbers throughout his career. In 10 career games there, Peyton Manning has a 2-8 record, while throwing 18 TD's and 22 interceptions. In fact, everything is down by a large margin, including QB rating and completion %. So the question is, why is this the case? Several reasons, actually. First, typically he has faced a Patriots team over the years that is just amazingly good at home, regardless of who their opponent has been. They beat everyone there, and usually by a significant margin. Also, it makes a lot sense that the fact that Peyton's Colts played their home games in a dome was a huge disadvantage for them. Road games for almost every dome team over the years has typically been a major challenge. Factor in that we all know how dicey the weather can been up in the Boston area in the fall and winter, and this gives New England a massive home field edge over just about everyone. Another key ingredient that has added to Peyton's misery in Foxboro has been that he has had to face his arch rival, Tom Brady, in his building. As we all know, Tom Brady is pretty good, wherever he plays. Since he took over as the Patriots QB in early 2001, he has won over 80% of his games in Foxboro. Often times when the Patriots have hosted the Colts, it has been New England who has gotten an early lead. This has forced Manning to have to throw more than normal, leading to costly errors while forcing passes into coverage. Although Peyton Manning would obviously never back down from any sort of challenge on the road, if he never had to play another game in Massachusetts, he would be just fine with that idea.
The good part for Peyton heading into this matchup this weekend is that it isn't January. I am sure all NFL fans can recall Manning trying to throw through the snow in Foxboro in the playoffs, only to have a New England defender pulling in his errant tosses. Manning walking dejectedly to the sidelines was a common scene several years ago, as he has assuredly never forgotten those dreadful performances. Knowing what kind of competitor he has always been, this alone should provide plenty of motivation to play a tremendous game this Sunday. The questions all week about his poor play in Foxboro will undoubtedly stoke his fire. Through the first month, he has shown that although he may not be quite what he once was, he still has enough to be a very good QB in the NFL, and one that can lead his Broncos to a lot of points. But what happens once he hits that field on late Sunday afternoon, and he remembers all of his mistakes there throughout the years? Will it get the better of him, or will he find a way to overcome these road demons and be the reason that Denver notches a huge road victory? History says don't bet on #18 getting it done this week, as Tom Brady and the Patriots should prove to be too much once again…..an interesting side note…..although it appears that the weather in Foxboro should be in the 70′s all week, a front is moving in late Saturday and into Sunday. Game time weather calls for low 50′s, wind, and a 70% chance of rain. Bet Peyton loves this news….;)
The post History for Peyton Manning at Foxboro anything but good appeared first on Denver Sports Chat.
Original Story:
http://feedproxy.google.com/~r/Denver...
THE BACKYARD
BEST OF MAXIM
RELATED ARTICLES
Peyton Manning is reportedly set to join the ownership group of the NBA's Memphis Grizzlies. Please Click Here To Read This Story
Bruschi's Breakdown: New England Patriots must match wits with Peyton Manning - ESPN Boston: You...
"We're close," Denver Broncos cornerback Champ Bailey said. "But it's going to take more than that."How long are we going to hear the Denver Broncos are not a complete team?Even John Gruden and Steve Young stated the Broncos still need to gel and that probably won't happen until the midway point when Peyton Manning finally feels comfortable.Evidenced by Peyton Manning's...
The Memphis Grizzlies are in the process of being sold and the new ownership group has added a new minority partner: All-Pro QB Peyton Manning. It ooks like Peyton Manning is finally putting all that commercial money to good use. Technically Manning's wife, Ashley, is the one serving as the part owner but it's fair to say that Peyton is the one putting up the cash...
NFL quarterback Peyton Manning is supporting wife Ashley's move to join the group of minority owners being assembled by prospective owner Robert J. Pera, and a person familiar with the deal says former NBA player Penny Hardaway also will be part of the group. Manning and Hardaway join a minority group that includes singer and actor Justin Timberlake and a couple of Memphis businessmen...
Follow @Dan Vasta http://espn.go.com/sportsnation/post/_/id/4640319/brady-manning When talking about the greatest quarterback in the history of the NFL names such as Joe Montana, Johnny Unitas, Dan Marino and perhaps Brett Favre come up. Peyton Manning and Tom Brady will be meeting up for the 13th time in their illustrious careers and they have never disappointed us in terms of...
When Denver travels to New England this Sunday, will it be a match up between the Broncos and Patriots or a battle of Brady and Manning?  Well it's both in a big early season game for both teams.  They both sit at 2 - 2 and believe me, neither quarterback wants to fall under .500 and fall back in their respective divisions.  But let's get real!  The intrigue of this game...
With Broncos – Patriots this week, we have a special guest, Dana Draper with 60 Max Power O. Since his return to football, Peyton Manning has played four games, but on Sunday afternoon, he'll renew his rivalry with the New England Patriots, and is there anyone more qualified than Bill Belichick to game plan against him? This will be the 13th meeting between the two, and if...
It's time to begin a new chapter in the Tom Brady vs. Peyton Manning annals, and personally...
After staring at a possible 1-3 record early in the second half against the Buffalo Bills last week, the New England Patriots put up 45 points in the 2nd half to improve their record to 2-2. The team is starting to get healthy by the day, especially with the news that tight end Aaron Hernandez returned to practice this week. This week's game will be trickier than last week...
The Patriots and Jets may be technically tied atop the AFC East with identical 2-2 records, but that's about where the similarities end. While the Patriots are coming off of a convincing come-from-behind win in Buffalo last week, the Jets are coming off of a beatdown at the hands of the 49ers. Both teams face big games again this week with New England hosting Peyton Manning and...
Denver Broncos News The Denver Broncos head back to Gillette Stadium to face the New England Patriots and I just can't help to feel that we may just have a team that can compete with Tom Brady. [DenverBroncos.com] The tale of the tape is all about bowing down to the alter of Brady and the Patriots.  Barely worth the watch, but one must always remain objective. [NFL.com] Judging...
Broncos News

Delivered to your inbox

You'll also receive Yardbarker's daily Top 10, featuring the best sports stories from around the web. Customize your newsletter to get articles on your favorite sports and teams. And the best part? It's free!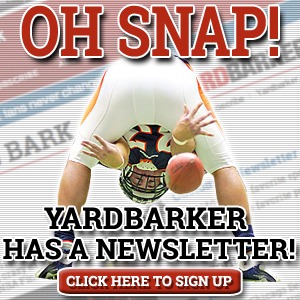 Latest Rumors
Best of Yardbarker

Today's Best Stuff

For Bloggers

Join the Yardbarker Network for more promotion, traffic, and money.

Company Info

Help

What is Yardbarker?

Yardbarker is the largest network of sports blogs and pro athlete blogs on the web. This site is the hub of the Yardbarker Network, where our editors and algorithms curate the best sports content from our network and beyond.