Found November 16, 2011 on Shirts With Random Triangles:
Most embarrassing Peyton manning image I could find.  It was something that probably had to happen sooner or later. A rumor started floating around that Ole Miss might be interested in the services of currently injured Indianapolis Colts quarterback Peyton Manning to replace Houston Nutt as the school's head football coach. Pey-Pey's obvious family connections to the school (father Archie Manning and little brother Eli) paid a big part of this totally but-nuts idea. Of course, there's not a single shred of reality behind it.Archie Manning has already shot the story down. "I've gotten about 20 or 25 e-mails from people in that regard," Archie Manning said, via the Memphis Commercial Appeal. "I passed that on to Peyton. He said, 'Just tell them that I'm 0-10 as an assistant for Indianapolis.'" You think that would put an end it all of this, but it probably won't for at least a day or two. (via Pro Football Talk)
Original Story:
http://feedproxy.google.com/~r/Shirts...
THE BACKYARD
BEST OF MAXIM
RELATED ARTICLES
Indianapolis Colts fans are well on their way to accomplishing their goal for the 2011 season.  The goal itself may have changed rapidly over the course of the offseason, but Indy has done a great job of conquering it.  With only six games remaining in the season, the Colts have a stranglehold on last place [...]
Aaron Rodgers is clearly keeping Peyton Manning's thrown warm this year.  He told ESPN that Andrew Luck should sit and watch Manning if drafted: "Peyton is obviously one of the greatest quarterbacks of all time, and for Andrew coming in who everybody is saying is going to be one of the most NFL-ready players ever, if he's able to be fine with sitting behind Peyton for a...
The Colts now have a two-game lead in the Suck For Luck race, all but ensuring themselves a shot at drafting Peyton Manning's eventual replacement. The only thing standing in their way could be Manning's objection. Apparently that won't be an issue. According to an AP report, Bill Polian stated "Peyton and I have spoken about [drafting his successor], and he's OK with that...
Adam Schefter mentioned in an ESPN chat that the Colts could be interested in trading Peyton Manning and that the Redskins could be interested in acquiring him. This made it into a video on Yahoo! Sports, which made it to the Washington Post. [Bog] And now the Redskins' Kedric Golston is out for the year. Yay. [The Insider] The Skins have released backup-ish safety Kareem Moore...
Power rankings. You hate them. They're so arbitrary and pointless, especially when they include all 32 NFL teams. All you want to know after a good week of NFL action is who the bestest team in the NFL right now, and which one is the absolute barrel-scraping worst. The one so terrible, Bob Costas is grilling it on TV tonight. That's why we have TOP AND BOTTOM OF THE NFL...
Here's a fun game of Internet telephone, in which Adam Schefter not reporting anything led to a report of reports about a report. 1. In his weekly Monday mailbag, the ESPN.com reporter and longtime Shanahan confidante received a question about the Redskins' endless search for a franchise quarterback. Read full article >>
The Indianapolis Colts won't hold back on drafting Peyton Manning's replacement this year if the right player is available. Colts vice chairman Bill Polian said he's already discussed that possibility with his All-Pro quarterback, and Manning is on board. "The bottom line is that if the right person is there, and it has to be the right person, then now is the time to...
Bill Polian says the Indianapolis Colts may look for Peyton Manning's successor in the next NFL draft. Without discussing specific names, Polian, the Colts' vice chairman, told radio listeners he had already spoken with Manning about using Indy's first-round draft pick on a quarterback and that Manning is ''fine'' with that. Speculation, of course, has...
The Indianapolis Colts, and much of Colts Nation, is in denial. While they are frothing at the mouth about securing the services of Stanford quarterback Andrew Luck -- his father, Oliver, reiterated to me that Andrew is definitely coming out in the draft -- they continue to believe there is some way Peyton Manning will stick around while helping Luck earn a Ph.D. in Advanced Quarterbacking.
Colts News

Delivered to your inbox

You'll also receive Yardbarker's daily Top 10, featuring the best sports stories from around the web. Customize your newsletter to get articles on your favorite sports and teams. And the best part? It's free!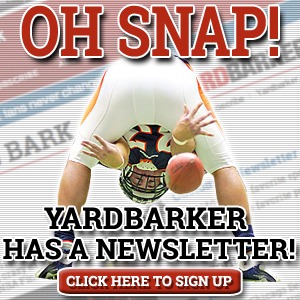 Latest Rumors
Best of Yardbarker

Today's Best Stuff

For Bloggers

Join the Yardbarker Network for more promotion, traffic, and money.

Company Info

Help

What is Yardbarker?

Yardbarker is the largest network of sports blogs and pro athlete blogs on the web. This site is the hub of the Yardbarker Network, where our editors and algorithms curate the best sports content from our network and beyond.