Found March 19, 2012 on Bleed Black & Gold:
I do not hink so but the second to last scenario that I think could happen with Mike Wallace has finally come about.  I was wandering where Peyton would sign and how it could affect Wallace.  Peyton has chosen to go to Denver according to ESPN's Adam Schefter.  Of the three teams that Peyton was looking to join I thought Denver would be the least likely that Wallace would consider. If Manning went to Tennessee that would have been intriguing to Wallace.  The Titans have a great ground game with Chris Johnson.  Their best receiver is Kenny Britt who spends half his time in trouble.  Wallace could be the go to guy for Manning in Tennessee.  I am glad Manning did not choose Tennessee. Now that the Broncos are negotiating with Manning will they have enough money to bring in Wallace?  The Broncos were around $24 million under the cap as of the end of February.  That was not counting the Restricted Free Agents.  They only have 2 though and they both got  the lowest tender offer. Manning could take up a very large chunk of that if he does not take an incentive laden deal.  The Broncos have also signed a couple of Free Agents already in linebacker Joe Mays and safety Mike Adams.  The rumors are already swirling about Manning's old teammates joining him in Denver as well.  The market for Wallace could be tight.  He is going to need around $10 million in year one to ensure the Steelers do not get him back.  The Broncos could be close to that number.  It could put them right on the verge of being able to sign Wallace. Does Wallace even want to be in Denver?  He has made known he wants to play for a contender.  The addition of Manning and the good young defense the Broncos have makes them a contender.  The Broncos also play in a weak division in the AFC West.  They will always be able to make a run at the playoffs. Wallace would be across from Demarius Thomas at receiver.  They would be a good compliment to one another.  The Broncos also have a very good running game.  It will keep teams honest and will give Wallace more one on one coverage.  That is like stealing candy from a baby.  If Wallace gets one on one he is going deep and Manning will find him. Wallace is averaging 1068 yards per season with Pittsburgh.  As a starter the past tow seasons he is averaging over 1200 yards and 9 touchdowns.  Those are some very good numbers.  Wallace and Ben Roethlisberger work well together.  They are on the same page.  They missed more often after Roethlisberger was hurt the second half of the season but in the beginning of the year Wallace was on pace for huge milestones. Wallace should have some questions of Manning as well if he is thinking about Denver.  How long can Manning play for?  How healthy is he?  If Wallace stays in Pittsburgh he will have Roethlisberger for the bulk of his career.  He may only have Manning for 3 more seasons.  Then he will have to start over again with a new quarterback a third time.  That may not be something Wallace wants. There are pros and cons for Wallace.  I do not see him leaving for Denver.  I did not see Manning headed to Denver either with the cold but it happened.  With allt he crazy findings in the NFL who knows.   
Original Story:
http://feedproxy.google.com/~r/BleedB...
THE BACKYARD
BEST OF MAXIM
RELATED ARTICLES
Now that we know the final field of three for the Peyton Manning sweepstakes, it's time to be logical about this thing. Manning has stated that Monday or Tuesday is the day that he will sign with his new club. So the time is now to sit back and compare some data and predict a winner. Each team has is built uniquely and each team has its own share of pros and cons. We will take...
The following fantasy football e-mail chain between Ryan Fowler and Joel Beall took place on March 20 and 21, 2012. The topic featured was not discussed in advance. From: Ryan Fowler Sent: Tuesday, March 20, 2012 2:29 PM To: 'Joel Beall' Subject: The Pedestal: Peyton Manning Joel - On the Pedestal: Peyton Manning It's one of those moments. Peyton Manning inking...
The Denver Broncos have won the race to sign free agent Peyton Manning following the star quarterback's release by the...
Cradle of the quarterbacks?Some unknown player named Peyton Manning agreed to join the Denver Broncos today, ending weeks of speculation where he would end up.  Peyton's arrival in the AFC West makes the division a sudden powerhouse in the arms race that is the NFL.  With Manning, Palmer and San Diego's Rivers three of the four AFC teams have QB's that were taken in...
According to Mike Florio of ProFootballTalk.com,free agent wide receiver Mario Manningham has signed a two-year deal with the San Francisco 49ers. There was simply no way the Giants were going to retain Manningham. He was looking for a lot more money then they could offer. Even though I believe he didn't get the kind of pay day he was looking for. Right now we don't have...
Englewood, CO (Sports Network) - Peyton Manning is officially a member of the Denver Broncos. The four-time MVP and future Hall of Fame quarterback signed with the Broncos on Tuesday, less than two weeks after being released by the Indianapolis Colts. "I'm very excited to begin the next chapter of my playing career with the Denver Broncos," Manning said at an afternoon...
After going after Peyton Manning, and then hosting Matt Flynn and Alex Smith, the Dolphins landed a quarterback on Monday with multiple reports indicated they have come to terms with former Jacksonville starter David Garrard.
He was regarded as the second best free-agent quarterback on the market. I'm not quite sure why since he hasn't proven anything, but nonetheless many people regarded him as the No. 2 guy on the market behind Peyton Manning. The Seattle Seahawks agreed that he was a top free-agent quarterback as they signed Matt Flynn to a three-year deal worth $26 million, $10 million of...
Adam Schefter reports that Peyton Manning has called John Elway this morning and told him he is looking forward to playing for Denver.
So in one of the more strange, weird, wacky QB free agency shuffling going on right about now, the Seattle Seahawks may have struck first as the NFL waits for Peyton Manning to make up his mind already.  Peter King, among many, is now reporting that Matt Flynn has agreed to a 3-year, $26 million dollar deal with the Seahawks, but only $10 million of it is guaranteed.  And per King...
NFL News

Delivered to your inbox

You'll also receive Yardbarker's daily Top 10, featuring the best sports stories from around the web. Customize your newsletter to get articles on your favorite sports and teams. And the best part? It's free!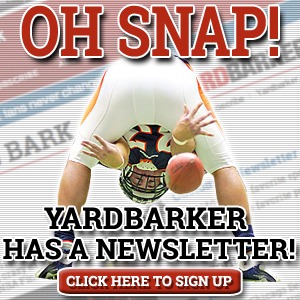 Latest Rumors
Best of Yardbarker

Today's Best Stuff

For Bloggers

Join the Yardbarker Network for more promotion, traffic, and money.

Company Info

Help

What is Yardbarker?

Yardbarker is the largest network of sports blogs and pro athlete blogs on the web. This site is the hub of the Yardbarker Network, where our editors and algorithms curate the best sports content from our network and beyond.