Found October 29, 2012 on WhoDeyFans:
This will probably be the toughest game the Bengals play this season. There are a boatload of reasons the Broncos should dominate the Bengals on Sunday. 1. Shaky o-line vs an incredible D-Line. 2. Terrible coverage ability by the secondary facing a QB that lives on picking apart a secondary. 3. Weak run stuffing vs a team that can run the ball. 4. A QB that has never lost to the Bengals (7-0) 5. Bengals are 3-5-1 coming out of the bye. 6. Top 5 3rd down offense against worst 3rd down defense. 7. QB that audibles to exploit defense against a LB core that is easily exploited. 8. The Bengals can't run the ball. Do the Bengals have a chance in the game? (aside from the any given Sunday chance every team in the NFL has?) Yes. So how can the Bengals beat the Broncos? Three things. 1. With the extra week of practice the Bengals should have studied how Manning is playing this season. Manning has shown a tendency to force the ball in the first half this season. Almost all of Denver's games have been prime time, so chances are you have seen them at some point. Think back to the Falcons and Chargers games. Manning was forced to get rid of the ball quicker than he wanted and tried to force passes to his wide outs. This led to several turnovers. The Bengals solid defensive line needs to hit and pressure Manning the whole game. No easy task as Denver does have some great tackles, but other teams have shown it can be done. Pressure Manning to get the ball out too soon and good things can happen for your team. 2. No one in Denver can cover AJ Green. This will force the defense to double cover him. (unless they play him like the Redskins. If that happens AJ will be open all day). Receivers like Sanu, Hawkins and Gresham are going to need to take advantage of the attention Green is getting. Move the ball down the field in chunks. Make every play a positive and keep your self out of third and long. 3. Contain. Manning is going to exploit this defense. However, you can control the exploitation. You know that the middle of the field has been open based on out linebacker play. The Broncos know it too. Use that to contain Manning's passes to quick hits for short gains. Keep the clock moving so that you don't have to march down the field in a shootout with the Broncos. Long drives on both sides keep the score down and the Bengals in the game. In order for the Bengals to be in this game they need to play well. The stupid turnovers need to be eliminated and the unimaginative coaching needs to revert to what we watched in weeks 2 – 4. We get it, the Bengals are dogs. Denver looks to be one of the better teams in the league and is probably improving each week. All we can hope from our Bengals is some inspired play and a strong game plan. Based on what we have seen in the last 3 weeks that is a big hope. But, with a bye week and some time to heal, hopefully the Bengals can right the ship and start with the beating of a very good NFL team at home this Sunday. WhoDey
Original Story:
http://whodeyfans.com/2012/10/29/peyt...
THE BACKYARD
BEST OF MAXIM
RELATED ARTICLES
The more time goes on the more Peyton Manning and John Elway seem to be a match made in heaven. There was no telling what Elway had up his sleeve this offseason, but we knew he was on track to make this Broncos team better than they were. As we sit back and watch the progression of Demaryius Thomas and hear how Peyton makes him feel like a kindergarten student, one must wonder if...
Peyton Manning. 6'5", laser-rocket arm...Papa John's Pizza franchisee. Peyton Manning is continuing to show his commitment to Denver on and off the field, as he was recently named a franchisee within the Papa John's Pizza brand. As the newest franchisee of Papa John's -- which is the official pizza sponsor of the NFL -- Manning, in partnership with Papa John...
The Denver Broncos are relieved Peyton Manning wasn't seriously injured on a hard hit by New Orleans Saints defensive end Martez Wilson. The Broncos are expected to have the NFL look at the play from Sunday night's game in which Manning banged his right thumb on Wilson's helmet just before the crown of that helmet hit the quarterback in the chin. Although no flag was...
DENVER -- Peyton Manning brushed aside a bloodied thumb to come out on top in his matchup with onetime Super Bowl rival Drew Brees. Manning threw three touchdown passes and twice oversaw scoring drives covering more than 90 yards to lead the Denver Broncos past the New Orleans Saints 34-14 Sunday night. Two of the scoring passes came after he tore his thumbnail when he struck...
About half the season is already over in the NFL and now is a good point to sort of reflect on the season.To take a look at some teams that are in good shape, and some that aren't in good shape. Right now, I want to focus on the Denver Broncos and talk about them for a little bit.The Broncos are one of the teams that are looking really good, and should continue to look even better...
The dinged-up thumb. The New Orleans defense. Neither came close to slowing down Peyton Manning on Sunday night. Despite banging his throwing thumb on an opponent's helmet in the second quarter, Manning passed for 305 yards and three scores, led a pair of 90-plus-yard touchdown drives and easily outplayed Drew Brees to lead the Denver Broncos to a 34-14 victory over the Saints...
Drew Brees came to Denver and surpassed John Elway. He was no match for Peyton Manning. Brees welcomed back New Orleans Saints interim coach Joe Vitt from his bounty banishment by extending his NFL record to 50 straight games with a touchdown toss, the 300th of his career. He added another just before the 2-minute warning that surpassed Elway for sixth on the career list. Almost...
The Saints and Broncos both come into Sunday night's game with impressive victories in their previous games. The Saints won their second game in a row with a 35-28 win over the Bucs, while the Broncos had a 35-0 run to end their game two weeks ago against San Diego. Peyton Manning has the second-best passer rating in the league. (Photo by Jeffrey Beall via CC BY-SA 3.0) New Orleans...
Hero: Andrew LuckColts fans have to be happy with Luck. How often does a franchise luck into drafting back-to-back Hall-of-Fame-caliber guys?There was Montana and Young and maybe now Manning and Luck.Indianapolis knew they were getting a guy who would transition into the NFL well, but there was no indication he would be this good so soon. It wasn't an exceptional game: 26 of 38...
I was originally going to lead off with talking about Stafford and his breakout performance for the year as he's been letting many of the people who drafted him down so far.  He did indeed look like the Stafford of old today, which means he still can't run faster than Peyton Manning and he still [...]
It's the midway point of the 2012 NFL season and Peyton Manning's Broncos are quietly lurking in the middle of the AFC conference standings with a 4-3 record. They've only won one game on the road, the Patriots and Texans each scored 31 points on them, and both of those teams seem to be getting a lot more media attention as the "teams to beat" out of the AFC...
Both these teams are playing for a chance at a wild card slot because the only way they catch the Texans is if Houston starts giving up.The Colts delivered a haymaker that knocked Tennessee down but not out after winning the game in overtime.The Colts are over .500 and Andrew Luck has one more win in his rookie campaign than Peyton Manning had in his. The Titans had their third...
Bengals News

Delivered to your inbox

You'll also receive Yardbarker's daily Top 10, featuring the best sports stories from around the web. Customize your newsletter to get articles on your favorite sports and teams. And the best part? It's free!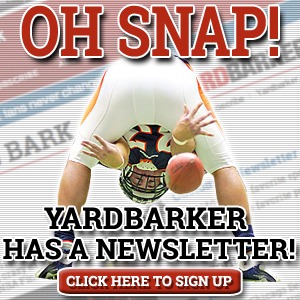 Latest Rumors
Best of Yardbarker

Today's Best Stuff

For Bloggers

Join the Yardbarker Network for more promotion, traffic, and money.

Company Info

Help

What is Yardbarker?

Yardbarker is the largest network of sports blogs and pro athlete blogs on the web. This site is the hub of the Yardbarker Network, where our editors and algorithms curate the best sports content from our network and beyond.