Found June 17, 2013 on Football Nation:
My, oh my, how the NFL off season flies.It seems like just yesterday, Super Bowl MVP Joe Flacco was hoisting the Lombardi trophy, Ravens' legend Ray Lewis said his goodbyes and the staff in Baltimore decided to get rid of the half the defense. Soon after, Roger Goodell dug himself even deeper with the fan base (and running backs for that matter), and eight new head coaching vacancies were filled in a matter of weeks.Well, already we're months past the Draft, and we're even through with OTAs. With that, training camp is literally right around the corner and that means the 2013 season is finally starting. Honestly though, does it ever end?Some may hate this part of the season, considering there still isn't any football being played. Well, believe it or not, training camp and the decisions made during that time can make or break a teams year.There will be lots to look out for,  from heated roster battles, seeing how the new head coaches will fair, and to just flat out a...
Original Story:
http://www.footballnation.com/content...
THE BACKYARD
BEST OF MAXIM
RELATED ARTICLES
Mike Missanelli held one of the most controversial interviews in recent history on 97.5 The Fanatic just a couple Fridays ago. He conversed with newly acquired cornerback Cary Williams about the headlines he is making in the Delaware Valley. Middle-aged Philadelphia Eagles fans recall ex-NFL star Ricky Watters making his infamous "For who? For what?" comments very well. Ironically...
Nobody knows the torture of suffering through bad head coaches quite like Philadelphia Eagles fans.  Hell, there are even some fans who considered the last few years of Andy Reid, the winning-est coach in team history, as cruel and unusual punishment. However, there is no way on earth Andy Reid would or should ever make anybody's list of worst head coaches in the NFL. Recently...
I don't think I have kept my love for the Matt Barkley pick a secret since it happened.My belief is that Chip Kelly would not have made the trade up in the fourth round if he wasn't so sure that Barkley would fit into his offense nicely.Everyone knew there would be a quarterback battle in Philadelphia at the end of last season, but now it's a competition between Michael...
Categories: BREAKING NEWS Eagles General News NewsTags: Chip KellyDennis DixonMatt BarkleyMichael VickPhiladelphia EaglesEagles head coach Chip Kelly has gone out of way to make it seem that there's a serious chance second-year quarterback Nick Foles could beat out Michael Vick for the starting quarterback position.  I think there's very little chance of that happening...
Whether or not you consider yourself to be a fan of DeSean Jackson or even the Philadelphia Eagles, the  documentary "The Making of a Father's Dream" is worth a watch for anyone ranging from football fanatic to those who appreciate a compelling family story. As the tagline of the film, "It takes a village to catch a break," indicates, the documentary is about so much more...
Categories: BREAKING NEWS Eagles News Wide ReceiversTags: Byron JacksonDeSean JacksonPhiladelphia EaglesEagles wide receiver DeSean Jackson was at St. Joseph's University on Friday for a local screening of the documentary "DeSean Jackson: The Making of a Father's Dream".   Jackson's brother Byron started filming his younger brother's career at a very early age...
Today's installment of Choose Your Quarterback pits Joe Flacco vs. Ryan Tannehill, the Nos. 21 and 22 assets in my rankings of the 32 presumed starting quarterbacks. Here's a week-by-week fantasy breakdown of Tannehill vs. Flacco, just in case you're torn on which quarterback offers better value in Rounds 6 or 7: Week 1Flacco (@ Denver) over Tannehill (@ Cleveland)...
Cincinnati Bengals, SLIGHTLY DOWN: When you're at the top of a division, it's hard to gain much more. News broke this week that the Bengals are the team that will be featured on this year's "Hard Knocks" season. While it's not a huge issue, the added distraction of television exposure won't exactly help the Bengals. Baltimore Ravens, FLAT: Over...
Harrison and Lewis have defined the Steelers-Ravens rivalry for years. (Photo credit) In 1996, owner Art Modell moved his Cleveland Browns to Baltimore, leaving behind all traces of the former franchise. Brown became purple, "Browns" became "Ravens," and one of the fiercest rivalries in the NFL, Steelers-Browns, became a new-yet-not-new rivalry, Steelers-Ravens.  The...
When the Cincinnati Bengals last appeared on HBO's "Hard Knocks" in 2009, one of the most memorable moments featured a player getting pulled out of bed at 5:30 a.m. so The Turk could deliver the news he was being cut. Such a procedure certainly wouldn't fall under the more "humane" process that NFL commissioner Roger Goodell is seeking for how player...
NFL News

Delivered to your inbox

You'll also receive Yardbarker's daily Top 10, featuring the best sports stories from around the web. Customize your newsletter to get articles on your favorite sports and teams. And the best part? It's free!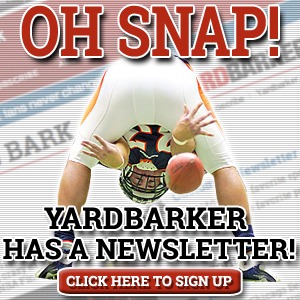 Latest Rumors
Best of Yardbarker

Today's Best Stuff

For Bloggers

Join the Yardbarker Network for more promotion, traffic, and money.

Company Info

Help

What is Yardbarker?

Yardbarker is the largest network of sports blogs and pro athlete blogs on the web. This site is the hub of the Yardbarker Network, where our editors and algorithms curate the best sports content from our network and beyond.