Found November 19, 2012 on isportsweb.com:
What a terrible game. This is the lowest of the low. The Philadelphia Eagles were destroyed again; this time by the struggling Washington Redskins. The final score of this game was 31-6, and this was game, set, and match for the Philadelphia Eagles 2012 season. The birds now sit at 3-7 and find themselves in the cellar of the NFC East for the first time in a long time. The worst part is that we still have to sit through six more games of this junk. But hey, the players don't seem to care about losing, so why should we? Offense: The Eagles could only muster a pathetic six points against the lowly Redskins defense, which ranks near the bottom of many defensive statistical categories. Rookie quarterback Nick Foles looked like, well, a rookie. Foles completed 21 passes for 204 yards and threw two interceptions. His first interception came on the third play of the game, and the Redskins scored two plays later. It was all down hill from there, and that was with about 13 minutes left to go in the first quarter. The abysmal performance was not all Nick Foles' fault. The offensive line was pathetic yet again. Foles ran for his life nearly every play. Offensive line coach Howard Mudd looks on helplessly as his line struggles to block the lowly Washington Redskins. The few times the line provided good protection was tainted by holding calls. I understand that four of the five starters are hurt, but this is just embarrassing. I'm five foot seven and 165 pounds but I could definitely block better than these bums on the offensive line. Heck, all I would have to do is get in the way of the defender and I would be doing a better job than these guys. LeSean McCoy rushed for 45 yards on just 15 carries. He was carted off the field with one minute left in the game and has been diagnosed with a concussion. Why was he even on the field with a minute left in the game when the Eagles were down 31-6? Head coach Andy Reid explained in his press conference that they were trying to come back and win the game. Come on, man. I guess that's the right attitude, but I have a better chance of walking on my hands from Philadelphia to San Francisco than the Eagles coming back in the final minute of this game. The outside receivers were non-existent in this game. DeSean Jackson caught two passes for five yards. Jeremy Maclin did not catch any passes and was targeted only three times. LeSean McCoy was actually the leading receiver for the Eagles, catching six passes for 67 yards.  Riley Cooper chipped in with five catches for 61 yards and Brent Celek caught five passes for 42 yards. Grade: F Defense: The defense was just as bad as the offense. Robert Griffin III looked like a superstar, completing 14 passes for 200 yards and threw four touchdown passes. The Eagles defense, however, made it easy for him. The low point of the game was a 61 yard touchdown pass to Santana Moss, who jumped over both of the Eagles safeties to make the catch. The second worst play of the game was for the defense was a 49 yard touchdown pass to Aldrick Robinson. There was no one within 10 yards of Robinson, who has been the third string receiver for the Redskins all year. The run defense wasn't much better. RG3 rushed for 84 yards on 12 carries. Alfred Morris rushed for 76 yards on 20 carries.  The Redskins could have rushed for -10 yards and they still would have blown out the Eagles. Somewhere out there, Juan Castillo is laughing. Grade: F It is now a pretty safe bet that Andy Reid will not be back next year. If the Eagles really want to get back to winning, getting rid of Andy Reid will not be nearly enough. I have never seen an Eagles team with players that just don't care if they win or lose. There is no effort out there. The Eagles front office must blow up this entire team and start from scratch. There is only about five or six starters that I would keep on this team. The end of the season cannot come soon enough for Eagles fans. Hang in there, we only have six games left.  
Original Story:
http://feedproxy.google.com/~r/isport...
THE BACKYARD
BEST OF MAXIM
RELATED ARTICLES
Philadelphia Eagles running back LeSean McCoy ended up getting carted off the field during today's loss to the Redskins. An awful sight: LeSean McCoy to be carted off the field after taking a helmet-to-helmet hit with 1:45 to go in this game. — Dave Spadaro (@davespadaro) November 18, 2012 McCoy ended up undergoing a concussion test the locker room and it was determined that...
Philadelphia running back LeSean McCoy, who suffered a concussion during last Sunday's loss to the Redskins, is doubtful for Monday's game against Carolina.Fantasy Spin:At this point, the Eagles will need a miracle to make the postseason so perhaps the team will opt to rest their injured star running back instead of rushing him back (no pun intended) for a largely meaningless...
Eagles running back LeSean McCoy left Philadelphia's 31-6 loss to the Washington Redskins in the fourth quarter with a concussion. McCoy was taken off the field on a cart after staying down following a 7-yard run with less than 2 minutes left Sunday. He ran for 45 yards on 15 carries and gained another 67 yards on six catches. McCoy entered the game with 702 yards rushing...
Eagles running back LeSean McCoy suffered a concussion in the final minutes of yesterday's blowout loss to the Redskins and is causing some to wonder why was McCoy playing at that junction in the game? "I don't regret it. It happened," Reid answered, via Jeff McClane of the Philadelphia Enquirer. "Do I wish he wouldn't have been hurt? Yeah, I do. I wish he wouldn't...
Philadelphia halfback LeSean McCoy suffered a concussion during Sunday's loss to the Redskins.Fantasy Spin:Talk about adding insult to injury. At this point, the Eagles will need a miracle to make the postseason so perhaps the team will opt to rest their injured running back instead of rushing him back for a largely meaningless Week 12 game against Carolina.
In the final minutes of a lopsided loss to the Washington Redskins, with the Philadelphia Eagles trailing by 25 points, running back LeSean McCoy suffered a concussion. There was no immediate word on the long-term implications for McCoy, because NFL rules will require him to pass a variety of tests in the coming days before…
The tumultuous football season in Philadelphia got a little more bleak on Sunday afternoon. Trailing 31-6 with just over two minutes left against Robert Griffin III and the Washington Redskins, Eagles running back LeSean McCoy was hit hard by safety Madieu Williams. McCoy was taken off on a card and suffered a concussion on the play, according to Michael Fabiano of NFL.com. But...
Now sitting at the bottom of the NFC East the end of Andy Reid needs to be now. Clearly the architect of this underperforming and untalented bunch needs to be fired. Forget the first 55 or so minutes of the football game in which you saw the Eagles do their imitation of a midget football team. It was the last minutes running the game out when the under-utilized LeSean McCoy was running...
Philadelphia Eagles coach Andy Reid said Monday that running back LeSean McCoy's concussion is not as bad as quarterback Michael Vick's, but it is not clear when either of them will return, NFL.com reported. Reid said both players are still in Stage 1 of concussion testing, which means that their baseline tests are not normal. McCoy experienced headaches Monday and Vick...
The Eagles were anything but a picture of confidence as they prepared to walk onto FedEx Field on Sunday. Image via the Philadelphia Eagles. The Philadelphia Eagles may not win another game in 2012. It's not a statement made to be alarmist. It's one that may well be the reality. I'll still be watching/suffering through ever single game. But there are no longer any expectations...
All eyes will be on Nick Foles come Sunday at FedEx Field. Photo via New York Daily News. We all know that football is a team sport and that to get a win, all phases of the game must come together to propel a group to victory. But come Sunday, it's going to be all about the quarterbacks. When the Philadelphia Eagles face the Washington Redskins at FedEx field on Sunday afternoon...
Eagles News

Delivered to your inbox

You'll also receive Yardbarker's daily Top 10, featuring the best sports stories from around the web. Customize your newsletter to get articles on your favorite sports and teams. And the best part? It's free!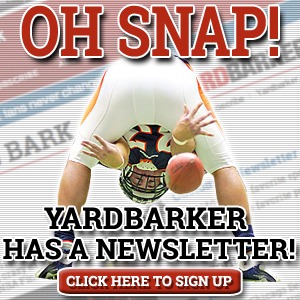 Latest Rumors
Best of Yardbarker

Today's Best Stuff

For Bloggers

Join the Yardbarker Network for more promotion, traffic, and money.

Company Info

Help

What is Yardbarker?

Yardbarker is the largest network of sports blogs and pro athlete blogs on the web. This site is the hub of the Yardbarker Network, where our editors and algorithms curate the best sports content from our network and beyond.