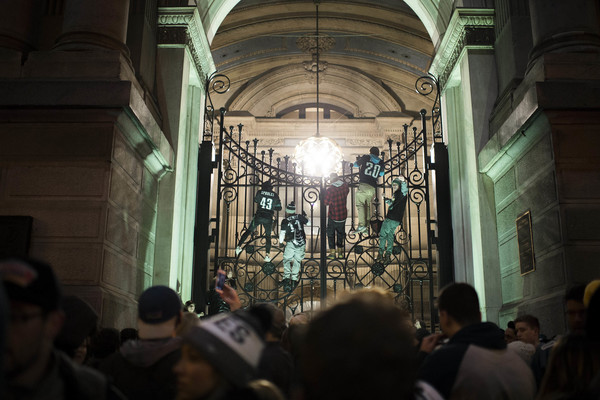 You knew this was coming.
Joe Lamberti/Courier Post via USA TODAY NETWORK
We knew that it was going to happen in Philadelphia. Once the clock struck zero in the Eagles' Super Bowl LII win over New England Sunday night, all hell was going to break lose in the City of Brotherly Love.
And it did…
Now, the Philadelphia Police Department has released mugshots of eight of the individuals arrested during Sunday night's celebration.
According to TMZ Sports, here are some of the notable arrests.
Malcolm Cox — busted for throwing a bottle at a police car. He ran, but he was caught. Charged with aggravated assault, simple assault and related offenses.

Rubin Garrido — busted for removing his belt during the celebration, swinging it over his head and clocking a guy who was next to him, causing a laceration. When cops approached him, he was still holding his belt. Charged with simple assault and recklessly endangering another person.

Alexander Mawescu — busted for drunkenly banging on police shields and then bullrushing officers on the police line. Charged with disorderly conduct.
Idiots. The whole lot of them. Unfortunately for humankind, the Eagles will hold a Super Bowl parade Thursday in downtown, ending at the famed Rocky steps. Maybe Sly will be there to knock some sense into those looking to do harm. We also hope no horses will be harmed in this event. Not to say anything about fans eating…well, that's just gross.
MORE FROM YARDBARKER
Eagles News

Delivered to your inbox

You'll also receive Yardbarker's daily Top 10, featuring the best sports stories from around the web. Customize your newsletter to get articles on your favorite sports and teams. And the best part? It's free!