Found September 10, 2013 on Phin Nation:
The Miami Dolphins are 1-0, but if you walked around town, you'd think they were 0-1.  The Dolphins didn't look pretty on Sunday in their 23-10 win, but they got the win regardless.  The Dolphins defense dominated the Browns and Ryan Tannehill led the team to 17 points in the second half.  In the NFL, playoff teams win games ugly.  The Patriots struggled on Sunday against the Bills, but you know what?  They won the game.  As I said yesterday, I'd rather win ugly than lose looking good.  Yes, we must see improvement out of the Dolphins, but if they can make improvements off of a win, I'll take it every Sunday. Photo Courtesy of Dolphins.com There are a few reasons we're all concerned about the Dolphins.  First, the team rushed for 20 yards on Sunday.  That's simply not NFL caliber.  Second, the Dolphins prized offseason signing, Mike Wallace,  is already unhappy with his lack of targets.  Third, the Dolphins 'franchise tagged' player was caught on camera giving his coaching staff the finger on national television because he didn't start the game.  So, with all of these things going on, Joe Philbin had some explaining to do at Monday's press conference. Actually, before we get to what the coach had to say on Monday, first check out his post-game speech in the locker room by clicking here.  Sorry, but the NFL does not allow us to embed the video.  This is a small thing, but I wish Coach Philbs would just speak from his heart.  I mean, he's reading off of a piece of paper.  What's next, a teleprompter?? Sorry, sidetracked for a second.  Here's what Coach Philbs had to say on Monday about the Dolphins areas of concern: Philbin regarding the lack of success running the ball:  "Yeah. I think we averaged under one yard per carry. It's not a good way to live in the National Football League. We have to have balance and obviously we did not have that today and we need to do a better job. There is no question about it."  Translation:  If anyone has any 6'5″, 300lbs friends, please tweet us at @MiamiDolphins Philbin on Mike Wallace's displeasure on not being targeted:  "I want every player to want to make an impact." …..""We don't have plays where we throw the ball to a certain jersey number just to do it," ….."We throw it to the people who are open. Overall, our decision-making was good."  Philbin also said that he spoke with Wallace and that their conversation is between the two of them. Translation:  I called Mike up to visit my leather couch and I. We had a nice talk.  I reminded him that this is a team game and that he was giving a 5 year, $60 mil contract this offseason.  He's ready to move forward.  (continued on page 2, CLICK HERE)
Original Story:
http://www.phinnation.com/philbins-po...
THE BACKYARD
BEST OF MAXIM
RELATED ARTICLES
DAVIE, Fla. -- Randy Starks said he was just joking around. But he hasn't gotten any laughs out of it. The Miami Dolphins defensive tackle was caught on camera flashing an obscene gesture with his middle finger after recording a sack late in Sunday's 23-10 win at Cleveland. Starks on Tuesday said what he did was wrong. "Of course, I regret it," he said at the...
Miami Dolphins wide receiver Mike Wallace, who signed a five-year, $60 million contract, caught just one pass for 15 yards during the Dolphins' 23-10 victory over the Cleveland Browns. He was not happy with the coaches after the game. According to Armando Salguero of the Miami Herald, Dolphins general manager Jeff Ireland led a "visibly angry" Wallace off the field, putting...
The Miami Dolphins are 1-0 for only the second time since 2005, which wasn't the reason for defensive tackle Randy Starks' conspicuous finger-waving. Starks, a two-time Pro Bowl player unhappy about stalled contract negotiations, was also miffed he didn't start Miami's season opener at Cleveland. As he celebrated a sack in the closing minutes, the network telecast...
DAVIE, Fla. -- The Miami Dolphins won their opener for just the second time in eight seasons. Happiness and joy all around, right? Well, not exactly. Overshadowing Miami's 23-10 win Sunday at Cleveland were two of the team's most decorated players expressing displeasure. Wide receiver Mike Wallace was unhappy after the game at catching just one pass for 15 yards in his...
BY NICK ST. DENISMike Wallace didn't want to talk to reporters after his Miami Dolphins won their season opener. After all, what was there to talk about? Wallace caught only one pass for 15 yards.The $60 million wideout said Monday that he was mad at himself for a poor performance."I'm always happy to win but that's what we play for, to win," Wallace said, via The Palm...
I'm sticking with my prediction that Mike Wallace doesn't last beyond 3 years of his monster 5-year, 60 million dollar deal with the Dolphins. Wallace held out long into Training Camp last off-season, putting himself above the team and was not the same all season. He caught just 55.2% of the passes thrown his way and averaged just 13.1 yards per catch. This off-season, he chased...
Dolphins coach Joe Philbin was forced to deal with two unpleasant issues on Monday — Mike Wallace's postgame unhappiness and Randy Starks' obscene gesture — while addressing a more worrisome problem: the lack of a running game in Sunday's victory against Cleveland. Wallace refused to speak after the game leaving the impression he was upset about being targeted just five...
Mike Wallace the Miami Dolphins' $60 million wide receiver was unhappy after Sunday's season-opening victory over the Cleveland Browns. Wallace had one reception for 15 yards in his Miami debut a 23-10 victory. He was targeted five times by quarterback Ryan Tannehill. "I don't feel like talking" Wallace told reporters while on his way out of the locker room...
Well, it's a good thing no one could have seen this coming. Dolphins receiver Mike Wallace was visibly frustrated following a quiet day in his Dolphins debut. Constant double coverage limited the speedy receiver, who signed a $60 million contract this offseason, to one catch for 15 yards in the Dolphins 23-10 victory over the Browns. After the game, the pouting Wallace was...
GREEN BAY, Wis. -- James Jones is apparently the anti-Mike Wallace. Of the 21 complete passes thrown by Green Bay Packers quarterback Aaron Rodgers in Week 1 of the regular season, none of them were caught by Jones. Unlike Wallace, whose one catch in his Miami Dolphins debut had him upset, Jones wasn't worried about his role -- or lack thereof -- in the Packers' offense after...
DAVIE, Fla. (AP) -- The Miami Dolphins, who face four of the NFL's top quarterbacks in the next month, figured it would be wise to come up with something fast. So defensive coordinator Kevin Coyle created a package named "speed." The scheme gets ends Cameron Wake, Olivier Vernon and Dion Jordan into the game together, which gives the Dolphins a formidable pass rush...
While it wasn't all sunshine and rainbows in the Miami Dolphins 23-10 season-opening victory over the Cleveland Browns on Sunday, their first opening day victory since 2010 at Buffalo, there were a lot of positives and some negatives. The 23 rushes for 20 yards stuck out as a sore spot, but the play of Charles Clay at the tight end position was encouraging for Miami as was the...
Dolphins News

Delivered to your inbox

You'll also receive Yardbarker's daily Top 10, featuring the best sports stories from around the web. Customize your newsletter to get articles on your favorite sports and teams. And the best part? It's free!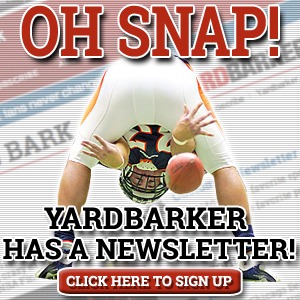 Latest Rumors
Best of Yardbarker

Today's Best Stuff

For Bloggers

Join the Yardbarker Network for more promotion, traffic, and money.

Company Info

Help

What is Yardbarker?

Yardbarker is the largest network of sports blogs and pro athlete blogs on the web. This site is the hub of the Yardbarker Network, where our editors and algorithms curate the best sports content from our network and beyond.