Found May 18, 2012 on SportsBlooded:
Gone are the days when NFL rookies and their agents try to hold out and milk as much money from their new teams as possible as they miss out on rookie minicamps and other offseason workouts. Say what you want about Roger Godell, but realize that his help in the implementation of the rookie wage scale has changed the offseason in the NFL for good. This makes the overall game of football better in the NFL because it gives these players as much time as possible to acclimate themselves to life both on and off the field. Coaches couldn't be happier with the new rules as this helps them get a complete gauge on where their new players stand on their teams. Some rookies have academic constraints which will have them working on a limited basis with the respective teams during the rookie minicamps, but the majority of players have taken care of their academic requirements and are showing off their talents with their new teams. Sports Illustrated has put together some great shots of these rookies in action. Here's a sneak peak...
Original Story:
http://www.sportsblooded.com/see-this...
THE BACKYARD
BEST OF MAXIM
RELATED ARTICLES
1. How well will Andrew Luck and the new offense fair in year one of the post-Peyton era? To be perfectly honest, the answer to this question will most likely be "not well." Gone are Joseph Addai, Dallas Clark, and Jeff Saturday, 3 huge components of Peyton Manning's success the past decade, not to mention Manning himself. Also out is wide receiver Pierre Garcon. But, all...
BEATBOXER EXTRAORDINAIRE
I don't have nearly as much of a problem with this as the Tim Tebow O's jersey. At least O's/Skins fans exist. I'm one of them, and, considering there wasn't an NFL team in Baltimore or MLB team in D.C. from 1984-1995, there are probably many more. Still, if you're going to get an O's shirsey you should probably get an actual O's player on the back. They do own the...
  I wonder if on the back of Justin Blackmon's jersey they can just write the word "HOPE".  When I look at Blackmon's film from Oklahoma State, that is exactly what I see…Hope.  Hope may be all Jacksonville Jaguars fans really need right now because, sadly, it has been some time since they have had any.  Not since the 2007 Jaguars knocked off the Steelers, only...
There was no breaking news about the Washington Redskins' selecting of quarterback Robert Griffin III in the first round (second overall) of the 2012 NFL Draft, as the choice was expected.  Nevertheless, it was great news for the Redskins and their fans. "That is the one we always thought we would get from the beginning," said Redskins executive vice president/head coach Mike...
QB Andrew Luck (Indianapolis) Like Robert Griffin, Andrew Luck should be a solid QB1 with upside as a rookie. I expect him to have better passing numbers than either Newton or Griffin, but he won't match either of their rushing numbers, which is why Griffin has the advantage over Luck in fantasy, at least for this year. Projection: 4000 passing yards, 23 passing touchdowns, 14...
For the past week, we've been running a contest here at Colts Authority. The best Colts themed Haiku will win a football autographed by Andrew Luck courtesy of Quaker Oats. The Quaker Oats Company is the official hot cereal sponsor of the National Football League, and throughout the relationship, Quaker and the NFL will team up in an effort to help families live healthier...
Robert Griffin III was on with Jay Leno last night and was pretty much the most likeable version of himself, which is to say he was the most likeable person ever. The full interview is above, starting with the band playing "Hail to the Redskins" and ending with RGIII beatboxing. Yes, he even makes beatboxing likeable. [Real Redskins] Nats lose to Pittsburgh as Andrew McCutcheon...
Part 1 can be found here: http://www.footballnation.com/content/1998-peyton-manning-vs-2012-andrew-luck-part-1/14460/ Part 2 can be found here: http://www.footballnation.com/content/1998-peyton-manning-vs-2012-andrew-luck-part-2/14607/   This is part 3 of a 4 part series titled "1998 Manning versus 2012 Luck."   In 1998, everyone in the old AFC East made the playoffs, except...
Now that, my friends, most definitely — to utilize NBC's old tagline when it dominated prime-time television viewing — would not be "Must See TV." Ouch. Fans of either unwatchable late-night television talk shows or the Washington Redskins (or both) are aware that Robert Griffin III made an appearance on The Tonight Show on Thursday [...]
Robert Griffin III cracked up The Tonight Show with Jay Leno audience after telling the host that he has met President Barack Obama and challenged him to a game of basketball. "I have met him, I have not been to the White House since he's been there," said RG3. "I heard he's a huge basketball fan, and I challenged him to a game of basketball.  But he told...
Well, if you're good at something might as well show it off. Redskins QB Robert Griffin III was on the Tonight Show with Jay Leno last night, but he wasn't showing off his masturbatory skills as WTOP 103.5, Washington's only all-news radio station, would have you believe with the above headline.  No, RG3 flashed his winning smile, "Go Catch Your Dream" custom socks with...
NFL News

Delivered to your inbox

You'll also receive Yardbarker's daily Top 10, featuring the best sports stories from around the web. Customize your newsletter to get articles on your favorite sports and teams. And the best part? It's free!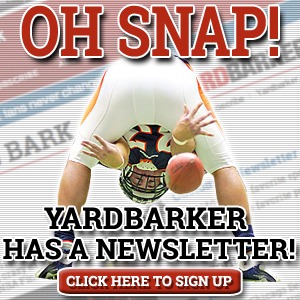 Latest Rumors
Best of Yardbarker

Today's Best Stuff

For Bloggers

Join the Yardbarker Network for more promotion, traffic, and money.

Company Info

Help

What is Yardbarker?

Yardbarker is the largest network of sports blogs and pro athlete blogs on the web. This site is the hub of the Yardbarker Network, where our editors and algorithms curate the best sports content from our network and beyond.