Found March 13, 2013 on Boston Sports Then & Now:
Wes Welker Caught 672 Balls For The Patriots Over Six Seasons The Wes Welker era In New England has officially ended on March 13, 2013. The Patriots let him go to Denver Broncos for a measly 2 year-12 million dollar deal. But the question every Patriots fan is asking…is why? It was not because of his regular season production. All Wes Welker did was catch 672 passes over 6 seasons. He was the spark plug that made New England's lethal offense go. All he did as sacrifice his body over the middle as linebackers and safeties teed off on him. He was cut from the same cloth as Troy Brown. He gave his all, all the time, but just didn't have the championship bling. So why did the Patriots let Wes Welker walk? There were the two big drops in the Super Bowl versus the Giants and this past AFC Championship against the Ravens. But you can not blame those two losses on him and him alone. The New England Patriots could not finish on defense in both those games. The REAL reason is that he PISSED off the All Powerful Hoodie more than once. There was the "foot presser" during prior to the Jets playoff lose. If you recall, Belichick was so pissed off that he benched Welker, his best offensive weapon,  for the first series in the loss to New York. The Patriots went on to lose that game at home, 28-21. Then there was Wes Welker's joke about "Stickin' It In Bill's Face" after his team's victory against the Broncos this past season. This was not much of a joke as Welker was trying to rib Belichick and rightfully so for using him sparingly in the season opener versus the Titans. At the end of the day, Welker wore out his welcome with Bill Belichick and it became personal. Owner Bob Kraft can be all sentimental as he wants being an ex season ticket holder, but the head coach is the one that "Shops for the Groceries" to coin a phrase. Let's hope Bill's grocery list does not consist of a broken down Danny Amendola and having a pissed off Tom Brady in aisle three.          
Original Story:
http://boston.sportsthenandnow.com/20...
THE BACKYARD
BEST OF MAXIM
RELATED ARTICLES
"Wes Welker must look at Danny Amendola and shake his head. A younger — and likelier cheaper —...
These need to go up in Denver Juan… The 50 Cent team over at SK Energy Shots inked a sponsorship deal with New England Patriots wide receiver Wes Welker. This helped lead to a big boost in sales in the North East region of the U.S.  The marketing strategy included Wes on tons of garbage cans throughout the Boston are — Now that he's officially heading to Denver, we'll see...
How Wes Welker Went from Tom Brady's Favorite Weapon to Just Another Free Agent: Taking a look back...
Wes Welker may be hooking up with a future Hall of Fame QB after all. The former New England Patriots standout wide receiver is in "serious talks" with the Denver Broncos today, the second day of free agency, ESPN's Adam Schefter reports.  The team reportedly wants to "hammer out a deal" with the All-Pro slot receiver. Welker, 31, had 118 catches for 1,354 yards last year...
Just before I left work today a co-worker interrupted my conversation to tell me that Wes Welker was gone, on his way to Denver.  A minute later, thanks to the wonders of twitter, I saw that it was a two-year deal.  I became puzzled, wasn't that what the Pats offered Welker last year, a deal he rejected?  I rationalized that Welker surely got two years and $16 million or more...
Wes Welker Wired (by amaris574)
http://boston.cbslocal.com/2013/03/15/felger-mazz-mike-reiss-calls-in-to-challenge-felger/ Mike Felger (Comcast Sports TV Anchor and Radio Host) had allegedly called out Mike Reiss (Patriots Beat Writer for ESPN Boston) for being "in the bag of the team." Felger is referring to Reiss's comment about Wes Welker's agent being partially at fault for the mishap in...
There are actually reports surfacing that Touchdown Tommy was enraged that the Patriots let Wes Welker escape to Denver. Granted the two of them have some serious chemistry, but I don't think Danny Amendola should be overlooked. If that guy can stay healthy, he's pretty damn good. It's too early to tell, but the Patriots offense was a juggernaut and Welker seemed like a perfect...
I'm as heartbroken as anybody right now. Watching Wes Welker leave for nothing more than an average contract has to make you think that the Patriots have something up their sleeves... RIGHT?? Well according to SI.com, Bill Belichick's master plan will not include free agent CB Nnamdi Asomugha. The teams interested include the 49ers (seriously, where are they getting...
So, Danny Amendola wasn't a reaction to Wes Welker's exit, after all. According to Tom E. Curran, the Patriots and the former Rams receiver agreed to the five-year deal on Tuesday — not Wednesday when the signing was leaked. That being said, Curran believes that the Pats had likely already moved on from Welker and went after Amendola when No. 83 went on the market. Check...
The easy thing is not always the right thing. That is the hardest part about running a successful NFL franchise. Unless you're Bill Belichick, that is. The hoodie and his minions — and/or staff — have always been very much about putting the business first. While some teams add players to try and liven up their fan base or re-sign guys based off emotion and sentimentalism, Belichick...
Guess Warren Sapp is tired of listening to NFL blowhards talk about Bill Belichick. Listen closely to what Sapp had to say on a hot mic as some blowhard talks to Scott Hanson about the Patriots draft philosophy. You hear Warren f-bombing the Belichick angle. Warren is then reminded that the NFL Network could play the Seahawks angle and lose viewers, which would lead to less advertising...
NFL News

Delivered to your inbox

You'll also receive Yardbarker's daily Top 10, featuring the best sports stories from around the web. Customize your newsletter to get articles on your favorite sports and teams. And the best part? It's free!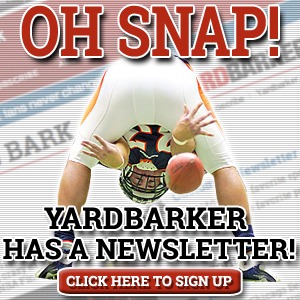 Latest Rumors
The Backyard

Today's Best Stuff

For Bloggers

Join the Yardbarker Network for more promotion, traffic, and money.

Company Info

Help

What is Yardbarker?

Yardbarker is the largest network of sports blogs and pro athlete blogs on the web. This site is the hub of the Yardbarker Network, where our editors and algorithms curate the best sports content from our network and beyond.