Found July 06, 2013 on isportsweb.com:
Ben Roethlisberger is one of the best at avoiding pressure and making big plays. Pittsburgh Steelers' quarterback, Ben Roethlisberger, is cashing in. According to ESPN Stats and Information's, John Parolin and ESPN AFC North blogger, Jamison Hensley , Roethlisberger will receive $11.9 million dollars this season that included a contract reconstruction bonus worth $9 million. The quarterback will make $76.5 million from a 8-year-deal worth $102 million that he signed back in March of 2008. This is the most money made by a player with a $100 million contract, a record previously held by Donovan McNabb who made $69 million. Roethlisberger now tops names such as, Drew Brees, Mario Williams and Adrian Peterson. Is Roethlisberger really worth all the money though? Yes, he is absolutely worth the money. Roethlisberger has won two Super Bowls for the Steelers, one in just his second year as a quarterback in the NFL and the other one he won by contributing to one of the clutches plays the NFL has ever seen. Roethlisberger is also one of the most unique quarterbacks the league has to offer. Roethlisberger has all the right mechanics a quarterback should have and not to mention a ridiculous pump fake that makes even the best defensive players leap out of their cleats. The one thing that has always stood out about Roethlisberger is his size, they don't call him "Big Ben" for nothing. Roethlisberger's size often allows him to escape from monstrous linebackers, brushing them off like it's nothing. Escaping these linebackers and other defensive players allows Roethlisberger to bind time and make big plays. Roethlisberger excels in improvising on the field and there is no doubt that when Roethlisberger is forced out of the pocket he becomes even more dangerous. Roethlisberger's ability to extend plays is unmatched, 9 times out of 10 Big Ben will find is target after escaping heavy pressure in the backfield. Roethlisberger has gotten a lot of practice over the years at scrambling around due to the usual lack-luster offensive line in front of him. However, Roethlisberger extending plays hasn't always been for the better. Big Ben holding on to the ball for to long has led to a lot of sacks over the years, which then led to various injuries for the quarterback. Big Ben has sustained many injuries throughout his career including last season where he suffered a rare shoulder separation that was potentially fatal. That injury caused Roethlisberger to miss 3 games. Despite the constant ware and tear that Roethlisberger has become accustomed to, there aren't many players, if any, who get pegged with the term "he plays better when he's hurt". As bizarre as it sounds, it's true. When Big Ben is hurt he does manage to play at an outstanding level. No one should ever doubt Roethlisberger's toughness, coming through when he's hurting is something he's done time after time. Roethlisberger also came with some drama attached to him as the years went by. A motorcycle crash, stories of his "better than you" attitude and a couple rape accusations put a damper on Roethlisberger's life off the field, while putting judgmental opinions in the minds of his fans and peers. However, the quarterback seems to have changed his ways and according to many different sources he has truly changed for the better. Roethlisberger got married and recently had his first child, Ben Jr. A dominant quarterback on the field and a respectable man off the field is what the Steelers' organization needs to have. An extension to Roethlisberger's contract would most likely mean Big Ben would be wearing black and gold for his entire career. This is something every Steeler fan should want to hear. Terry Bradshaw is the greatest Steelers' quarterback of all time but if Roethlisberger were to pick up a few more rings before calling it quits, Bradshaw just might move into second place. It's not unrealistic to believe that could happen. Hopefully number 7 can lead the charge and win Super Bowl number 7 for the Steelers in the near future. Roethlisberger has a lot more to offer for a few more years and Steeler Nation needs to enjoy the ride. One day the Roethlisberger era will come to a close and whoever his successor is will definitely have some"Big" shoes to fill. Who knows, maybe one day Ben Jr. will be slinging the rock for the Steelers.
Original Story:
http://feedproxy.google.com/~r/isport...
THE BACKYARD
BEST OF MAXIM
RELATED ARTICLES
Pittsburgh Steelers quarterback Ben Roethlisberger would do anything for Dan Rooney and that includes playing a game in Dublin, Ireland for the team owner. "I would like it for him," Roethlisberger told The Irish Examiner on Thursday. "That's how much he means to me and I think everyone on our team would say that. Even if guys said they would never want to play in London...
The Steelers franchise is one of the most stable in all of sports.  When they missed the playoffs in 2012, there was no panic and Mike Tomlin's job was not questioned.  Teams need to learn from their example.  However, the Steelers nation will not stand for missing the playoffs for too long.  The Steelers made some moves to strengthen their running game and defense, the two...
The start of the 2013 Pittsburgh Steelers training camp is now less than three weeks away so we will continue to look at the training camp battles that will take place with a look at the battle for a backup interior offensive line spot on the 53 man roster. You can comment on this battle below and make sure to vote in the attached poll. Training Camp Battle Setup: We already know...
The Steelers lost some big names in Wallace, Mendenhall and Harrision this season.  How will Big Ben respond with his deep threat missing.  Can the Steelers make it back to the Playoffs. Here are the biggest questions for each team heading into camp. AFC East Patriots - How will Brady respond with all new skill position players Dolphins - What impact does...
Pittsburgh Steelers quarterback Ben Roethlisberger was in Dublin, Ireland on Thursday, and he was asked a couple of times by the local media there to give his thoughts on the success last season of the young mobile quarterbacks in the league such as Colin Kaepernick of the San Francisco 49ers, Andrew Luck of the Indianapolis Colts and Robert Griffin III of the Washington Redskins...
Pittsburgh Steelers running back Isaac Redman was asked during a recent fan Q & A session on steelers.com if he remembers what his welcome to the NFL moment was on the field and the former undrafted free agent out of Bowie State said that he did. "One game I got a concussion, Sunday Night Football against the Bengals," started Redman. "Ben (Roethlisberger) had...
Marc Sessler of NFL.com wrote on Friday that Pittsburgh Steelers rookie wide receiver Marcus Wheaton "has a chance to see plenty of playing time on passing downs" in 2013, which leads one to believe that the Oregon State product has a chance to be mighty productive in only his first year in the league. While I enjoy Sessler's optimism, expectations for Wheaton in 2013...
The post on Friday about Pittsburgh Steelers wide receiver Emmanuel Sanders led to a few questions regarding how many times he was used last year within the red zone, and I have now pulled those numbers for you from our charting that we did last season. Of the 740 offensive snaps that Sanders played in 2012; only 78 of them came when the Steelers had the ball inside their opponents...
By Matthew Marczi Of the five new starters—or starters in new positions, as is the case for Marcus Gilbert—that the Pittsburgh Steelers will be bringing to the offensive huddle in Week 1 of the 2013 season, we have already covered four. However, those positions are already all but resolved; the final position legitimately appears to be up for grabs. Although Isaac Redman...
By Jeremy Hritz There are several coaches that are on the hot seat heading into the fresh 2013 NFL season. From Rex Ryan in New York to Jason Garrett in Dallas, if their respective teams do not improve on their records from last season, they will find themselves in the market for new jobs. In Pittsburgh, coming off of a disappointing 8-8 season, the expectations are high, despite...
QB Ben Roethlisberger (Pittsburgh) Roethlisberger was on pace for 4406 yards, 32 touchdowns, and just 8 interceptions at the halfway point last season, before getting hurt and missing 3 ½ games. He wasn't the same once he returned either. Unfortunately, Roethlisberger has played in all 16 games just once in his career. He should be improved over last year's 3265 yards, 26 touchdowns...
Steelers News

Delivered to your inbox

You'll also receive Yardbarker's daily Top 10, featuring the best sports stories from around the web. Customize your newsletter to get articles on your favorite sports and teams. And the best part? It's free!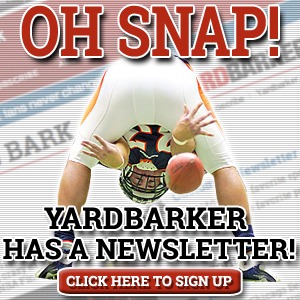 Latest Rumors
Best of Yardbarker

Today's Best Stuff

For Bloggers

Join the Yardbarker Network for more promotion, traffic, and money.

Company Info

Help

What is Yardbarker?

Yardbarker is the largest network of sports blogs and pro athlete blogs on the web. This site is the hub of the Yardbarker Network, where our editors and algorithms curate the best sports content from our network and beyond.