Found October 01, 2012 on Purple Jesus Diaries:
PLAYERS:
Jamarca Sanford
,
Percy Harvin
,
Josh Robinson
,
Harrison Smith
,
Calvin Johnson
,
Letroy Guion
,
Everson Griffen
,
Jerome Simpson
,
Marcus Sherels
,
Christian Ponder
,
Blair Walsh
,
Kevin Williams
,
Jasper Brinkley
,
Matthew Stafford
,
Paul Allen
TEAMS:
Minnesota Vikings
,
Detroit Lions
,
Tennessee Titans
What is Going On Right Now: You guys, I don't exactly know how to tell you this, but here goes. After the Minnesota Vikings beat the Detroit Lions on Sunday, 20-13, and kind of convincingly, the Vikings are now 3-1 on the season and - get this - first place in the NFC North. No, it's not the first game of the season where we have inflated our record to look better than it is. We're legitimately a quarter of the way into the NFL year and the Vikings are leading the division. Wrapping my brain around this fact is kind of like trying to wrap my brain around time travel. I just don't think I get it. Did someone do a deal with the Devil? I mean, if these are the results, I sure as **** don't mind, I'm just trying to get some clarification here. It seems legit, though. The running game was solid, the defense played well, the coaching actually made SENSE, and the dynamic players that were out on the field? Uh ... They were wearing purple for once, and doing dynamic things, not just losing dynamically. I'm kind of at a loss for it. But awesome, regardless. This football thing is always a whole lot more fun when people are winning. Mushroom Stamp of Approval: I think you could make the argument to give this week's Mushroom Stamp of Approval to a couple of players. Maybe one or two guys from the defense, maybe even Jamarca Sanford, as frightening as that is to say. Purple Jesus had a good, but not spectacular, game, and even Kluwe did a fine, fine job out there. But I kind of wonder if any of that good stuff really would have happened if not for Percy going HAM on the Lions from the opening kick. That started all sorts of crazy momentum that carried throughout the game. And, although his other numbers weren't outstanding, he clearly was mind thrusting the Lions coaching staff and players all day long. Everything Harvin did, the Lions were like "OH ****, MOVEMOVEMOVE" and had to track him down. That's pretty much what Percy Harvin SHOULD be doing to defenses. It's amazing it's only taken four years to figure this **** out. And I swear to God, if Spielman doesn't take 15 minutes out of his day this season to write up a contract that says "PERCY HARVIN = ALL THE MONEY" than he should be stoned. No question. Pay Percy, and do it now. Was That a Defense? Ummmmm ... Was that a defense out there? A real defense that tackled people, broke up pass completions, stopped a running game, and confused a not-Blaine-Gabbertt quarterback? Are we supposed to have nice things like that? I gotta say, I wasn't expecting that type of performance from our defense yesterday, or at any point this entire year. I had thought our defensive backfield was entirely too weak, our linebackers to green and slow, and our defensive line too mediocre and lacking depth. All of those things have pretty much proven to be the exact opposite. Our defensive backs can (kind of) cover, and Josh Robinson has shown he can not only tackle but suplex. Um, Harrison Smith lowering a shoulder into Calvin Johnson in the endzone? #***********. That was awesome. And I'm even impressed with the sow LeTroy Guion has put on this year. Make mention of Everson Griffen and it's like we have a defense again. THIS IS AMAZING, PEOPLE. The IT List: Despite the wins this year, I haven't been convinced of this team to switch the weekly "**** List" into an "IT List." And I hope this isn't too presumptuous, but I feel it's time to switch things over. Instead of looking at the players who make me want to commit child murder every week, I figure we can switch things up when the team does well and give special attention to players who make my dick hard when we win. So here is this week's IT List, in no particular order:
Jerome Simpson (Catch one pass all game long, basically, as long as they essentially seal victories)
Purple Jesus (I love you)
Alan Williams (Keep calling crazy ass blitz players at opportune times and we'll kiss on the lips)
Marcus Sherels (You little bastard, keep being good!)
Away Games (No Ragnar sightings! Hurray!)
Jamarca Sanford (You've moved up a notch to +1 in my book now; don't screw it up)
Notes and Nips: Lots of other great little nibbles and bits out of this game, so let's get to it: - Really though, Sanford made a positive impact in this game. He was caught out of position in coverage a couple of times, which is still troubling, but Smith can make up for some of that affect while Sanford brings the turn over wood, consequently giving me wood. Keep on this path and I won't demand your head. - Christian Ponder? Only the last starting quarterback remaining who has yet to throw an interception in the NFL this season. SUCK ON THAT, HATERZZ!! - But really, he needs to get better. Stop rolling out to your right 15 yards behind the line of scrimmage on every play, and keep your head up. He missed some wide open guys on obvious plays (the Harvin screen, anyone?!) and he's going to need to keep the offense moving against better defenses in the near future if we have any chance of truly being good. - On defense, I think I was most surprised about the outside containment. The guys kept things bottled up really well and limited yardage because it allowed others to swarm. I think that's amazing defense, but pretty sure it's actually just called "doing your job." - I get irrationally angry when I hear people use either "The Blair Walsh Project" or "Legatron" when referring to Blair Walsh. First, the Blair Walsh Project is a nickname he's had for probably 15 years. It's not funny anymore, and you're not the first person to come up with it. Stop it. Second, "Legatron" is pretty much just taking Calvin Johnson's nickname and giving it to a kicker. That is plain insulting. Don't be an asshole, or a thief. Come up with something your own. I admit "Care Blair" isn't very apt or funny, but my God it's a million times better than these other two. Nut up already. - I think the coaching staff actually did well this game, which frightens me. Again, Alan Williams called a hell of a game with nicely timed blitzes, Musgrave showed some huge balls occasionally, and even the clock management was done smartly. The throw right before the two minute warning was the correct call, since the clock was stopping either way. Nice insight to call that play. - Everson Griffen was a beast today. He had two sacks, one which ended the game, and the other which was an unblocked face crusher. They were awesome hits. Kevin Williams also knocked the **** out of Stafford when he was throwing that broken up pass to Calvin Johnson in the endzone too. A salty defense is quite enjoyable. - I didn't like WHERE the wildcat to Harvin play was called, but it's about damn time we put him in the backfield to run. I bet he'd average 12.5 yards a carry if he was our lead back and we moved Purple Jesus to linebacker. That would be amazing. - Speaking of linebacker, props where due to Jasper Brinkley. I didn't think he'd have it in him to do too well this season, but he made some nice tackles, and was pretty physical all game. He got burned bad against the Colts, but so did the whole team. Since then, he's looked pretty decent. - Matthew Stafford's touchdown run pretty much just confirms that he has a tampon in his vagina hole. What a **** score. A Victory Haiku:
"I've been on vay-cay,
Keep score under ten point spread
Helps outstanding bets." Everyone, that was legitimately awesome. And we have a chance to do more of this next week, and maybe surpass our win total from last year already when the Tennessee Titans come to town! I would probably faint if we got four wins at this point in the season, but then also blow my hears off because I can only imagine the verbal diarrhea that Paul Allen will be spewing on KFAN if this winning streak continues. Oh well. It may be worth it. Enjoy. [follow]
Original Story:
http://www.purplejesusdiaries.com/201...
THE BACKYARD
BEST OF MAXIM
RELATED ARTICLES
EDEN PRAIRIE, Minn. Percy Harvin is off to the best start of his four-year NFL career with 30 catches, fourth in the league entering Monday night. His importance to the Minnesota Vikings has never been higher and he offered a bit of insight Monday to what caused his displeasure during minicamp this summer when he expressed his unhappiness with the team, reportedly had asked for...
The Minnesota Vikings got lucky this week.A pair of returns made up for their lack of offense, and they escaped Ford Field with a tough win thanks to their defense, matching a surprising trend:So far this year, the Vikings have looked more like a playoff contender than a team that is rebuilding.It's still too early to hand them the division crown, but at this point, I would have...
Don't look now, but all of a sudden, the Detroit Lions are in big trouble early in 2012. After dropping two tough contests on the road, the Lions came home looking to generate some positive momentum against an NFC North opponent heading into their bye week. Instead of having a successful hunt and getting things back on the right track, Detroit laid the biggest possible egg against...
EDEN PRAIRIE, Minn. The Minnesota Vikings understood the low expectations from outside the organization. During training camp, linebacker Chad Greenway asked the obvious: Why would the pundits predict good things for Minnesota, a team coming off a franchise-tying 13 losses, with a star running back trying to return from major knee surgery, an unproven second-year quarterback and...
Leslie Frazier had a wide smile as he hugged receiver Jerome Simpson on the field after the Minnesota Vikings' 20-13 win at Detroit on Sunday. Frazier had good reason to be happy. He took over as Minnesota's coach 11 games into the 2010 season, replacing the fired Brad Childress on an interim basis and then earning the permanent job with three late-season wins. One thing...
EDEN PRAIRIE, Minn. As the Minnesota Vikings season nosedived last year, a lot of the blame was placed on a historically bad secondary, which allowed a 107.6 quarterback rating, the second highest mark in NFL history. Injuries and an overall lack of competency were common themes as Minnesota led the league with 34 passing touchdowns allowed, while tying a league-low with eight...
EDEN PRAIRIE, Minn. Minnesota Vikings punter Chris Kluwe has found some opposition from another NFL player in his continuing support of gay marriage rights. Former Vikings center Matt Birk, Kluwe's teammate for four years in Minnesota, took an opposing stance Sunday in an opinion piece in the Minnneapolis Star Tribune, in response to Kluwe's pro-gay marriage viewpoint that...
The Minnesota Vikings snapped their 11-game NFC North losing streak Sunday by going on the road and beating the Detroit Lions 20-13, in the process staying on top in the division and building on the momentum created from last week's win against San Francisco. Percy Harvin's 105-yard touchdown return on the opening kickoff started a second-straight impressive win for Minnesota...
Percy Harvin returned the opening kickoff 105 yards for a touchdown and Marcus Sherels scored on a punt return early in the third, helping the Minnesota Vikings beat the Detroit Lions 20-13 Sunday. NFC North-leading Minnesota (3-1) matched the number of wins it had last season. The Vikings also snapped an 11-game losing streak within the division. The Lions (1-3) have lost three...
Jared Allen only has two sacks and Brian Robison hasn't gotten on the board yet. Still, the Vikings are pressuring the quarterback and others are getting sacks. How is it all coming together? The players and Leslie Frazier discuss.
Tom Schreier knows he's going to regret writing this...
Sitting here a month ago, it looked as though this game against the Minnesota Vikings would be an easy win and Detroit would be heading into the bye week on a positive note. However after falling to the winless Tennessee Titans last Sunday while Minnesota pulled the upset at home against the San Francisco 49ers, the perspective on this game has changed dramatically. Entering today's...
NFL News

Delivered to your inbox

You'll also receive Yardbarker's daily Top 10, featuring the best sports stories from around the web. Customize your newsletter to get articles on your favorite sports and teams. And the best part? It's free!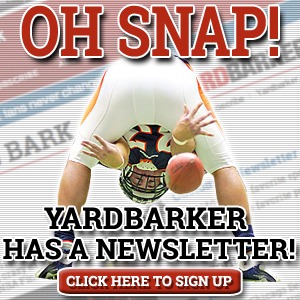 Latest Rumors
Best of Yardbarker

Today's Best Stuff

For Bloggers

Join the Yardbarker Network for more promotion, traffic, and money.

Company Info

Help

What is Yardbarker?

Yardbarker is the largest network of sports blogs and pro athlete blogs on the web. This site is the hub of the Yardbarker Network, where our editors and algorithms curate the best sports content from our network and beyond.