Found May 28, 2012 on The Colts Authority:
Peter King spoke with Bill Polian regarding the new trade deadline. Polian thinks if they had two more weeks the Colts would have made a different decision at QB in 2011: "I think the deadline being moved last year would have made a difference for us,'' said Bill Polian, the Colts president until owner Jim Irsay fired him in January. "We would have rekindled our interest in Orton. In Week 6, we knew our quarterback situation wasn't great, but after a couple more weeks, we realized the situation was bad. We probably would have called Denver, who'd gone to [Tim] Tebow by then, and said, 'Hey, we'll give you a three [a third-round draft choice] for Orton.' '' It's a pretty remarkable admission actually. With Orton under center could the Colts had won another game? It's hard to look back and know but given the fact that Colts quarterbacks actually netted a negative DVOA it isn't hard to imagine Orton contributing enough for a s...
Original Story:
http://www.coltsauthority.com/links/a...
THE BACKYARD
BEST OF MAXIM
RELATED ARTICLES
(Doug Pensinger/Getty Images) With the owners meeting in Atlanta over and a few changes to the league, most notably the trade deadline, fans and front office executives alike are thrilled. Former Colts team president Bill Polian believes that the rule may have changed fortune in Indy last season and may have saved his job. "I think the deadline being moved last year would have...
Mike Florio notes that the Colts are ramping up efforts to close the gap on season ticket sales: Don Muret of SportsBusiness Journalexplains that the Colts have hired a local firm to help sell tickets after a seven-percent drop in season-ticket renewals.  Currently, the team has 3,000 season tickets to sell, prompting the organization for the first time in a decade to hire interns...
Colts General Manager Ryan Grigson continues to place a great deal of emphasis on getting new faces on the team for the 2012 offensive line. New to the mix is former first round pick George Foster (2003 - Denver). To make room for the acquisition, Indy parted ways with fullback Ryan Mahaffey. Foster has journeyed around the NFL, spending time with Denver, Detroit, Cleveland, and...
The Colts moved from Baltimore in the middle of the night on March 28th, 1984 to their current home in Indianapolis. They are a storied and historic franchise that came in to the current league in 1953, winning NFL championships in 1958, 1959, and 1968. They have won two Super Bowl Championships (1970 and 2006). They have had many great draft picks since their birth, all of which...
(Adam Hunger/Reuters Pictures) These are the Colts that we're used to seeing anymore. These aren't the same Colts that you could pencil in year after year to win the AFC South. Obviously Colts fans realize that with the statistic that 3,000 season tickets have yet to be sold for the upcoming 2012 season. Even with Andrew Luck at the helm, this Colts team is 2-3 years away from...
Former Michigan All-American defensive back Marlin Jackson was in Ann Arbor recently for the Griese, Hutchinson, Woodson Champion for Children's Hearts Weekend. GoBlueWolverine caught up with former first round draft choice and discussed his thoughts on Brad Hoke, Greg Mattison, the Saints bounty scandal, his current playing status and more.***Video interview included***
Paul Kuharsky doesn't hate guys who play fullback, just the message it sends when you put a fullback on the field: I am anti-fullback and pro tight end. You might be throwing when a tight end or two is on the field. You're probably running if a fullback is out there. It's too narrow a role. I agree. So does Nate: A few months ago, it looked like the Colts were going to...
Mike Florio is great at what he does. Pro Football Talk aggregates news as fast as any out there and Florio does have connections that allows him to break stories in addition. His legal background also allows him to decipher the lawyer talk in the CBA much easier than I can do. Florio is also great at creating controversy which in turn leads to more site hits and discussion. Traffic...
Believe it or not, it's not just ESPN that is obsessed about Tim Tebow.  The (in)famous New York media is already stepping up to the plate with TebowMania and we're still over 3 months away from the beginning of the 2012 NFL season.  Deep within Peter King's Memorial Day edition of Monday Morning Quarterback was this interesting tidbit about Tim Tebow being covered...
Let's hope this story has a happy ending soon, but for now if you're in the Kansas City area, there is a social media APB out for George Brett's dog, Charlie. With under a month of Twitter experience and only a dozen or so tweets up until today, Brett's concern for his missing dog quickly spiraled into the new trending rally cry of #FindCharlie. Brett kicked off...
It was a perfect storm of bad that ushered out Bill Polian, Jim Caldwell, and of course, Peyton Manning in addition to many others of the "old era." Manning's neck injury combined with Joseph Addai's injury plus a little bad luck ultimately brought the Colts to 2-14 finish and the worst record in the NFL, earning them the number one overall draft pick and the right...
At this point, it is no secret to anyone that the 2011 season sparked the catalyst for a total team overhaul in Indianapolis. One of the most consistent franchises over the period of a decade lost major names on the field, on the sidelines, and in the front office. No loss was bigger than losing a player who could go down into the record books as the greatest quarterback in the history...
Colts News

Delivered to your inbox

You'll also receive Yardbarker's daily Top 10, featuring the best sports stories from around the web. Customize your newsletter to get articles on your favorite sports and teams. And the best part? It's free!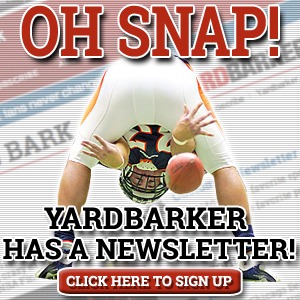 Latest Rumors
Best of Yardbarker

Today's Best Stuff

For Bloggers

Join the Yardbarker Network for more promotion, traffic, and money.

Company Info

Help

What is Yardbarker?

Yardbarker is the largest network of sports blogs and pro athlete blogs on the web. This site is the hub of the Yardbarker Network, where our editors and algorithms curate the best sports content from our network and beyond.