Found November 30, 2012 on Fox Sports North:
PLAYERS:
Christian Ponder
,
Brett Favre
,
Troy Aikman
,
John Elway
,
Dan Marino
,
Aaron Rodgers
,
Donovan McNabb
,
Leslie Frazier
,
Kevin Williams
,
Randy Moss
,
Brad Childress
,
Brian Robison
,
Jared Allen
,
Chad Greenway
,
Adrian Peterson
,
Percy Harvin
,
Kyle Rudolph
,
Antoine Winfield
TEAMS:
Minnesota Vikings
,
Green Bay Packers
,
San Francisco 49ers
,
New York Jets
,
Florida State Seminoles
Eden Prairie, Minn. -- Christian Ponder already has an offseason goal. Meeting with the legend he was drafted to succeed. Ponder told FOXSports.com that he has never spoken with Brett Favre, who had officially retired for real this time several months before the Minnesota Vikings used a 2011 first-round pick on the former Florida State standout. Ponder, though, said he has recently chatted with "people in the (Vikings) organization about maybe going and hanging out with him for a couple of days." "We're going to bring that up and try to take advantage of that," Ponder said Thursday. If such an encounter does take place, Ponder will be able to pick Favre's brain on the secrets that have made him a future Hall of Fame inductee. Ponder also can gain further perspective on a question that the Vikings themselves surely want to get answered: Exactly how long does it take to successfully replace a quarterback of Favre's standing? Dallas, Denver and San Francisco still haven't reached a Super Bowl since the respective retirements of three Hall of Famers Troy Aikman, John Elway and Steve Young more than a decade ago. Miami is on its 17th different starting quarterback since Dan Marino called it quits following the 1999 season. In the case of Green Bay, it took three years for Aaron Rodgers to win a Super Bowl following Favre's 2008 trade to the New York Jets after 16 seasons with the franchise. Ponder has 21 NFL starts to his credit since replacing Donovan McNabb as Minnesota's starter six games into the 2011 campaign. For the Vikings, the FOX America's Game of the Week at Green Bay on Sunday carries even more weight than what head coach Leslie Frazier described as "major implications" for his 6-5 team's playoff hopes. Frazier wants to learn just how far along Ponder is toward becoming an elite quarterback like Favre was and Rodgers is with the Packers. "You talk about litmus tests," Frazier told FOXSports.com at the team's Winter Park headquarters. "This will be one going on the road in Green Bay against a high-powered offense that we need to match at times. This will be a gauge for (Ponder) as to where he is in his career." Ponder admits he is taking this matchup as a personal challenge. "It's been an up-and-down season," Ponder said. "This is a game where I have to come out and play my best and show what I can do. It will be important to show how far I've progressed." The Vikings were almost able to capture the Lombardi Trophy before the Packers did after Favre made what was once considered an unthinkable move by joining Green Bay's hated division rival in 2009. He was brilliant as Minnesota made it to the NFC Championship Game before losing in overtime to New Orleans. The bitterness of that defeat still lingers among Vikings veterans, especially with the NFL alleging this offseason that the Saints targeted Favre as part of a bounty program designed to knock opposing players out of games with injuries. Vikings defensive tackle Kevin Williams has no doubt that the Saints had plotted something illegal by the manner in which they were targeting Favre, who suffered a third-quarter ankle injury on a controversial high-low hit by two defensive linemen. "It was obvious," Williams told FOXSports.com "You could tell something was going on." As brilliant as he was that year, Favre would have been better off following through on his offseason retirement plans. The Vikings coaxed a 40-year-old Favre back for another season with a one-year, 20 million contract. Minnesota also carried a bevy of other high-priced veterans into a season without a salary cap hoping to make one more title run. The Vikings instead crawled to a 6-10 record. Favre became embroiled in controversy when unsolicited photos of his genitalia sent to a former Jets employee surfaced on Deadspin.com. He threw 11 touchdowns and 19 interceptions before finishing his career on injured reserve. A desperation trade with New England to acquire Randy Moss backfired so badly that the temperamental wide receiver was released less than a month after he arrived. Head coach Brad Childress was fired and replaced by Frazier following a 31-3 loss to fittingly enough the Packers in Week 11. The Metrodome roof even collapsed, forcing the Vikings to play outdoors in the frigid Minnesota winter. "You knew it was one of those right-now' moves," Vikings defensive end Brian Robison said of Favre's 2010 re-signing. "You take your shot trying to win a Super Bowl but it wasn't necessarily a for-the-future type of shot. It kind of sucked the way it ended for (Favre), but at the same time it was just amazing to be able to be a part of it." The 2011 season was just as disastrous even without Super Bowl expectations surrounding the Vikings. McNabb, who had wiped out the previous year in Washington following his own storied career in Philadelphia, was benched after Minnesota opened at 1-5. Although taken with the No. 12 overall pick, Ponder said he doesn't think "anyone expected me to play like Brett Favre" from the onset and that "expectations were pretty tempered before I was able to play." That still didn't make it any easier to watch Ponder struggle through his rookie season. Around him, the offensive line leaked. The defense dipped 13 spots to a No. 21 ranking despite a monster 22-sack season from end Jared Allen and 154 tackles from outside linebacker Chad Greenway. The coup de grace star running back Adrian Peterson suffered a major knee injury in Week 16 against Washington on Christmas Eve. Greenway described the entire experience en route to finishing with a 3-13 record as "humbling." "We got to the pinnacle and went down in a hurry," Greenway told FOXSports.com. "If you're bad and you know you're bad, it sucks. But at least you know you're bad. When you're playing bad and you know you're better than that, which is fairly commonplace in the NFL, it's really frustrating to try and figure out what the problem is." Frazier said one of the biggest issues was not having an offseason program because of the NFL labor dispute that led to a lengthy player lockout. Frazier believes Ponder was particularly hurt because he didn't receive much advance coaching before being thrown into action. While his passing numbers look decent enough on paper, the Vikings weren't proficient enough offensively to avoid a negative-109 scoring differential. "Having an offseason this year with a young quarterback made a big difference for us to be able to really show him what it takes to win in our league and how to grow at that position," Frazier said. "And having the players around me to get a feel for my style of coaching ... We did a lot of game-like situations during the offseason." Another offseason change: The Vikings didn't embark on their usual spending spree after Rick Spielman was promoted to general manager and given final say on personnel moves. The focus is now on building through the draft and re-signing young players to new contracts, which is the same methodology that paid dividends for Green Bay in the post-Favre era. Minnesota was one of this season's early surprises with a 5-2 record that included an upset of San Francisco in Week 3. But losses in three of their past four outings including a disastrously sloppy start that led to last Sunday's 28-10 defeat at Chicago have left the Vikings in a precarious position. The remaining schedule is brutal. Two games remain against Green Bay (7-4) along with a rematch against Chicago (8-3) and Week 16 trip to Houston (10-1). Because of tiebreaker scenarios, Robison believes the only way Minnesota will make the playoffs is to "win out" and finish 11-5. "We're inconsistent. That's why you see a 6-5 record," Greenway said. "We want to stay above (.500), but we're fairly young. That leads to inconsistency, especially on the road." No Vikings player reflects that unevenness more than Ponder. One example: After throwing for 352 yards at Washington in Week 6, he was held to just 58 the following game by visiting Arizona. Ponder's downfield production is among the NFL's worst this season, yet he also is hamstrung by a receiving corps that has produced little outside of the injured Percy Harvin (ankle) and tight end Kyle Rudolph. Even with Peterson returning to become the NFL's current rushing leader, opposing defenses have started to get a read on the plays Ponder is running and know the deep passing game isn't something to worry much about. "Defensive coordinators pick up different tendencies and are going to start scheming against you," said Ponder, who has completed 63.5 percent of his passes with 13 touchdowns and nine interceptions. "You kind of see that in all sports like a new pitcher in Major League Baseball that has some early success and then people start picking up on certain things. "At the same time, the more I start seeing, the more things I pick up on their defenses. I'm able to get better in that area." Spielman told FOXSports.com he was impressed with the way Ponder handled increasing media and fan criticism including jabs taken about his girlfriend and ESPN anchor Samantha Steele to lead a 34-24 victory in Detroit three weeks ago. "That said a lot about the guy," Spielman said. Vikings cornerback Antoine Winfield also sees Ponder making progress. But with 14 years of NFL experience, Winfield knows first-hand that "going from a seasoned veteran to a young guy is very hard" at quarterback. "He's coming along," Winfield told FOXSports.com. "The coaches are working with him. But it's a process. You don't expect him to come in and be All-World. He's going to make some mistakes and go through some growing pains. But I think he'll be a better player because of it." The Vikings are banking on it. "He's still young and has a lot of growing to do, but his confidence is so much higher than it was before," Frazier said. "His decision-making has really gotten better. His teammates really understand him now and he understands them a lot better. He's becoming what we all hoped he could be a guy who can lead us to big things." Hopefully for Minnesota, that will be a guy like Brett Favre.
Original Story:
http://www.foxsportsnorth.com/11/30/1...
THE BACKYARD
BEST OF MAXIM
RELATED ARTICLES
EDEN PRAIRIE, Minn. Minnesota Vikings leading receiver Percy Harvin will miss his third straight game with an ankle injury. Harvin, who has a team-high 62 catches and 677 receiving yards and is the NFL's leading kickoff returner with a 35.9-yard average, did not travel with the team for Sundays NFC North game against the Green Bay Packers. Harvin, who has been out since spraining...
Vikings WR Percy Harvin suited up for practice Thursday but ultimately did not practice with the team, according to Mark Craig. Sidelined the last two games by a left ankle injury, Harvin hasn't been of much help to the Vikings lately and his suiting up is not a bad sign. ESPN's Kevin Seifert tweets that Harvin "could barely jog today" and adds that it's "hard to...
DISASTER STRIKES
Former Eagles quarterback Donovan McNabb discussed the team's future this season, and his comments are not flattering.
Minnesota Vikings left tackle Matt Kalil says a big reason for his rookie success is the ability to remain focused on the task at hand. But as the months turn colder in the Twin Cities, thoughts of the beach, glowing sunsets and mai-tais in January admittedly enter his mind from time to time. Kalil leads all NFC left tackles in the Pro Bowl voting that runs until Dec. 17. This...
EDEN PRAIRIE, Minn. Facing a humbled team with a wounded offensive line, the Minnesota Vikings have seen this script before. Outsiders would expect Minnesota's pass rushers to be licking their chops in an anticipated matchup with the Green Bay Packers' beleaguered offensive line in Sunday's game at Green Bay. After all, the Vikings are known as one of the league'...
Eden Prairie, Minn. -- For Minnesota quarterback Christian Ponder and Green Bay strong safety Morgan Burnett, the Florida State-Georgia Tech rivalry will extend beyond Saturday night's Atlantic Coast Conference championship game. Ponder was an FSU quarterback when he first faced Burnett and the Yellow Jackets in 2008. The two will meet again during the FOX America's Game...
GREEN BAY, Wis. -- For the Minnesota Vikings (6-5) to make the playoffs this season, they'll need to win at least one of their two upcoming games with the division-rival Packers (7-4). The first of those two NFC North showdowns is Sunday at Lambeau Field, with both teams' regular-season schedules concluding four weeks later in Minnesota. "I want to go ahead and control...
Jared Allen remains apologetic for a hit that ended Chicago Bears guard Lance Louis's season last weekend, though he insists the play that drew a $21,000 fine was not dirty. The Minnesota Vikings defensive end says he is still considering his options on appealing the fine. He was punished on Wednesday for leaving his feet to block Louis during an interception by Antoine Winfield...
It's HATEHATEHATE Week with the first Vikings/Packers game coming up on Sunday. Surprisingly, there's not actually a large amount of "hate" going around, either from this site, other Packer sites, Packer players, fat Packer fans, and everywhere else. Maybe it's because we all know the Vikings are *figuratively* out of the playoffs, even if mathematically we...
NFL News

Delivered to your inbox

You'll also receive Yardbarker's daily Top 10, featuring the best sports stories from around the web. Customize your newsletter to get articles on your favorite sports and teams. And the best part? It's free!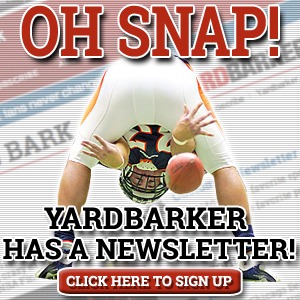 Latest Rumors
The Backyard

Today's Best Stuff

For Bloggers

Join the Yardbarker Network for more promotion, traffic, and money.

Company Info

Help

What is Yardbarker?

Yardbarker is the largest network of sports blogs and pro athlete blogs on the web. This site is the hub of the Yardbarker Network, where our editors and algorithms curate the best sports content from our network and beyond.