Found February 07, 2013 on The Nosebleeds:
Sex.com made quite the offer to Patriots tight end Rob Gronkowski on Wednesday and, frankly, we're surprised such a proposal has taken this long. The site has offered to match Gronk's 2014 base salary of $3.75 million if he makes a sex tape with porn star (and well-documented "friend") Bibi Jones. Here's the press release (SFW) from the site: In light of Bibi Jones's return to performing in adult films, Sex.com would like to offer Rob Gronkowski a chance to perform with her in a scene once his forearm has healed. There is no question that Rob Gronkowski has what it takes to make an excellent male performer in today's adult industry. He has proven both on and off the field that he has the body and the attitude to be a hugely popular male adult star. Football and adult entertainment fans have long speculated a romance between Gronkowski and Jones since racy photos appeared on Twitter. Sex.com believes that their controversial connection will give them a special chemistry on screen. Sex.com is prepared to match to Gronkowski's 2014 base salary of $3.75 million if he agrees to perform with Jones in a sex scene exclusively hosted on Sex.com. Though Bibi Jones is on an exclusive contract with Digital Playground, Sex.com has contacted the production company to make an exception for this scene. While it's a fun idea, I wouldn't hold your breath if you're anticipating this deal to actually go down. While I'm sure it's probably a pretty intriguing one for Gronk, I'd be willing to bet that Bob Kraft and Big Bad Bill would have a few objections. In the end, you don't want to piss off your bosses…even if you're offered to throw your hot dog down a hallway for a few million dollars.
Original Story:
http://thenosebleeds.com/porn-site-of...
THE BACKYARD
BEST OF MAXIM
RELATED ARTICLES
BOW-CHICK-A-BOW-WOW
An adult website has offered to match Rob Gronkowski's 2014 base salary if he were to agree to appear in a scene with his adult film star friend, Bibi Jones.
Well now, why does the fact that Pats TE Rob Gronkowski was offered $3.75 million—the equivalent of his 2014 salary—to film a sex scene with former porn star Bibi Jones come as little or no surprise to anyone? Gronk's never ending frat party of a life continues on unabated. Sex.com (definitely NSFW) has offered the NFL superstar the aforementioned huge sum of money to appear...
If New England Patriots tight end Rob Gronkowski isn't in the news for partyin' hard,  then he's probably making headlines for something involved with pornstar Bibi Jones.Sex.com has offered Gronkowski his base salary ($3.75 million) to be featured in a porn video with Jones.Sex.com made the offer to match his 2014 base salary if he agreed to participate in a scene with Bibi...
Rob Gronkowski isn't afraid to show a little skin, so he might as well get paid for his efforts. Gronkowski, who has quickly become one of the biggest names in sports entertainment, was offered a contract with Sex.com, an adult film website, to star in a movie alongside his friend and adult film star Bibi Jones. The kicker in the deal is that the website also offered to match Gronk's...
According to the New York Post, Patriots tight end Rob Gronkowski has been offered $3.75 million to star in an adult film with Bibi Jones. An adult website made the offer to Gronkowski to match his 2013 salary if he agrees to the role with Jones. Between this and the fact that Gronk was doing wrestling moves at a night club in Vegas, the Patriots continue to have their hands full...
Part of Rob Gronkowski's appeal is that he appears to be a kid who generally enjoys life without breaking any laws or putting anyone at risk. But with the latest video of Gronk body-slamming a friend while dancing shirtless at a club in Las Vegas, it begs the question of whether the Pro Bowl tight end is having too much fun for his own good. As most Patriots fans know, Gronkowski...
New England Patriots star Rob Gronkowski has been offered an indecent proposal. Sex.com is offering Grok $3.75 million to do one scene with Bibi Jones. If you recall, Gronk and Jones had a social media mist storm a few years ago when a photo of the two together was posted online that featured Gronk shirtless and Jones wearing Gronk's Patriots jersey. Jones left the adult film business...
So, remember when Rob Gronkowski was in a couple of twitter pictures with porn star Bibi Jones? Of course you do! This caused kind of an uproar in the media and among Patriots fans. As has just about everything Gronk has done other than catch footballs. The "Summer of Gronk" last year had a lot of Patriots fans upset with the Pro Bowler after he appeared nude for ESPN...
Football stars have crossed over to many different worlds. Politics, baseball, film, music, you name it. But New England Patriots tight end Rob Gronkowski has an offer to become the first-ever cross-industry star connecting football with adult films.  From the New York Post:  Patriots tight end Rob Gronkowski has been offered $3.75 million to film a scene with an adult...
The events surrounding the Super Bowl may be the worst thing for New England Patriots tight end Rob Gronkowski. For each of the past two years he has been injured in or around the big game. And for each of the past two years he has risked further injury by partying a bit to hard during post-game festivities. The Patriots could not have been delighted to catch a screening of the TMZ...
Forbes.com recently conducted a poll of the most liked and least liked players in the NFL. CSNNE.com reports that Patriots TE Rob Gronkowski apparently came in 6th in the voting. Not shocking though, especially considering his on-field dominance is capped by his off-field wildness. His work-hard-party-hard mentality has won over the hearts of fans around the league. Forbes'...
Patriots News

Delivered to your inbox

You'll also receive Yardbarker's daily Top 10, featuring the best sports stories from around the web. Customize your newsletter to get articles on your favorite sports and teams. And the best part? It's free!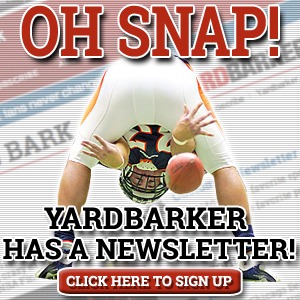 Latest Rumors
Best of Yardbarker

Today's Best Stuff

For Bloggers

Join the Yardbarker Network for more promotion, traffic, and money.

Company Info

Help

What is Yardbarker?

Yardbarker is the largest network of sports blogs and pro athlete blogs on the web. This site is the hub of the Yardbarker Network, where our editors and algorithms curate the best sports content from our network and beyond.