Found November 10, 2012 on Buzz On Broad:
At this point, it's almost a foregone conclusion that Andy Reid will be relieved of his duties as head coach of the Philadelphia Eagles at season's end.  And unless the Mayan prophecy comes true next month, that's exactly what will happen come January. Although, I will throw out the disclaimer that this season is technically not over.  Theoretically, the Eagles could go on a run over the next eight games and make a push for the playoffs, but... So anyway, assuming that Reid will indeed be gone, the next question will obviously be: Who's our next head coach? The two hot names out there right now being mentioned as potential replacements are Sean Payton and Jon Gruden.  Payton, however, will most likely return to the Saints once they get a new deal hammered out. Gruden is a distinct possibility and is a decent candidate.  However, this is where Jeff Lurie is going to have to make a certain kind of decision first, before hiring anyone. Lurie will need to decide if he wants to bring in a new coach to rebuild the roster, just like Reid did in 1999, or if he wants to bring in a veteran head coach who can maximize the talent already in place. Jon Gruden is the latter.  He is not the guy to bring in if you are interested in blowing this team up and starting over from scratch.  However, he is the guy to bring in if you want to make another run with the bulk of the current team. More after the jump... It's an interesting dilemma that Lurie will face.  Is the talent on the current roster really that bad?  Or are they being misused by the coaching staff?  Are the players failing because of a depleted and stressful atmosphere that seems to be surrounding the team?  Or are they simply overrated? I think it's a combination of all that. Many people think when Reid goes, Vick will go with him and this team will get blown up with the exception of a few core players.  If we were to bring in someone like Gruden, I think he'd likely stick with Vick and try to reshape the offense so that it better suits his skill set. That's what he did in Oakland and Tampa Bay.  Gruden took the Raiders to the Super Bowl after bringing in veteran journeyman QB Rich Gannon, then won it a couple of years later while with Tampa Bay and having the vastly mediocre Brad Johnson at QB. Gruden prefers veteran players and does not have a history of developing young talent. With that said, he did mention Nick Foles recently when he was asked who he thought would be the next rookie QB to emerge.  Courtesy of Tim McManus over at Birds 24/7 (from Sam Farmer of the L. A. Times), here is what Gruden said about Foles just a few days ago: I had Nick Foles in the preseason against New England. Michael Vick got hurt on the fifth or sixth play, and Foles went the distance, on the road in Foxborough. If you like prototype pocket passers with some functional mobility and a tremendous amount of toughness, Foles is interesting. What really impressed me in the preseason was they weren't running generic formations. They ran about 30 different formations out of about eight different personnel groupings in successive plays. So I see him recognizing coverages. I see him getting to second and third receivers, just like you'd want a quarterback to do in that system, and I love his NFL size. He reminds me a lot of Brad Johnson, from his football character to his ability to decipher a lot quickly, and we won a championship with Brad. I find it quite interesting that Gruden mentioned Foles in this capacity.  It could be just a coincidence, but it could also be Gruden's way of letting Lurie and Howie Roseman know that he likes Foles and therefore would be willing work with him. However, given his penchant for veteran players, he may still prefer Vick or even cut him and bring in another veteran QB to run the offense (instead of Foles). In any case, my point is that if we were to bring in Jon Gruden, it would be with the mindset that we'd be making a championship run in 2013.  No rebuilding, no new young QB to build a team around for the next decade, and no 5-year plan. Gruden is a coach who will want to -- and be expected to -- win immediately.  That's the lure of hiring a guy like him, because he's been successful in that regard.  However, he's not the guy that will set your team up for the long haul. On the flip side is bringing in a promising young coaching prospect that has never held an NFL head coaching position before.  He would likely try to do as Reid did and rebuild the team over the course of a couple years. The idea with this kind of coach would be to clean house and start fresh.  Vick would be gone.  The philosophies of Howard Mudd and Jim Washburn would be gone (although they'll be gone regardless). There would be a good chunk of players let go and replaced with a new mix of veterans and rookies.  Any player with a reputation of a "me player" would be gone. He would likely go with a young quarterback to try and build around.  He would bring in new schemes and fresh ideas.  He would earn the players' respect and have them believing.  He would have a 5-year plan and be given most of that time to bring it to fruition. And most importantly, this kind of coach would not be expected to win immediately.  The expectation would be to install a new winning atmosphere, show improvement and set this team up to be a contender for years. Both ways have its pros and cons.  On one hand, I like the excitement of building a new team that is "up and coming" and gets into a position to be a legitimate challenger for years.  Having a young QB that looks to be a stud for the next decade is one of the best feelings for a franchise. On the other hand, we have some good players to make a run with right now as long as we add a key piece here and there and have coaches who know how to use them better. There are risk factors for both ways as well.  A new coach could misjudge the talent of a young QB.  A veteran coach could make the wrong decision on a veteran QB.  Both could end in disaster and set a franchise back for years. What could be a highly influential deciding factor is where the Eagles pick in the draft.  If they continue at their current rate, we will be looking at a top-10 pick, possibly top 5. If that's the case, do you bring in a guy who will draft our next hopeful franchise QB and build around them?  Or if we pick in a slot where we can't get that kind of QB, do we then just decide to go with a veteran coach and stick with Vick? What say you, huh? Follow Dave Stoessel on Twitter for more Eagles news and discussion!
Original Story:
http://www.buzzonbroad.com/2012/11/po...
THE BACKYARD
BEST OF MAXIM
RELATED ARTICLES
According to Jason Cole of Yahoo! Sports, a source has told him that Philadelphia Eagles owner Jeffrey Lurie will give head coach Andy Reid every opportunity  to turn things around before he ends up firing him. This could mean that Reid will be the Eagles' head coach for the remainder of the season. "Don't see it before we're eliminated. [Probably] not 'til the season...
According to Jason La Canfora of CBS Sports, Eagles head coach Andy Reid would be interested in coaching the Chargers he ends up being let go by Philly and San Diego ends up firing Norv Turner at the end of the season. "The Chargers have been near the top of their division for years and have a former Pro Bowl quarterback in his prime in Philip Rivers. Reid is a native of Southern...
Andy Reid made Kolb look like a real QB Juan… Michael Vick finally took one too many hits and left the game against Dallas with a nasty concussion.  Reports from Philly were that Vick still looked woozy after the game.  Not good for his propositions of starting next week. Nick Foles came in and performed admirably considering he didn't get reps at practice and Dallas' D is...
A trio of quarterbacks that were all in the championship conversation at the start of the season went down with concussions on Sunday.  Please Click Here To Read This Story
Let's jump right into it and state the very obvious fact: Perhaps the best way for Andy Reid and the Philadelphia Eagles to make their football worlds better is to part ways and start new.
The Nick Foles era begins in Philly, but this time it's real and if it doesn't, Andy Reid's chances of being fired will go up. Philadelphia Eagles Foles stepped into the Dallas Cowboys game to save the day for both the Eagles and head coach Andy Reid in the process. All it took was for Michael Vick to suffer a concussion in the first half to jettison Foles into the fold....
It's no secret that most Eagles fans are ready to move on from Andy Reid. After 14 seasons, countless quarterback controversies, astronomical expectations and, oh yeah, ZERO championships, it seems time for a fresh start in the City of Brotherly Love.When asked about which coach they would prefer to see over Reid, fans immediately go for the cream of the crop. You'll hear...
Shortly before kickoff of the Philadelphia Eagles' 38-23 loss to the Dallas Cowboys on Sunday, smoke could be seen billowing from a car on fire in Parking Lot E at Lincoln Financial Field. According to some speculative tweeters, the vehicle belonged to a Cowboys fan who had drummed up trouble with the wrong Philadelphians. Others wrote that it was simply sparked by hot charcoal...
With both teams  3-5 the Dallas Cowboys and Philadelphia Eagles game on Sunday afternoon has taken on added importance. It should come as no surprise that coaches Jason Garret and Andy Reid are on the hot seat as both teams have under achieved and are coming off consecutive losses. The first game between the Cowboys and Eagles this season will be played at Lincoln Financial Field...
DALLAS (38) d PHILADELPHIA (23) The Headline: Dallas stays alive, just, by knocking out the Eagles The Story: It's funny, everyone in the NFL has been waiting for Andy Reid to finally bite the bullet and bench Michael Vick thanks to his poor run of form and bad habit of committing turnovers. Reid instead has stood by his quarterback and insisted that Vick is his guy despite the...
According to Howard Eskin of 94 WIP Radio in Philly, Monday Night Football analyst Jon Gruden could be headed to Philadelphia to become the Eagles' next head coach if they decide to fire Andy Reid at the end of the season. I can't imagine the Eagles keeping Reid around after another highly disappointing season. I think the Eagles would be a good fit for Gruden, who would love...
The Philadelphia Eagles are enduring yet another disappointing season and with their loss Sunday to the Dallas Cowboys, the 3-6 Eagles are poised for some major changes next season. At this point, you have to figure that head coach Andy Reid is as good as gone, but will Michael Vick follow Reid out of town? Vick is slated for a $16 million dollar salary next season, but only $3 million...
NFL News

Delivered to your inbox

You'll also receive Yardbarker's daily Top 10, featuring the best sports stories from around the web. Customize your newsletter to get articles on your favorite sports and teams. And the best part? It's free!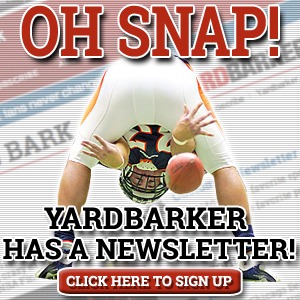 Latest Rumors
The Backyard

Today's Best Stuff

For Bloggers

Join the Yardbarker Network for more promotion, traffic, and money.

Company Info

Help

What is Yardbarker?

Yardbarker is the largest network of sports blogs and pro athlete blogs on the web. This site is the hub of the Yardbarker Network, where our editors and algorithms curate the best sports content from our network and beyond.