Found January 07, 2013 on The Nosebleeds:
  On Sunday, the Patriots will take on the Houston Texans in the AFC divisional round.  As we all know, the Patriots manhandled the Texans in week 14 by a score of 42-14 and seemed to be primed for another run deep into the postseason.  While the Pats are 9.5 point favorites at the moment, don't expect this week to be another walk in the park. The Texans are coming off of an impressive showing against the Cincinnati Bengals in which they rushed for 158 yards and threw for another 262 against the league's sixth ranked defense.  This should be particularly alarming to Patriots fans because the New England defense finished the regular season ranked 25th.  In their week 14 matchup, the Patriots surrendered only 323 total yards to the Houston offense in arguably their best game of the regular season, and you have to wonder if they will be able to put together a similar performance. This isn't the first time the Patriots will play a playoff game against a team they crushed in December, and history does not bode well for them.  Just two years ago, the Pats blew out the New York Jets 45-3 in week 13 and then proceeded to lose to them in the divisional round, 28-21.  On the other hand, Bill Belichick seems to be some kind of savant when it comes to facing a team for a second time in the same season.  He and his coaches had a perfect gameplan for Houston the last time they met and there is no reason why that shouldn't happen again on Sunday. That being said, let's take a look at what the Patriots will have to focus on if they want to advance to the Conference Championship.   J.J. Watt It is no secret that J.J. "Swatt" is what makes this Texans defense so dangerous and the Pats will have to keep him in check if they want to have any chance to win.  Last week Watt picked up two more pass deflections, a sack and five solo tackles, most of which came in the backfield.  In their week 14 victory, the Patriots were able to keep Watt from getting his hands on any passes.  They will need to do that again in order to have any success this week.   Arian Foster This is another obvious answer, but it is still the truth.  The Patriots held Foster to just 46 yards rushing and 39 yards receiving in week 14.  If he gets past the first layer of the defense, especially early in the game, the Patriots could be in for a long day.  Foster's presence as a pass catcher makes him particularly dangerous and forces defenses to keep a defender on him at all times.  The Patriots linebackers are not very strong in pass coverage, which means that Houston will definitely try to get Foster some one on one coverage against them for big plays.   Putting Pressure on Schaub Texans QB Matt Schaub was sacked only 27 times in the regular season, but 13 of those came in Houston's four losses.  Even in their wildcard win last week, Schaub showed that he is can be inaccurate when flushed out of the pocket.  New England was 15th in the NFL this season with 37 total sacks, but only five combined sacks in their four losses.  To put it simply, when the Texans offense gives up sacks they lose, and when the Patriots defense gets sacks they win.  It is that simple.   Aqib Talib The newest member of the Patriots secondary made his presence known immediately when he returned an interception 59 yards for a touchdown against Indianapolis.  When he is on the field, this is a completely different defense.  He allows the struggling Devin McCourty to move over to safety, where he seems much more effective, and gives the Patriots the "shut down" corner they have been needing so badly.  In week 14, he was able to keep Andre Johnson to just three receptions when they were matched up before injuring his hip in the second quarter.  If Talib is completely healthy and can keep Johnson out of the endzone again, the Texans offense becomes much more one-dimensional and easier to defend.   Here's to hoping that the duo of Brady and Belichick can work their postseason magic one more time this postseason and bring us to the AFC Championship for the sixth time since 2001.
Original Story:
http://thenosebleeds.com/preview-patr...
THE BACKYARD
BEST OF MAXIM
RELATED ARTICLES
"Belichick was asked if the Dec. 10 game between the teams (a 42-14 Patriots win) gives New...
Just in case the Houston Texans needed any more fuel for this weekend's upcoming AFC Divisional playoff game, Boston sports writer Dan Shaughnessy provided them with some. Houston Texans running back Arian Foster recently changed his Twitter avatar to this quote taken from a Shaughnessy article written on Sunday bashing the Texans after their Wild Card win over the Bengals...
The Houston Texans have the Patriots right where they want them. Well, not really. They were on their way to a first round bye when they **** the bed and played their way out of the bye.Houston probably regret hyping up the week 14 matchup against the Patriots. They wore letterman jackets on the way to Gillette Stadium.The game didn't start out great for the Texans going down...
Boston Globe columnist Dan Shaughnessy ripped the Texans as frauds. He went on to cite JJ Watt's zero sacks during their week 14 match up against New England (Credit: AP Photo) With the Houston Texans win over the Cincinnati Bengals on Saturday, the team will now play the New England Patriots this weekend. This weekend's game between the Texans and Patriots is a re-match from...
Arian Foster of the Texans has a new Twitter avatar. From Shaughnessy's column yesterday. Shaughnessy's Column Used As Bulletin Board Material by @ArianFoster is a post from: Boston Sports Media Watch
Patriots Offensive Drives vs. Texans.  That stretch of three straight three-and-outs and a six-and-out is a little concerning.
A regular-season rout can be a poor predictor of the postseason rematch. Coach Bill Belichick can remind his New England Patriots of that less than a month after their 42-14 romp that shoved the Houston Texans into their late-season plunge. The stakes will be much higher when the Texans return Sunday to Gillette Stadium. The winner in the divisional-round game goes to the AFC championship...
The Houston Texans earned a return trip to Foxboro following their win over Cincinnati Saturday night. New England Patriots head coach Bill Belichick had his conference call today, and he surprisingly was forthcoming with information. That's not to say The Hoodie explained the game plan in detail, but he did give a little more than expected for a Sunday before the Divisional...
If you had lost to the same team twice, would that make you even more motivated to win the next chance you got? That's how Brandon Spikes (linebacker, #55) feels about the Patriots' chance to advance in the postseason.Brandon Spikes on getting another postseason chance: "Man, I still got that feeling in my stomach" from Super Bowl loss.— Mary Paoletti (@Mary_Paoletti...
Going into the week 14 clash with the Houston Texans, most New England Patriots fans were wondering how the offense could put up points on the Texans. 42 points and 419 yards later, most Pats fans were wondering where this defenses fearsome reputation had come from.Well, having a Tom Brady led offense isn't a bad place to start. It also helps if you've got one of the best...
Bill Belichick doesn't believe that a blowout means anything in a rematch.
Hot News for Owner Robert Kraft
NFL News

Delivered to your inbox

You'll also receive Yardbarker's daily Top 10, featuring the best sports stories from around the web. Customize your newsletter to get articles on your favorite sports and teams. And the best part? It's free!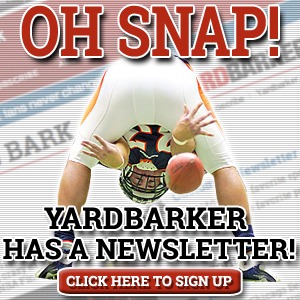 Latest Rumors
Best of Yardbarker

Today's Best Stuff

For Bloggers

Join the Yardbarker Network for more promotion, traffic, and money.

Company Info

Help

What is Yardbarker?

Yardbarker is the largest network of sports blogs and pro athlete blogs on the web. This site is the hub of the Yardbarker Network, where our editors and algorithms curate the best sports content from our network and beyond.