Found January 28, 2013 on Bush League Chronicle:
Hey, in case you didn't know, the biggest football game of the year is set to go down on Sunday. Naturally, it creates a lot of media attention. This is a time where old stories are uncovered and brought to the spotlight. With that being said, 49ers linebacker Patrick Willis recently shared an interesting story from his recruiting process.He told The Tennessean on Sunday that he literally cried when the University of Tennessee failed to offer him a scholarship coming out of high school. The Bruceton, Tenn. native eventually landed at Ole Miss where he became an All-American."Yes I did. I was a Vols fan growing up. That was like America's Team. I wanted to go there so bad. After every (high school) game my dad and I would get in the car and drive five hours to go to Knoxville to watch them play on an unofficial visit. This was on our gas money and our time. I just wanted to show them how bad I wanted to be there," Willis said."I can't forget being there and you have all these other big-time recruits there and they are shaking their hands and the coaches are talking to them. The coaches never shook my hand. They never talked to me. One day I just got tired of doing that. My senior year, I remember going up and saying, 'Coach I see all of the other guys getting love. I really want to come here. I'm interested in coming here. Do you have something for me? Maybe a scholarship offer? Maybe something just saying you want me?' "The Vols never did offer a scholarship to Willis. I would venture to say that they feel pretty sheepish about that fact nowadays.Willis was drafted in the first round of the 2007 NFL Draft by San Francisco. He was just recently named to his sixth Pro Bowl."I'll never forget getting in the car with my foster dad and we're riding home and I cried. I cried, not because I was sad, but more so because I knew how badly I wanted to be a Tennessee Vol. I knew what type of player I could be," Willis said.Fortunately, the story has had a good ending.The good Lord had a plan for me. I ended up going to Ole Miss. I went there and had a blast and had a great time playing football there. Here I am all these years later. The Lord had a plan for me."I wonder if that plan includes a Super Bowl win against the Ravens?
Original Story:
http://www.theblcblog.com/2013/01/pro...
THE BACKYARD
BEST OF MAXIM
RELATED ARTICLES
A lot of people use disappointment, heartache, and someone not wanting them as fuel to spark success in their life.  San Francisco 49ers All Pro linebacker Patrick Willis wasn't always the dominating middle linebacker you see today. Willis is from Bruceton, Tennessee, and as you can guess He wanted so bad to be a Vol.  To disappointment and obviously something that pushed him...
The San Francisco 49ers' former starting quarterback Alex Smith is expected to seek his release before free agency, according to Pro Football Talk. Smith, who lost the starting job to Colin Kaepernick in Week 10, would prefer to be released so he can garner the full benefits of free agency, the report says. The 49ers aren't likely to release Smith because of his value in...
Technically, the San Francisco 49ers are the home team in Super Bowl XLVII, and as grand arrivals go, their landing in New Orleans on an unseasonably warm Sunday evening was rather calm and unassuming. Players casually walked off the team plane dressed in casual attire, minus handheld video recorders recording the moment. Nobody waved to the crowd. They offered no real hint of the...
Randy Moss finally got his fourth second chance, and he plans to make the most of it. Mike Florio of Pro Football Talk reports that Moss plans to play at least another year after the 49ers and Ravens face each other in the Super Bowl this Sunday. The 49ers signed Moss this season after the veteran wide receiver spent more than a year out of the game. He had failed to draw interest...
Randy Moss was asked about his future as well as his current role with the 49ers during media day on Tuesday. Moss seemed to suggest that he doesn't want to be back with the 49ers next season. "I don't like my role," said Moss of his role with the 49ers, per Tom Curran. "I really don't." In regards to being back in San Francisco next season, Moss simply responded with "next...
Randy Moss used to be a star. Now, he's just an afterthought with the San Francisco 49ers. It's a role he's still struggling to accept. Moss spent much of his career as one of the NFL's top receivers. During Super Bowl media day on Tuesday, he called himself ''the greatest receiver ever to do it.'' That's a claim sure to be debated in NFL circles...
The latest reports to come out during Superbowl week is that Randy Moss would like to play one more year and the 49ers would love to have Randy Moss back. Jim Harbaugh is already on record stating that the 49ers would love to bring back Randy Moss next year and a report from Pro Football Talk eludes to the fact that Randy wants to play one more year. Adam Schefter mentions this on...
The San Francisco 49ers can rest easy knowing Michael Crabtree will be available and clear of any charges when the team takes on the Baltimore Ravens in the Super Bowl.  Crabtree was part of an investigation into sexual assault allegations, but he will not be charged. According to an Associated Press report, Crabtree will not face any charges.  He was cooperative with the police...
Aldon Smith was among several players preparing for the Super Bowl who doesn't see anything wrong with their kids playing football. Responding to President Obama's comments questioning the safety of the game, the 49ers' All-Pro linebacker and a few teammates said they'd allow their sons to follow them into the sport. ''It's not like we signed up and...
Rapid Eye Media writers and staff give you their predictions on Super Bowl xlvi between the Baltimore Ravens and the San Francisco 49ers.  The Ravens dominate the women picks while most of the guys are picking the Niners.  Will Joe Flacco be the worst quarterback to win a Super Bowl since fellow Raven Trent Dilfer?  [...]
Withe the regular season in the books and only one game left to play, I figured this would be a good time to discuss the major awards for the 2012 season and who should win them, as well as who will. I'm a defense guy, so I think I'll kick off this series with the defensive player of the year. First, the candidates. Aldon Smith, OLB, San Francisco 49ers After a stellar season...
49ers News

Delivered to your inbox

You'll also receive Yardbarker's daily Top 10, featuring the best sports stories from around the web. Customize your newsletter to get articles on your favorite sports and teams. And the best part? It's free!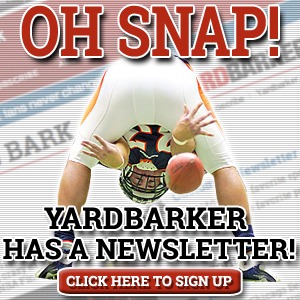 Latest Rumors
Best of Yardbarker

Today's Best Stuff

For Bloggers

Join the Yardbarker Network for more promotion, traffic, and money.

Company Info

Help

What is Yardbarker?

Yardbarker is the largest network of sports blogs and pro athlete blogs on the web. This site is the hub of the Yardbarker Network, where our editors and algorithms curate the best sports content from our network and beyond.