Posted January 02, 2013 on AP on Fox
PLAYERS:
Bill Belichick
,
Chandler Jones
,
Matt Schaub
,
Joe Flacco
,
Andrew Luck
,
Torrey Smith
,
Justin Tucker
,
Devin McCourty
,
Tom Brady
,
Aqib Talib
,
Alfonzo Dennard
,
Julian Edelman
,
Donald Thomas
,
Steve Gregory
,
Stevan Ridley
TEAMS:
Indianapolis Colts
,
Houston Texans
,
Baltimore Ravens
,
New England Patriots
,
Cincinnati Bengals
,
Jacksonville Jaguars
,
Miami Dolphins
,
Buffalo Bills
,
Tampa Bay Buccaneers
,
St. Louis Rams
The New England Patriots don't know yet who they'll face in their playoff opener. But they do have firsthand knowledge about all three potential opponents. The Patriots, after all, have already played every one of them. They routed the Indianapolis Colts 59-24 and the Houston Texans 42-14 and lost to the Baltimore Ravens 31-30 on a last-play field goal. So until the he finds out, coach Bill Belichick is playing it safe. The Patriots will focus on themselves, first and foremost. And as for the opponents? Well ... ''We'll work on everybody,'' the coach said Wednesday. New England (12-4) will be home for the divisional round on Jan. 13 against the Texans if they beat the Cincinnati Bengals in Saturday's AFC wild-card game. If Houston loses, New England will host the winner of Sunday's game between Baltimore and Indianapolis. ''After the Houston game, we'll either be full-speed ahead on Houston,'' Belichick said, ''or we'll put that in the drawer and wait and see what happens in the next game.'' Either way, New England will be an interested viewer from afar this weekend. And none of the options will be easy, so any extended look the Patriots can get could prove valuable. Rookie defensive end Chandler Jones doesn't know if he'll be trying to sack Houston's Matt Schaub, Baltimore's Joe Flacco or Indianapolis' Andrew Luck. So, like his teammates, he'll watch film and concentrate on self-improvement this week. He'll also review his own handwritten notes from previous games. ''I have a big stack of notes, actually, that I keep,'' Jones said, ''So it's good to have those things to look at certain tendencies. I can't really talk so much about the Colts because I didn't really play. I was injured (in the first quarter), but, definitely, you can go back through those notes.'' All three possible foes have changed since facing the Patriots. The Ravens, in fact, have had alterations on the coaching staff and lost four of their last five games. ''There's a lot more information since the time we played them,'' Belichick said. ''That definitely needs to be analyzed.'' The Patriots were leading 30-20 before Flacco threw a 5-yard touchdown pass to Torrey Smith with 4:01 left. Justin Tucker's 27-yard kick won the game two plays after a 27-yard pass interference penalty against Devin McCourty gave Baltimore the ball at the New England 7-yard line. The loss dropped the Patriots to 1-2, their first sub-.500 record since they lost the 2003 opener. But by the time the Colts visited on Nov. 18, the Patriots were 6-3 and on a roll. New England quarterback Tom Brady outplayed Luck and the Patriots received a huge boost from the defense and special teams. Aqib Talib, in his first game since being traded from the Tampa Bay Buccaneers, and rookie Alfonzo Dennard returned interceptions for touchdowns. And Julian Edelman brought back a punt for another. ''As a defensive back, we have short-term memories,'' Talib said, ''so I don't remember too much about the game. I'm kind of worried about getting ready this week.'' The Patriots' win streak had reached six games when the Texans came to town with the NFL's best record and second most points. They left with a beating. Brady threw four touchdown passes, all before six minutes were gone in the third quarter and the home team cruised to victory. ''We can't predict the score but we know we can dominate games,'' McCourty, who had a first-quarter interception, said after the game. The Patriots did lose to the San Francisco 49ers the next week 41-34, then struggled to beat the lowly Jacksonville Jaguars 23-16. But they rebounded with their first shutout since Oct. 18, 2009, a 28-0 romp over the Miami Dolphins in the regular-season finale last Sunday. New England also had a bye after its eighth game, a 45-7 win over the St. Louis Rams in London. Afterward, the Patriots won five straight games, starting with a 37-31 victory over the Buffalo Bills. But this break is much different. ''After the St. Louis game, we knew we were playing Buffalo so there was a certain element of preparation that we could start on with them, even the next couple games after that,'' Belichick said. ''Now it's just a one-game season. We don't know who our opponent is. We're doing things that we think will help our football team.'' Like giving them three days off after Thursday's practice. Sort of. ''You can't take a week off,'' guard Donald Thomas said. ''You have to just keep working, keep preparing, just try to get better each day and put the work in. So, next week, when we know who we're playing, we can really focus on them.'' Some players will be glued to their televisions for the wild-card games. ''I'll watch every game this weekend closely,'' safety Steve Gregory said. Others won't ... or so they say. ''I'll be hunting,'' said running back Stevan Ridley, a native of Mississippi. ''I'm going down South.'' All of them will be back by Monday, though, when the identity of their opponent is no longer a mystery. --- Online: http://pro32.ap.org/poll and http://twitter.com/AP-NFL
Original Story:
http://msn.foxsports.com/nfl/story/Pr...
THE BACKYARD
BEST OF MAXIM
RELATED ARTICLES
5 Biggest Draft Needs for the New England Patriots: New stuff up on B/R, taking a quick look forward...
Editor's note: Each day during the week of Dec. 31, NESN.com will feature content based on key events from Robert Kraft's tenure as owner of the Patriots. "Krafting a Legacy" will examine how the Patriots got to where they are today following Kraft's purchase of the team. Let's be clear, no one is going to mistake Bill Parcells' tenure in New England for Bill Belichick's...
Editor's note: Each day during the week of Dec. 31, NESN.com will feature content based on key events from Robert Kraft's tenure as owner of the Patriots. "Krafting a Legacy" will examine how the Patriots got to where they are today following Kraft's purchase of the team. Fan first. Owner second. That's how one could reasonably describe Robert Kraft, who owned Patriots...
The days leading up to the NFL playoffs are filled with analysis, forecasts, breakdowns, and various mental masturbations in anticipation of the games that will decide the participants in the Super Bowl. Fans can, and will, hang on every word of their favorite players. New England Patriots fans heard from their favorite quarterback today, as Tom Brady met the media. He touched on...
It says a lot about Rob Gronkowski's season that he made the Pro Bowl despite not playing since week 11. The New England Patriots tight end set NFL history last season with a staggering stat line, and looking at the 1st 10 games of the year, he was set to do the same.According to ESPN, Gronk would still have been a man among boys in the tight end standings, even if he wasn...
NEW ENGLAND PATRIOTS - 2013 PLAYOFFS - PROMO (by CelticsPatriotsman) CelticsPatriotsman is at it again! Chills alert!
When the Patriots kick off their quest for another Super Bowl appearance, they'll be doing so with heavy hearts. Don Brocher, a longtime equipment manager for the team, died Monday night due to complications from leukemia. Brocher, who was 60, was in the midst of his 41st season with organization, which makes him the longest-tenured employee in Patriots history. "The Kraft family...
Editor's note: Each day during the week of Dec. 31, NESN.com will feature content based on key events from Robert Kraft's tenure as owner of the Patriots. "Krafting a Legacy" will examine how the Patriots got to where they are today following Kraft's purchase of the team. Maybe Prince should have specified who exactly should party like it's 1999. While the platinum recording...
Stat check: Season review - New England Patriots Blog - ESPN Boston: Passing defense Final rank:...
The bye week can be a complicated one for NFL teams. With no opponent to prepare for, practice becomes much different. For the Patriots this week, they worked on themselves. And despite a 12-4 record, they apparently had a lot to work on. Tom Brady told the media on Thursday the team was given a packet on what they had to do better. Wide receiver Deion Branch also mentioned that...
The New England Patriots aren't exactly sure who they'll be playing in a week and a half, but they have an idea. If the Houston Texans beat the Cincinnati Bengals Saturday, the Patriots will get what essentially amounts to an extra day of opponent preparation, as that would mean they'd be slated to face the Texans in the Divisional Round of the playoffs.However, if the...
Since Ray Lewis announced his pending retirement yesterday, the Ravens have been all over the news. Bill Belichick hurled praise at the 17-year linebacker yesterday and today was Tom Brady's turn.CSNNE:"He was -- he still is an incredible player and a competitor," said the Patriots' quarterback before Thursday's practice. "Like I said, I know so many people...
NFL News

Delivered to your inbox

You'll also receive Yardbarker's daily Top 10, featuring the best sports stories from around the web. Customize your newsletter to get articles on your favorite sports and teams. And the best part? It's free!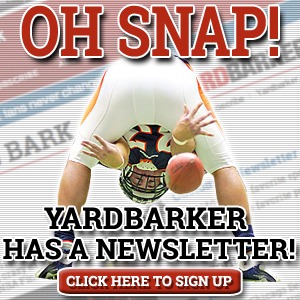 Latest Rumors
The Backyard

Today's Best Stuff

For Bloggers

Join the Yardbarker Network for more promotion, traffic, and money.

Company Info

Help

What is Yardbarker?

Yardbarker is the largest network of sports blogs and pro athlete blogs on the web. This site is the hub of the Yardbarker Network, where our editors and algorithms curate the best sports content from our network and beyond.