Found March 22, 2012 on Waiting For Next Year:
When the "bounty" program that the Saints were running came to light, I was one of the first ones to wonder what the big deal was. I would never claim that a bounty system is legal or even ethical, but in a game where it is a defense's primary objective to use physicality to stop the opposing offense from moving the ball, it just didn't seem all that crazy to me. I didn't know the full story. What the Saints did was far worse than just running a bounty system that rewarded players for big plays and injuring opposing stars. They lied about it in order to keep their illegal system going long after the NFL first started investigating.
The cliché is that the cover-up is worse than the crime. I don't even necessarily agree with that, because covering up your crime is a pretty natural defense mechanism. Again, I am a pretty understanding person and ultimately we are talking about a game that is violent by nature. The bounty system is over the line, but I'm not going to pretend like I am outraged or that I don't understand. Where I finally started understanding Roger Goodell is that the Saints kept their bounty program going even after it was first investigated. In the end, this seems to be what drew the level of punishment that the Saints received. In my mind it is the thing that ultimately justifies the NFL's actions as well.
It is one thing to run a bounty program that encourages big plays and, yes, knocking out opposing teams' star players. It is quite another to cover it up in order to keep the program going. That is a spit in the face of rules and leadership that is more dangerous than just the program. The NFL has to be able to exert control over NFL clubs and players at least with regard to rules.
You may think the NFL overstepped in something like the salary cap penalties against the Redskins and Cowboys, but it is hard to argue that the NFL doesn't need to retain the kind of control they're exerting over the Saints. To have a team get called out for illegal activity as the Saints were in early 2010 by the NFL's investigation and then brashly continue the program was the ultimate crime. Early 2010 indicates to me that it was after the 2009 season, yet the Saints continued their illegal program in the face of investigation for two seasons thereafter.
The NFL's extensive investigation established the existence of an active bounty program on the Saints during the 2009, 2010, and 2011 seasons in violation of league rules, a deliberate effort to conceal the program's existence from league investigators, and a clear determination to maintain the program despite express direction from Saints ownership that it stop as well as ongoing inquiries from the league office.
So back to my original premise, I think a bounty program deserves a slap on the wrist type punishment. I don't think it is out of character with the spirit of the sport even if it does definitively step over the lines of ethical and sportsmanlike behavior. Call me old fashioned, but I'm firmly in the "boys will be boys" camp on that one. But, when the Saints lied about it, they didn't thank their stars they might have gotten away with one and ended the program. They kept it going. This pushes it way beyond any kind of "boys will be boys" category for me.
Is the NFL hypocritical on injuries? Sure. Their proposal for an 18 game schedule is not really in line with the talk about player health and safety, especially with regard to concussions and head trauma. So what? Just because they can be somewhat hypocritical doesn't mean that the penalties handed out to the Saints are overkill. If the NFL went lighter on the Saints would it make them less hypocritical? That argument doesn't lead anywhere. It is a distraction and nothing more.
We'll see where it goes from here, but I'm guessing Scott Fujita and his teammates aren't looking at meaningless little punishments. Even if you believe Scott Fujita that he wasn't anything like Jonathan Vilma – named in the report for ponying up $10k for Brett Favre – you have to think he is in serious danger of missing games this season. He already admitted to paying for plays. If he has one saving grace, it might be that he was in Cleveland immediately following 2009 meaning that unless he was questioned by the NFL directly in early 2010, he didn't have anything to do with the cover-up.
You can read the full announcement from the NFL at ProFootballTalk.
Original Story:
http://www.waitingfornextyear.com/201...
THE BACKYARD
BEST OF MAXIM
RELATED ARTICLES
Saints linebacker Jonathan Vilma (L) tried to injure several of his NFL counterparts in order to collect a cash bounty reward.As a former athlete that has played myriad sports in a multitude of competitive settings, I'd like to take the time to say that New Orleans Saints linebacker Jonathan Vilma – along with the other New Orleans Saints players that participated on their now...
The NFL announced that New Orleans Saints Head Coach, Sean Payton, will be suspended without pay, for the entire 2012 season for his involvement in the team's bounty program. Payton's suspension will begin on April 1. NFL Commissioner Roger Goodell also suspended the team's former Defensive Coodintator, Gregg Williams, indefinitely, and handed Saints General Manager...
              The NFL came down hard on the New Orleans Saints. Saints head coach Sean Payton has been suspended for one year, former defensive coordinator Gregg Williams was suspended indefinitely, general manager Mickey Loomis was suspended for eight games and fined $500,000 individually, the team was fined $500,000 and lost two second-round draft picks in 2012 and 2013...
Get It Done Saints
With news that New Orleans Saints head coach Sean Payton would be suspended for a year for his team's bounty program announced today, social media star and NFL Network analyst Warren Sapp took to Twitter to reveal some info he had heard about the situation. "Just Heard Who The Snitch Was," Sapp tweeted on Thursday...Read the Rest...
We already knew that when this bounty story broke that the eventual punishment was going to be severe. NFL commissioner Roger Goodell doesn't know any other way. He carries a big hammer and he uses it at every given opportunity. He calls his way of life "protecting the shield." The shield being the NFL logo. There is some sort of good that came out of today's suspensions...
We've been riding pretty high for the past few years, Saints fans. We've celebrated a Super Bowl victory, back-to-back playoff appearances, division titles and record breaking performances by our star players. But now that this bounty sh*t has hit the fan, it's time to see if you're ride or die, or just another fairweather in a catchy black and gold tee. The NFL came down...
Roger Goodell is damn serious about player safety, and New Orleans Saints coach Sean Payton paid the price Wednesday. Payton was suspended for the 2012 season for his role in Bountygate. His coaching staff and players pooled money and awarded payments to players for either hurting or knocking an opponent from a game. Current Rams defensive coordinator Gregg Williams, who promoted...
New Orleans Saints head coach Sean Payton has been informed by the NFL that he will be suspended without pay for the 2012-13 football season following an investigation into the Saint's bounty program in which players were paid money for injuring opposing players. Because the bounty program happened under Payton's watch, he took the brunt
Roger Goodell lowered the sonic boom on the Saints yesterday.  The Saints got hit hard with the loss of 2 second round picks in 2012 and 2013, $500k, Payton 1 year suspension and 6 game suspension of their GM.  Was this a power play by the commissioner of the most powerful organized sports league in the world, or a justified action?  We have heard a lot from the Commish's office...
The NFL might have reprimanded the New Orleans Saints for their bounty system Wednesday, but it doesn't appear that the story is going away anytime soon. According to CBS Sports, back in the Redskins' 2006 Monday Night Football game against Minnesota, then-defensive coordinator Greg Williams promised a hefty reward to whichever player took out Vikings quarterback Brad Johnson...
It should be an interesting day when Roger Goodell shows up at the Superbowl this year in New Orleans.  I hear the bounty on him is already set at 10k. Sean Payton suspended for an entire season (costing him around $8 million) Mickey Loomis suspended 8 games and fined $500k Saints organizations fined $500k and
NFL News

Delivered to your inbox

You'll also receive Yardbarker's daily Top 10, featuring the best sports stories from around the web. Customize your newsletter to get articles on your favorite sports and teams. And the best part? It's free!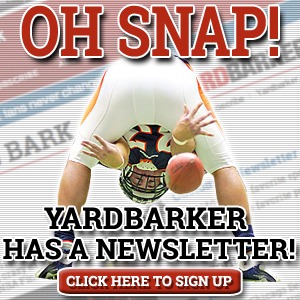 Latest Rumors
Best of Yardbarker

Today's Best Stuff

For Bloggers

Join the Yardbarker Network for more promotion, traffic, and money.

Company Info

Help

What is Yardbarker?

Yardbarker is the largest network of sports blogs and pro athlete blogs on the web. This site is the hub of the Yardbarker Network, where our editors and algorithms curate the best sports content from our network and beyond.