Found June 05, 2012 on B-More Birds Nest:
This past weekend was the 48th annual Ravens Roost convention in Ocean City, Maryland (yes, 48. It was the Colts Corral Convention previously), and for about the eighth consecutive year, Goob and I were in attendance. This year, we re-wrote the lyrics to Toby Keith's "Red Solo Cup" to better suit the occasion, and Goob sang it (several times). If you weren't there, first off I'm sorry. But secondly, here is the video evidence. Lyrics within the video and below:
Now a purple solo cup is the best receptacle
for barbecues, tailgates, and Ravens festivals
and you sir, do not have a pair of testicles
if you prefer drinking from glass
A purple solo cup is cheap and disposable
and if the Browns ever win something, they'll be decomposable
and unlike a Pittsburgh fan, my house is not forecloseable
Steeler Nation kiss my ass
Purple Solo Cup, I fill you up
It's a Ravens Party! It's a Ravens party!
I love you, Purple Solo Cup
I lift you up, proceed to party! Proceed to party!
Now I love to hold you up and cheers for a sack
Even better when it's Big Ben on his back
Because when he gets hit and his nose goes "crack"
well that my friends is kinda…funny
But I have to admit the fans get smitten
Admiring how sharply "Goob" is written
On you with a sharpie when I get to hittin'
the tailgate lots to get drunk!
Purple Solo Cup, Steelers really suck
It's a Ravens party! It's a Ravens party!
Purple Solo Cup, Steelers really suck
proceed to party! Proceed to party!
Now I've seen you in blue and I've seen you in red
but "give me purple" is what I said
'cuz you're the Ray-Ray to my Ed
and we're all just Wacko for Flacco!
Purple Solo Cup, you're more than just plastic
You're more than amazing, you're more than fantastic
and believe that I'm not the least bit sarcastic
when I drunkenly look at you and say…
Purple Solo Cup, you're not just a cup
You're my…you're my friend.
Thank you, for holding all my beer.
Purple Solo Cup, I fill you up
It's a Ravens Party! It's a Ravens Party!
Solo Cup!
Steelers Suck!
Original Story:
http://feedproxy.google.com/~r/bmoreb...
THE BACKYARD
BEST OF MAXIM
RELATED ARTICLES
HOOPSTER
How did Terrell Suggs injure his Achilles' tendon? He says it was doing conditioning drills, but a new report suggests otherwise.
The Baltimore Ravens aren't anywhere close to working out a long-term contract extension with quarterback Joe Flacco, according to Aaron Wilson of The Carroll County Times. Flacco, 27, is entering the final year of his rookie contract, and the two sides have been discussing an extension since February. There's still plenty of time for Flacco [...]
Two days after the Carroll County Times reported the two sides were not close on a new deal, the Baltimore Sun is now reporting that the Ravens are unlikely to extend Joe Flacco before the season. Flacco is heading into the final year of his 5 year rookie deal and the Ravens would obviously love to lock up the quarterback who has won a playoff game in each of his first 4 seasons...
Getty Images According to Aaron Wilson of the Carroll County Times, even though quarterback Joe Flacco is heading into the final year of his current contract, the Baltimore Ravens and his reps aren't "anywhere close to negotiating a long-term contract extension." With Flacco attending OTA's and not staging a hold out, I wouldn't be surprised if the Ravens waited until the...
Although Madden 13 is still two months from being released, the folks over at EA Sports decided to drop the first trailer for Electronic Entertainment Expo (better known as E3). Check out Baltimore Ravens star linebacker Ray Lewis getting up pumped up for another year of video game football:
Initial reports of Baltimore Ravens linebacker Terrell Suggs' injury concluded he tore his achilles during conditioning drills. However, sources now state that it happened playing basketball April 29th during a three-day tournament in Maricopa, AZ. Basketball tournament staff member Herman Hoffman commented: "He got hurt Sunday prior to the (basketball tournament) championship...
Every NFL Franchise has it's own pantheon of football gods. That group of players who are not only historic in terms of talent, but even more than that, these are the players who you have to talk about when you tell the story of your team. This is part of a 32 article series where I tell you who I would put among that elite group. For this, it's Mt. Rushmore. 4 players only....
Back at the end of April, Baltimore Ravens' star linebacker Terrell Suggs tore his achilles tendon.  At the time, there were reports that he had torn it while playing in a charity basketball game in Arizona, but Suggs and his people insisted that he tore it while working on his conditioning and preparing for a [...]
By now, any consistent reader of mine knows that I follow and write for the Houston Texans during the regular season. Therefore, I usually know much more about players on their roster that the common NFL or national sports writer may know about them. One such player I was always a fan of when he was still in Houston was fullback Vonta Leach. But when I saw that the NFL Network placed...
Despite his claims to the contrary, witnesses say that Baltimore Ravens linebacker Terrell Suggs appeared to injure his Achilles playing basketball. In an interview that will air today on NFL Total Access, Ryan Clark said that he wants to beat the Ravens this year with Suggs out there on the field. Both Marcus Gilbert and Antonio Brown have brief interview segments up on steelers...
When the Patriots advanced to the Super Bowl, people forget it was courtesy of a missed "chip shot" field goal by the Ravens. That miss hasn't been forgotten by Baltimore's kicker Billy Cundiff. What is Cundiff doing to move on?
Ravens News

Delivered to your inbox

You'll also receive Yardbarker's daily Top 10, featuring the best sports stories from around the web. Customize your newsletter to get articles on your favorite sports and teams. And the best part? It's free!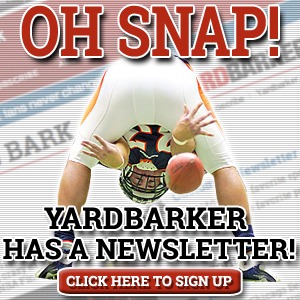 Latest Rumors
Best of Yardbarker

Today's Best Stuff

For Bloggers

Join the Yardbarker Network for more promotion, traffic, and money.

Company Info

Help

What is Yardbarker?

Yardbarker is the largest network of sports blogs and pro athlete blogs on the web. This site is the hub of the Yardbarker Network, where our editors and algorithms curate the best sports content from our network and beyond.