Found November 23, 2012 on Fox Sports:
Of all the NFL's elite players, few have traveled a more curious path than New Orleans Saints right guard Jahri Evans. He attended a Division II program -- Bloomsburg University of Pennsylvania -- on an academic scholarship. He never played organized football until reaching high school. Even then, Evans was forced to miss his senior season because of an injury. And now? Evans is a three-time Pro Bowl selection who has never missed a start in six-plus NFL seasons -- Sunday's FOX America's Game of the Week matchup against the 49ers will mark Evans' 107th straight. As the Saints prepared for the game (4:25 p.m. ET kickoff), Evans spoke with FOXSports.com about his unusual background and his NFL career. Q: What makes a great NFL guard? Evans: You have to be tough and able to handle the heavy rushers -- big guys with a lot of power who are just going to try and push you back. They're not really going to give you a lot of moves or shake or anything but just a lot of power. Q: After playing left tackle in college, what was the biggest transition in switching to guard, and how great a jump was it coming from a Division II school? Evans: Terminology, how plays are called, the speed of guys, and how much stronger and bigger guys are. When I was in college, guys who were (defensive) ends were the size of linebackers in the NFL. You still get that speed, but you don't get the speed mixed with the power. When I got here, it was like baptism by fire. I started all the preseason games my rookie year. I had a lot of vets around me where I didn't have to do much thinking on the plays that were called. I just had to block the three-technique (defensive tackle). That's how we approached it. As the years went on, I've just tried to gather as much information as I could and continue to get better. Q: Who are the names of some defensive guys who give you a tough challenge? Evans: (Dallas nose tackle Jay) Ratliff. He's a guy who has long arms and is a power/speed guy inside who can also get to the edge. (Baltimore's) Haloti Ngata and (Detroit's) Nick Fairley are two more, and I had problems with 'Kemo' [nose tackle Ma'ake Kemoeatu] early in my career when he was with Carolina. Q: Who has gotten under your skin? Evans: There aren't really too many guys. Earlier in my career, a lot of guys would big-time me a little bit being from a D-II school. They'd try to punk me on the field. But nowadays, guys really don't talk too much trash out there to me. It's more the rookies and younger guys who I haven't seen before. Like in the (Philadelphia) Eagles game this year, No. 72 [defensive tackle Cedric Thornton] kept yapping the whole game. He played well, but I put him down a few times, too. Q: Why didn't you play football until high school? Evans: When I was growing up, you had to be a certain weight and age. I was always the age, but I was too heavy. I had to lose the weight, and that wasn't going to happen. Mom didn't like that too much. When I was in high school, I pretty much took off from there, but I only played two years because I broke my leg as a senior playing basketball in the summer. Luckily enough, I had good grades and a couple of scholarships came around from (Division I-AA) schools. I just decided to go D-II to Bloomsburg. Q: You're one of the few NFL players to have attended college on an academic scholarship. How proud are you of that? Evans: I'm very proud. When I got hurt as a senior, I knew I wouldn't be able to get good looks (from Division I colleges) because I didn't play. My main focus was just to get good grades. My senior year of high school I got straight A's and did pretty good on my SATs. I got a Board of Governors scholarship to Bloomsburg, because they don't give full athletic scholarships. Q: At 6-foot-4 and 318 pounds, how much do you have to watch your diet on the NFL level? Evans: A lot. It's just one day that you have weigh-ins. But for me, I drink a bottle of water and I gain a pound. You've got to hydrate yourself, so you do have to watch your carbs like pastas and breads, especially in the offseason. It's just a matter of management during the season. It honestly helps you play better if you're at a good weight. Q: You've never missed an NFL start. What's the closest you've come? Evans: I've had turf toe in 2009 and this season. Luckily, it came right before a bye week both times so I had two weeks to get ready. I wouldn't have been able to play that next week. Q: What guards did you watch when you came into the league who you wanted to emulate? Evans: Larry Allen, Steve Hutchinson, Alan Faneca and (New York Giants guard Chris) Snee. Q: Someday, young offensive linemen are going to be watching video of you. How do you want to be remembered? Evans: He's a tough guy to get around, and he doesn't like to lose a play, because I truly don't.
Original Story:
http://msn.foxsports.com/nfl/story/ne...
THE BACKYARD
BEST OF MAXIM
RELATED ARTICLES
His recent 56-yard touchdown jaunt against Atlanta was one of the NFL's top highlights this season. But the most important runs New Orleans Saints running back Chris Ivory made were ones nobody ever saw. The jogs came at 2 a.m. in the snow while he attended Tiffin University, a private college in a small northern Ohio outpost. Tiffin was nothing like Ivory's hometown of...
New Orleans Saints running back Darren Sproles is listed as probable to start against the visiting San Francisco 49ers on Sunday. Sproles has missed the last three games after having surgery to repair a broken hand. Mark Ingram, Chris Ivory and Pierre Thomas have been combining for carries in place of Sproles.
Last week: 15 (+3) Record: 5-5 The Saints are red hot right now, but they'll need to go at least 5-1 to make the playoffs. The NFC is loaded. If the playoffs started today, there would be two 6-4 teams outside of the playoffs (either Tampa Bay, Seattle, or Minnesota). The Saints are only in 9th place at best in the NFC right now (tied with Dallas). Looking at the rest of their...
Saints linebacker Jon Vilma says he's disappointed that the new schedule for bounty hearings virtually prevents him from being able to personally confront his accusers. Vilma says he wanted to be present for witness interviews with former Saints defensive coordinator Gregg Williams and former defensive assistant Mike Cerullo, who assisted the NFL's investigation into the...
Saints rookie right tackle Bryce Harris is so grateful to have a chance to play in the NFL he isn't about to complain about the timing of his first career start, which is likely to come this Sunday against a San Francisco defense featuring some of the best pass-rushers in the NFL. ''I'm just glad to have the opportunity to start,'' Harris said following practice...
In case you missed it, here's Drew Brees on Persont to Person, a CBS special, late yesterday evening. Worth checking out. 
Saints tailback Darren Sproles practiced Wednesday. He is questionable for Sunday's game against San Francisco.Fantasy Spin:Sproles was a late scratch last weekend, but they will need him when facing the formidable 49ers' defense. Pierre Thomas, Mark Ingram and Chris Ivory will handle the running back position if Sproles is inactive.
There will never be normalcy for the 2012 New Orleans Saints. Not without an end in sight to the bounty scandal that surfaced in the offseason. Not with an interim head coach replacing the suspended Sean Payton and the questions that have developed about the latter's future in New Orleans. Not following an 0-4 start that has the Saints scrambling to become only the second...
The New Orleans Saints are back in the playoff hunt after an 0-4 start, and nobody should really be surprised.
It was expected to be a shootout between the Oakland Raiders and the New Orleans Saints last Sunday, when the teams collided at the O.Co Coliseum. Well, at least one side did their part and, unfortunately for the Raider Nation, it wasn't the Silver & Black. The offense led by Carson Palmer could not keep up with Drew Brees and [...]
Former NFL commissioner Paul Tagliabue will finish hearings in the NFL bounty investigation by Dec. 4 and then issue a ruling soon thereafter. According to multiple reports Wednesday, Tagliabue informed league officials and players involved in the case of his plans. He also directed the NFL to make key witnesses available in the New Orleans' Saints' cash-for-hits bounty...
NFL News

Delivered to your inbox

You'll also receive Yardbarker's daily Top 10, featuring the best sports stories from around the web. Customize your newsletter to get articles on your favorite sports and teams. And the best part? It's free!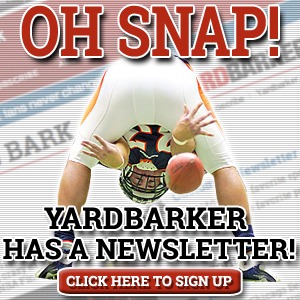 Latest Rumors
The Backyard

Today's Best Stuff

For Bloggers

Join the Yardbarker Network for more promotion, traffic, and money.

Company Info

Help

What is Yardbarker?

Yardbarker is the largest network of sports blogs and pro athlete blogs on the web. This site is the hub of the Yardbarker Network, where our editors and algorithms curate the best sports content from our network and beyond.