Found December 01, 2012 on Taking Bad Schotz:
Three weeks ago, football in the Bay Area was devoid of controversy. 49ers were 6-2, and coming off a bye week, having just destroyed the Arizona Cardinals in a 24-3 victory on Monday Night Football. Alex Smith had a career day in that game, going 18 of 19 with 232 yards and 3 touchdowns. After that convincing divisional road win on national television, Super Bowl rumblings in the Bay Area grew louder.  Last season, the 49ers were just one fumble away from their first Super Bowl appearance in over a decade, and many analysts picked them as the preseason favorite to represent the NFC in 2013.  Boasting one of the best defenses in the NFL, led by a dominating defensive line and linebacking core, the 49ers are consistently able to shut down the run and make opposing offensives one dimensional. The opening question for the 2012-2013 season focused on their offense. To address this concern, GM Jed York brought in a pair of tested receivers, Randy Moss and Mario Manningham, to improve the talent level at the skills positions. With their Super Bowl caliber defense in place, the only question remaining centered around the quarterback position, specifically, could Alex Smith lead this team to a championship? via AP Smith, drafted #1 out of Utah in 2005, had survived multiple coaching changes, losing seasons, and harsh criticism from fans. He had been compared, unfavorably, to Aaron Rodgers, who ironically, was considered by the 49ers for the 1st overall selection in the 2005 draft. Rodgers, selected much later in the draft, has earned a ring and is now considered one of the best quarterbacks in football. Last year, the 49ers brought in, as head coach, Jim Harbaugh to change the culture and return the team to the glory days of Joe Montana, Steve Young, and Jerry Rice. He began to instill confidence in Smith and Smith responded.  Last season, Smith's efficiency as a quarterback steadily improved and he developed the reputation as a competent, reliable "game manager". Although he has played well this season, Smith hasn't taken the next step to gain entry into the category of "elite quarterbacks" and the offense has been limited in the passing game. In a week 10 matchup vs. the St Louis Rams, Smith suffered a concussion in the first quarter and was removed from the game. Although never wishing injury to anyone, Niners fans may look back on that moment as a turning point for the franchise. To replace the concussed Smith, second year backup quarterback Colin Kaepernick, a 2nd round pick out of Nevada, entered the game and stepped into the spotlight. Unknown to most NFL fans, 49er fans saw Kaepernick as a promising future prospect. Kaepernick, a four year starter and star at Nevada Reno, was the only player in the history of college football to pass for over 9000 yards and rush for over 4000. At UNR, he mastered the "pistol" offense and, as a result, was identified a solid NFL prospect with a high ceiling. The knock on Kaepernick, however, was that he was raw and, as such, was a work in progress; he had never run an NFL type system and had what many considered an awkward throwing motion which could limit his ability to pass accurately. In the St. Louis game, he played respectably in relief, with the game ending in a 24-24 deadlock. Although Kaepernick demonstrated athleticism and mobility in the pocket, concerns lingered with respect to his ability to throw the ball accurately and handle the speed of the NFL game. The Bears and Saints were next on the 49ers schedule and Alex Smith's status for those games was unknown. Kaepernick was going to get his shot to showcase his talent against two caliber NFC opponents. In those two games, Kaepernick played brilliantly. Not only did he lead the team to victories in his first two starts as a professional, he ignited the offense against an opportunistic, highly ranked Bears defense, as well as a New Orleans defense playing at home. Kaepernick's play in these games ignited the current controversy: who should be the 49ers starting quarterback? Should the 49ers, based on a limited number of appearances, go with the more athletic Kaepernick, or should the steady, experienced Smith get the nod? Smith, after all, has had a resume of success under Harbaugh, and has done nothing to lose his job. This Nevada Reno product, however, brings an extra element and versatility that this offense has not seen. Not only is Kaepernick more athletic than Smith and, thus, is more of a threat in the wildcat package, he has a stronger arm that can stretch defenses with the long ball threat. This opens up both the playbook for offensive coordinator Greg Roman as well as bigger holes for Frank Gore and the running game. In three short weeks, it appears that Kaepernick has gained the trust of both his teammates and the coaching staff, demonstrating that he can be an effective passer while avoiding turnovers, which often plague young quarterbacks. Although Harbaugh has not publicly committed to naming Kaepernick as the starter (this, evidently, to keep the pressure off the young quarterback) one suspects that Harbaugh knows that Kaepernick gives this team the best chance to win. The 49ers philosophy of running the ball and playing hardnosed defense has, during Harbaugh's reign, worked extremely well. With Smith as the quarterback, however, the 49ers lack the "down the field" element. Kaepernick is young and only started two games, but it may be time to gamble and make a change. Bringing what has been missing in the 49ers, Kaepernick a dynamic element that makes the offense dangerous and which defenses must now prepare for. -Gartman
Original Story:
http://www.takingbadschotz.com/?p=10405
THE BACKYARD
BEST OF MAXIM
RELATED ARTICLES
UH OH
After likening an NFL QB to a CEO, a columnist took 49ers QB Colin Kaepernick to task for his tattoos, writing, "you don't want your CEO to look like he just got paroled."
I don't think there was ever a question there. I think it's just a lot of gobble gobble turkey. Just gobble, gobble, gobble turkey from jive turkey gobblers … that paints a pretty good picture. He's a very confident guy. - Jim Harbaugh on Alex Smith's confidence. On the same day he declined to publicly name a starting quarterback, 49ers coach Jim Harbaugh informed incumbent...
Colin Kaepernick has officially been given the chance to become the next face of the San Francisco 49ers, and so far he has answered the call. There has been little to criticize Kaepernick for in his first two NFL starts, both of which were convincing wins. While it would be difficult to criticize him for his play, one writer felt the need to bash him for something totally unrelated...
ST. LOUIS Colin Kaepernick stumbled. He also glided in the open field, threw fist pumps and showed flashes of what can be a rich future. Kaepernick walked from the Edward Jones Dome as the reason for the San Francisco 49ers loss. He also left as someone worthy of coach Jim Harbaughs trust. Be smart with the ball, said the second-year quarterback, after losing to the St. Louis...
There's a price to pay for those who venture across the middle of the San Francisco 49ers' defense. Dashon Goldson and Donte Whitner are making sure of that. The territory patrolled by the pair of hard-hitting safeties has become a danger zone this season for San Francisco opponents, several of whom have had to be helped off the field after getting leveled by one of the...
Alex Smith (Photo credit: Wikipedia) Now if you have listened to my show at all in the last two weeks on the BTR Network (http://www.blogtalkradio.com/letstalknfl), you know exactly where I am about to go.  The whole benching Alex Smith this late in the season for basically a rookie is just asinine.  Now I am not an Alex Smith fan by any means, but common sense is common sense...
Which way does the thumb turn for the 49ers after their 16-13 overtime loss at St. Louis on Sunday, including David Akers missing again in the clutch, a dagger through the heart of the NFC West leaders, a ridiculous pitch with victory at hand, Colin Kaepernick's keen escapability, Dashon Goldson not thinking on his feet, classic Aldon Smith, Ted Ginn just not the same and much...
Second-year 49ers veteran Demarcus Dobbs was arrested early Friday morning on suspicion of driving under the influence and possession of marijuana, the California Highway Patrol said, and he did not travel to St. Louis with the team later in the day and won't play in Sunday's game against the Rams.
There's a price to pay for those who venture across the middle of the San Francisco 49ers' defense. Dashon Goldson and Donte Whitner are making sure of that, roaming the center of the field with impunity and delivering the kind of pain that's leaving fear in their wake throughout the NFL.
Colin Kaepernick blamed himself after losing for the first time as the San Francisco 49ers' starting quarterback. It appears he will not be losing his job. After the St. Louis Rams avoided a second tie with San Francisco with a 16-13 overtime victory on Sunday, coach Jim Harbaugh indicated he'd be sticking with Kaepernick next week at home against the Dolphins. ''...
  Only way a person believes that tattoos suddenly make this sweet faced individual look like a thug is if they're one chromosome from having one chromosome. So, let me guess…people learned zero, zip, nada, nothing from Allen Iverson?  Let me refresh your memory. Allen Iverson was lambasted for years for having visible tattoos and cornrows. Fastforward barely a decade after...
49ers News

Delivered to your inbox

You'll also receive Yardbarker's daily Top 10, featuring the best sports stories from around the web. Customize your newsletter to get articles on your favorite sports and teams. And the best part? It's free!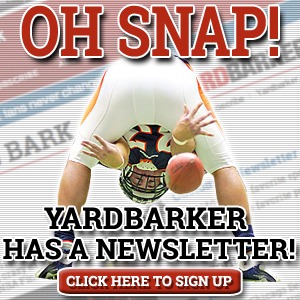 Latest Rumors
Best of Yardbarker

Today's Best Stuff

For Bloggers

Join the Yardbarker Network for more promotion, traffic, and money.

Company Info

Help

What is Yardbarker?

Yardbarker is the largest network of sports blogs and pro athlete blogs on the web. This site is the hub of the Yardbarker Network, where our editors and algorithms curate the best sports content from our network and beyond.