Found September 04, 2012 on Queen City Sports:
PLAYERS:
Buddy Nix
,
Chan Gailey
,
Mario Williams
,
Ryan Fitzpatrick
,
Fred Jackson
,
Jairus Byrd
,
C.J. Spiller
,
Marcell Dareus
,
T.J. Graham
,
Stephon Gilmore
,
Cordy Glenn
,
Rob Johnson
,
Terrence McGee
,
Leodis McKelvin
TEAMS:
Buffalo Bills
,
New York Giants
,
New England Patriots
With anticipation rising in Buffalo offices for the Bills 2012 season, QCS decided to preview how we think the Bills will end up this year. Queen City Sports is starting a new weekly column called the Buffalo Water Cooler. It will consist of the largest topics of each week in Buffalo sports and feature the opinions of multiple QCS writers. This is the 4th edition to be published and the first edition to be published on its new Tuesday feature day.
This week's water cooler features writers Mike Bundt, Ryan Talbot, Branden Hess & Mike Straw Jr. as they preview the Buffalo Bills season. Mike Bundt: What's up everybody? For the first time all year, we're going to focus on the NFL regular season coming up instead of what's been happening during the preseason. With the season getting underway on Sunday, I figured we should preview the Bills upcoming season. How do you all think the Bills will do this year record wise? Mark Sanchez is one of a handful of "weak" quarterbacks the Bills will face in 2012 according to Ryan Talbot. (Source: Jeff Zelevansky/Getty Images North America) Ryan Talbot: 10-6. The Bills not only have an easy schedule, but this is by far the weakest group of collective quarterbacks they've played during a season in a long time. Look at the QBs: Sanchez/Tebow, Cassel, Weeden, Brady, Alex Smith, Skelton, Locker, Schaub, Tannehill, Luck, Gabbert, Bradford, Russell Wilson or Matt Flynn. Brady and Schaub are the only two quarterbacks on this list right now that are heads and shoulders above Fitzpatrick. Some of the QBs listed will go on to have great careers, but many are going to experience growing pains this season. If our defensive line is as good as I think it is, they'll create many problems for the quarterbacks and help us significantly in terms of field position. With two very good RBs, I see the Bills being more run oriented (think San Francisco from last year). When all is said and done, the Bills finish with 10 wins. Mike Straw: 8-8, tied for second in AFC East: Buffalo's front office has done its job to field a highly competitive team in 2012. To quote GM Buddy Nix, "it's time" for the Bills to take that next step, and I believe they will move a step in the right direction in 2012. I think they improve on the field, but still fall short of the playoffs due to the inconsistency of Fitzpatrick. Bills GM Buddy Nix has done a tremendous job in his short time in Buffalo, helping the Bills rebuild from a pretender to a contender. (Heupel/AP ) Branden Hess: I see this Bills team finishing 9-7, and finishing second in the AFC East behind New England. Buffalo has the talent, and the favorable schedule to put together a 10 or 11 win season, but it will be a struggle for the Bills at times to win the games they're supposed to win. I could see them dropping a road game to a weak team somewhere along the way that prevents them from getting double digit wins. Still a winning record would be validation for Buddy Nix and Chan Gailey that their plan is working. Mike Bundt: I have them going 9-7. I think the Bills have the potential to do a lot better this year based on their acquisition of Mario Williams and a very easy schedule facing them in 2012 but they'll still have to go out on the field and prove it. Ryan Fitzpatrick can't play like he did in the second half of 2011 if the Bills want to contend for a playoff spot this season. Now, moving on to your picks for who'll be the most important Bills in 2012. Give me your preseason Bills MVP's on offense and defense. Branden Hess: Ryan Fitzpatrick, Mario Williams Mike Straw: Fred Jackson, Jairus Byrd Ryan Talbot: Fred Jackson/ CJ Spiller duo, Mario Williams Mike Bundt: Stevie Johnson, Marcell Dareus. Now that we've gotten all of our Bills MVP picks out-of-the-way, tell me who you guys have as your top Bills rookie this year. TJ Graham is one of many Bills rookies in 2012 that will be depended on including the likes of Stephon Gilmore and Cordy Glenn. (Mark Mulvile/Buffalo New) Branden Hess: TJ Graham. If Chan Gailey's spread offense is to be successful someone other than Stevie Johnson has to step up and make the most of their touches. Graham has the speed to beat defenders at this level, and once he learns how to be a pro receiver and develops chemistry with Fitzpatrick he'll be a deadly weapon for the Bills. Mike Straw: Cordy Glenn. Glenn was projected to go in the first round and fell to the Bills lap in the second. He's going to be a stud for the team at left tackle for years to come, and he'll prove it in a big way during his rookie season. Ryan Talbot: I have to go with Stephon Gilmore here. Glenn's spot at left tackle is significant, but Gilmore is going to be going against team's best wide receivers all season long and hold his own. With the defensive pressure up front, he'll also get a few interceptions in his rookie campaign. Mike Bundt: I'm going with Stephon Gilmore. He's going to start right off the bat and will be given ample opportunity to become an impact player. The Bills are excited to see how he performs as he has what it takes to become a shutdown corner in the future. Who is the most vital player for the Bills to have a successful season? Ryan Fitzpatrick might be the most important player on the Bills when it comes to deciding whether or not they'll make the playoffs. (Derek Gee/AP) Mike Straw: It's simple, Ryan Fitzpatrick. If Fitzpatrick can cut down on the turnovers from a year ago, this Bills team can go places. If he can't, expect another long season. Ryan Talbot: Here I'll pick Ryan Fitzpatrick. I believe the emphasis will be on the run this season, but Ryan Fitzpatrick's ability to read defenses will prove to be extremely beneficial to the Bills. This season he'll be more of a game manager and won't be asked to be such a gunslinger this season.
Mike Bundt: With all the hype the Bills have had this offseason, are they capable of reaching their high expectations? Branden Hess: There's no doubt this Bills team is better than last year, and on paper appears to be a playoff contender, but winning games you're supposed to win is difficult for a team that has only been accustomed to losing in recent years. Despite this, I believe this Buffalo squad will meet the expectations of finishing with a winning record, whether or not that is good enough for a postseason birth depends on how the rest of the AFC fares as well. Still, a winning record would be a huge step forward for this core and the Chan Gailey regime. Rob Johnson was the Bills quarterback the last time Buffalo made the playoffs. Do the Bills have what it takes to reach expectations of making the playoffs in 2012? Ryan Talbot: Their expectations? Sure. I think the Bills expect to contend in the AFC East and they have the ability to. That said, I think their biggest expectation is reaching the playoffs and the Bills have a great chance to return to the playoffs this year. Mike Straw: Right now, I'm not sure that they are. There are too many question marks at the quarterback and cornerback positions. On offense, can Fitzpatrick actually be "the" guy? I'm not so sure. On defense, will rookie Stephon Gillmore be the next top shutdown corner? Can Terrence Mcgee stay healthy? Can Leodis McKelvin even find the field? There are a lot of questions to be answered. Mike Bundt: I think they're capable of reaching their expectations. Will they? That's another question. An important individual on the Bills that will need a big season for Buffalo to make the playoffs is Mario Williams. Will he live up to fans expectations this year? Mike Straw: I feel this is one thing we should all agree on. I definitely think he will. He may not get gaudy numbers, but his presence alone will allow his line-mates to put up those top-tier numbers. Mario Williams brought a new sense of expectations when he signed with the Bills in March. With the Bills expectations on the rise, will Mario even manage to reach fans expectations? (Kevin Hoffman, US Presswire) Ryan Talbot: Depends on how realistic people are being. I've read where some fans have said they'd be disappointed if he didn't get 20 sacks this year. Twenty! That's ridiculous. I love Mario Williams and think he is entering the prime of his career. If he gets double-digit sacks, he will have lived up to the hype this season. For the record, I don't want to say Mario can't reach 20 sacks, but to expect 20 sacks isn't fair. I think most Bills fans don't think that way for what it's worth, just a few. Mike Bundt: We've answered most of the big questions regarding the Bills this season but we'll end with a bang. Will the Bills make the playoffs in 2012? Mike Straw: No Bills running back Fred Jackson hopes 2012 is the year the Bills finally end their playoff drought. (Getty Images) Branden Hess: The Bills should finish with a winning record, most likely with 9 or 10 wins. It's too hard to predict whether or not a 9 or 10 win team can make the playoffs, last season the New York Giants won the Super Bowl with 9 wins, but in 2008 the New England Patriots missed the playoffs entirely with an 11-5 record. This season the AFC is wide open and we're sure to see some new blood sneak into the postseason, I think the Bills will be that team earning a wildcard birth and their first playoff appearance in the new millennium. Ryan Talbot: Yes. The Bills will snag a Wild Card spot and win one game in the playoffs. Mike Bundt: Normally I'm a leveled, realistic Bills writer when it comes to picking the team's record but I'm lost this year. The Bills have never had a team good enough in recent history to even take this question seriously but I'll go out on the limb and agree with Ryan and Branden that this is the year the Bills playoff drought ends as they'll make it in 2012. Thanks for checking out another edition of the QCS Buffalo Water Cooler. Remember that from now on, it will be published every Tuesday. The post QCS Buffalo Water Cooler: 2012 Buffalo Bills Preview appeared first on Queen City Sports.
Original Story:
http://www.queencitysports.net/qcs-bu...
THE BACKYARD
BEST OF MAXIM
RELATED ARTICLES
Quarterbacks At quarterback, starter Ryan Fitzpatrick was obviously a lock, as was backup Tarvaris Jackson, who they just traded for. Jackson's 2012 salary became guaranteed when they asked him to take a paycut, so they weren't cutting him less than a week after trading for him. Brad Smith, their wildcat quarterback, who also plays wide receiver and special teams, was safe as...
The Bills just signed two more players to the practice squad, let's take a look. TJ Heath is a 2nd year corner out of Jacksonville State who played in 5 games for the Jaguars last year, recording 2 special teams tackles. He was signed by Cincinnati at the beginning of August, before being cut last week. Kind of like the Jags version of Namaan Roosevelt, only not nearly as productive...
When the Bills upset the Patriots last year, it seemed like the adage that no one circles the wagons like the Buffalo Bills would indeed hold true. The franchise itself was even so confident at this point that they gave QB Ryan Fitzpatrick a $100 million dollar contract when previously he was just that guy who went to Harvard.  And that's when the wheels fell off. As the season...
Defensive tackle Jay Ross has rejoined the Buffalo Bills after being signed to the practice squad. Ross spent training camp with the Bills before being released Aug. 26. He also spent the final 10 weeks of last season on Buffalo's practice squad. Listed at 6-foot-3 and 319 pounds, Ross played college at East Carolina. He entered the NFL in 2010, when he signed with New Orleans...
Despite speculation that he might be cut, Buffalo Bills QB Tyler Thigpen remains on the team's roster and has agreed to a pay cut for the 2012 season. Thigpen had been embroiled in a battle with Vince Young for the backup quarterback position with the Bills this offseason. Young was released by Buffalo but the team quickly acquired veteran Tarvaris Jackson from the Seattle Seahawks...
The Buffalo Bills open the season on Sunday against Gang Green.  Like last year, when the team had a stellar 5-2 start to the season, Buffalo needs to get off to a fast start in 2012.  This is a team on the rise with exponential potential. How well quarterback Ryan Fitzpatrick performs could very well mean the difference between the Bills ending currently the longest playoff drought...
The Buffalo Bills apparently wanted a little more flexibility at wide receiver entering Sunday's season opener, so they brought a fifth wideout back onto the active roster. The Bills signed Ruvell Martin to serve in the reserve role. Martin caught seven passes for 82 yards in 14 games in 2011. For his career, the 30-year-old has 72 catches for 1,088 yards and seven touchdowns...
Buffalo Bills wide receiver Stevie Johnson is one of the more colorful personalities in the NFL. He raps, dresses like a hipster and has even jokingly blamed God for a dropped TD pass. Well this season, for every touchdown Johnson does haul in electronics producer Vizio will be giving away a 55″ TV to a [...]
With the NFL season set to get underway in one short week for every team not named New York Giants or Dallas Cowboys, there has been an air of excitement surrounding the up and coming Buffalo Bills. For the first time in a very long time, the Bills faithful have legit reasons to believe their team can make a push for the playoffs. During the off-season, the Bills addressed their...
Cuts have been made, the roster is (almost) set, and Bills Jets week here. How do I know? The Jets are doing what they do best, which is running their mouths and trying to belittle the fact that Steve Johnson thinks Revis Island is a joke. Specifically, New York Daily News reporter Manish Mehta went around asking everyone what they think of the concept that Steve Johnson "owns"...
If you didn't already know, I'm a die hard Bills fan. I have trouble grasping the concept that this could be a close game, or it could be a complete whipping from either side. I think this season opener is more important to these two teams than any that they've had in recent memory. With that being said, here are the keys to the game for Buffalo and what they need to win. ...
Continuing on with our look at the Patriots 2012 schedule and predictions, here is my take on Games 9-12 of the season...   Week 10:  vs. Buffalo Bills In the handful of years where the Bills have come out to a hot start, this is generally around the time when they fall right off the cliff.  The Bills are really going to have to show me something before I pick them...
NFL News

Delivered to your inbox

You'll also receive Yardbarker's daily Top 10, featuring the best sports stories from around the web. Customize your newsletter to get articles on your favorite sports and teams. And the best part? It's free!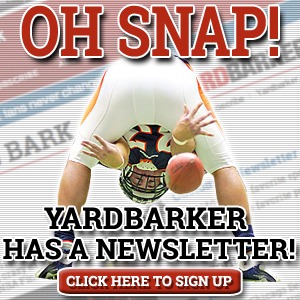 Latest Rumors
Best of Yardbarker

Today's Best Stuff

For Bloggers

Join the Yardbarker Network for more promotion, traffic, and money.

Company Info

Help

What is Yardbarker?

Yardbarker is the largest network of sports blogs and pro athlete blogs on the web. This site is the hub of the Yardbarker Network, where our editors and algorithms curate the best sports content from our network and beyond.