This weeks Water Cooler features QCS writers Mike Bundt, Ryan Talbot, Brandon Hess, and Robert Quinn Mike Bundt: What's up everybody! Obviously Sunday was an embarrassing Bills game for the Bills in which little went right. So instead of focusing on everything that went wrong in that game, I'll start by asking you guys how you feel about Buffalo extending Kraig Urbik earlier this week? Ryan Talbot: Very good move. Urbik has been very good for the Bills and this is good news for Buffalo. Urbik has the same agent as Levitre. Now that Urbik's deal is done, both the team and agent can move onto Levitre. I'm guessing both sides now have a good idea of Andy's worth and I expect Levitre to get locked up very soon. Then, at worst, the team can franchise Jairus Byrd. Brandon Hess: Urbik provides them with versatility on the line, which in a league of attrition is sometimes more important than individual prowess.  It's hard to predict what roster moves the Bills will make, but they should bring Levitre back for next year as well.  Jairus Byrd is due for a significant pay raise, but his 32 combined forced fumbles, fumble recoveries, and interceptions in 4 years are irreplaceable. Mike Bundt: Was Sunday the lowest point for the Bills all season? Robert Quinn: I wouldn't say it was the lowest point, but it could be equally as demoralizing as the 49ers game, or the ridiculous Patriots blowout, or the Jets blowout. In other words, this team has been so bad that a 50-point defensive effort sadly may not even be the worst point of the year. Brandon Hess: I think the previous week's home loss to St. Louis was the lowest point for Buffalo.  In that game they still had the slimmest of playoff chances and laid a dud at home against a team they should have been able to beat.  I never expected Buffalo to beat Seattle in the first place, but they're at rock bottom with this regime so it's all semantics at this point. Mike Bundt: After a blowout loss to Seattle on Sunday, tell me one reason why Bills fans should turn on the game this weekend versus Miami. Ryan Talbot: To watch C.J. Spiller run all over the Dolphins. There is no real reason, but Buffalo have diehard fans and we'll all tune in to support our team. Robert Quinn: To hopefully see my pretty face on TV. In all reality, just to see who comes out to play. Like Stevie Johnson said, these are the times you see who plays for the money, and who plays for pride. I want to see more players take accountability like Johnson does. Mike Bundt: CJ or Reggie Bush? Who'd you take and why? Brandon Hess: CJ Spiller and it isn't even close.  Spiller and Bush share some physical gifts, but Reggie isn't durable enough to be an every down back like CJ should be.  In his first 5 seasons in New Orleans Bush only had one 100-yard rushing game, in 60 games played.  Spiller, in just his second NFL season has already had four 100-yard rushing games this season alone. Ryan Talbot: Spiller easily. C.J. is younger, faster and is more dynamic in terms of running and receiving. No one in their right mind would choose Bush. Mike Bundt: Miami enters at 6-8 starting a rookie QB, are they currently better than the Bills? Robert Quinn: I really don't think so. I think Ryan Tannehill was really overrated entering the draft, and I think he's now in over his head. They don't have a real threat at wide receiver, they have a one dimensional run game, and a poor defense. Cameron Wake is the one bright spot on the entire roster, as Jake Long's injuries probably have put a damper on his career. Getting rid of cornerback Vontae Davis was a mistake, and Sean Smith probably wont be back next year. I think the Bills are more talented across the board, and it ultimately falls on the coaching staff for their underachievement. Brandon Hess: Miami's defense has been more consistent than Buffalo's has, but the Bills can prove they're the better team by beating the Dolphins and Jets and finishing second in the AFC East.  If Buffalo loses this week then I think we'll know who the better team is. Mike Bundt: That does it for another edition of the Water Cooler. Next week, we'll continue talking about the Bills while starting some discussion on Canisius and St. Bonaventure basketball, which are both off to hot starts. Until next time, see you all later.   Feature photo by Rick Stewart/Getty Images       The post QCS Buffalo Water Cooler: Squish The Fish Week Part Two appeared first on Queen City Sports.
Original Story:
http://queencitysports.net/bills/qcs-...
MORE FROM YARDBARKER
NFL News

Delivered to your inbox

You'll also receive Yardbarker's daily Top 10, featuring the best sports stories from around the web. Customize your newsletter to get articles on your favorite sports and teams. And the best part? It's free!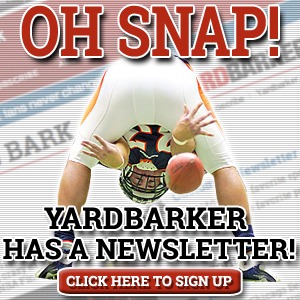 Latest Rumors
Best of Yardbarker

Today's Best Stuff

For Bloggers

Join the Yardbarker Network for more promotion, traffic, and money.

Company Info

Help

What is Yardbarker?

Yardbarker is the largest network of sports blogs and pro athlete blogs on the web. This site is the hub of the Yardbarker Network, where our editors and algorithms curate the best sports content from our network and beyond.