Found November 23, 2012 on Fox Sports Arizona:
PLAYERS:
Ryan Lindley
,
Kurt Warner
,
Kevin Kolb
,
John Skelton
,
Max Hall
,
Colin Kaepernick
,
Peyton Manning
,
Andrew Luck
,
Robert Griffin
,
Russell Wilson
,
Kyle Orton
,
Matt Hasselbeck
,
Matt Flynn
,
Michael Vick
,
Alex Smith
,
Donovan McNabb
,
Kerry Collins
,
Jason Campbell
,
Marc Bulger
,
Tarvaris Jackson
,
Tony Romo
,
Sam Bradford
,
Andy Dalton
,
Ryan Williams
,
Pete Carroll
,
Jamell Fleming
,
Robert Griffin III
TEAMS:
Arizona Cardinals
,
San Francisco 49ers
,
Seattle Seahawks
,
Tennessee Titans
,
Philadelphia Eagles
,
Minnesota Vikings
,
Chicago Bears
,
Baltimore Ravens
,
Buffalo Bills
,
Dallas Cowboys
,
St. Louis Rams
,
Cincinnati Bengals
,
New York Giants
,
Washington Redskins
,
Stanford Cardinal
,
Baylor Bears
,
Arizona State Sun Devils
TEMPE, Ariz. With coach Ken Whisenhunts announcement Wednesday that rookie Ryan Lindley will start Sunday against the St. Louis Rams, we asked a veteran Cardinals reporter if it was time to craft a Lindley opus for his audience. Not yet, he said, smiling. The response wasnt intended as a slight on Lindley. Rather, it was born of wisdom and experience. Lindley will be the fifth starting QB Whisenhunt has named and the sixth who has taken a significant number of snaps -- in the two-plus seasons since Kurt Warner retired. If recent history is a guide, Lindley wont be the last. Thats this business, Whisenhunt said. Quarterbacks are hard to find. You can ask Chicago. You can ask Miami. You can ask a lot of teams. There are a lot of teams in the league who are still looking for that guy. Whisenhunt, general manager Rod Graves and the Cards coaching and scouting staffs have taken plenty of heat the past three seasons for either not finding or not developing Arizonas franchise quarterback of the future. Its an easy criticism in hindsight. Kevin Kolb hasnt stayed healthy long enough to prove his worth. Lindley hasnt played enough to judge his worth. John Skelton looks like little more than a career backup, and both Derek Anderson and Max Hall were unmitigated disasters who probably never should have happened in the first place. But is the criticism warranted? Was there a quarterback available via trade, free agency or the draft that the Cards should have pursued and did not? Theres no easy answer because, as Whisenhunt correctly points out, there is no set formula that guarantees success. Quarterback is the hardest position to play in the NFL. For proof, take a look at every NFL team today. How many teams (including their fans) would say theyre happy with their quarterback play? If you stretch it to simply include teams that are satisfied, you could probably get to 15 teams -- almost half the league -- by naming Denver, Green Bay, San Francisco, New England, Atlanta, Washington, Pittsburgh, New Orleans, Houston, Tampa Bay, Cincinnati, Seattle, Baltimore, the New York Giants and Indianapolis. Now ask yourself how many of those clubs have a backup with whom youd feel confident in your ability to win games? Other than the 49ers Colin Kaepernick, who just shredded the Bears vaunted defense on Monday Night Football and now appears to be the starter, who makes the list? Thats 16 guys. Think about that for a minute and then use the year Peyton Manning entered the league as a starting point since he is the oldest of the effective QBs. Despite 15 years worth of drafts, development and free agency, we can only find enough effective guys to populate half of the NFLs teams. Even if a couple of the young guys like Cam Newton and Ryan Tannehill pan out (we already included Andrew Luck, Robert Griffin III and Russell Wilson on the list above), and even if you throw backups like Kyle Orton, Matt Hasselbeck and Matt Flynn in the mix, there is clearly a supply shortage for the most important position on the field. Now ask yourself this: What could the Cardinals have done that they didnt to address this need? When Kolb was made available via trade, he was the hottest QB commodity on the market, and the Cards went and got him. When Peyton Manning was made available, the Cards pursued him hard, even though it meant ruffling Kolbs feathers and probably would have required other roster moves. They understood what a game-changer he could be. Were there others they should have pursued? Its hard to make that argument when you judge the crop of free-agent QBs over the past three seasons. Michael Vick, Alex Smith and Shaun Hill re-signed with their longtime clubs. So would you have wanted Donovan McNabb, Kerry Collins, Jason Campbell, Marc Bulger or Tarvaris Jackson? Really? Are you serious? If you are, youve lost all credibility. Maybe the best argument here at the time was for Orton, the classic game manager who makes few mistakes but never screams "game-changer" and still hasnt managed to supplant turnover machine Tony Romo with the Cowboys. How about the draft? Should the Cards have traded up to get one of the leagues young guns? Its hard to make that argument for the 2010 NFL Draft when you look at the names that followed top pick Sam Bradford. Anybody have a burning desire for Tim Tebow, Jimmy Clausen, Colt McCoy or Mike Kafka, who cant even call himself the best-known Kafka in the world? The Cards chose Skelton in the fifth round that year. Have any of the aforementioned guys really been better? The best argument comes in 2011. If you skip a first round filled with (thus far) middling-to-poor selections (Jake Locker, Blaine Gabbert and Christian Ponder), the second round offered up Andy Dalton (whom the Cards werent high on) and Kaepernick, who went at picks 35 and 36 to the Bengals and 49ers, respectively. Two players later, the Cards selected running back Ryan Williams. Should they have tried to move up to get Kaepernick? Maybe. Despite signing free agent Matt Flynn to a three-year, 26 million deal this spring, the Seahawks still drafted Russell Wilson, who is now the starting quarterback and has played well. Were looking for quarterbacks every year, Seattle coach Pete Carroll said earlier this season when asked about adding a QB through the draft and one via trade in the same season. We really believe that you have to continue to upgrade that position. Its an interesting belief that is buoyed by reality. Warner has said time and again that this is a quarterback-driven league. That point is underscored when you look back at the list of teams we mentioned above. What do they all have in common other than solid-to-strong QB play? Theyre all in contention for playoff spots. The others? Not so much. Should the Cards have moved up to select Wilson, whom the Seahawks took in the third round at No. 75, five picks before the Cards selected cornerback Jamell Fleming? Should they have taken a chance on Arizona State product Brock Osweiler, who is now Mannings backup? Maybe, but remember that the year the Cards picked up Kolb was the lockout year, so free agency came after the draft instead of before it. The Cards hadnt had a chance to see Kolb throw enough in person, and based on his rookie season, they had seen enough promise from Skelton to believe that he could be an adequate backup. In fact, they -- and almost everyone else -- still held that belief entering this season. Beyond those points, there is no certainty how things would turned out if the Cards had been able to draft one of those other guys. Just because youre successful in college doesnt guarantee success in the NFL, Whisenhunt said. More to the point, theres no guarantee that Dalton, Kaepernick or Wilson would have meshed with the Cardinals personnel and system. Sometimes a player fits one place and doesnt another. Kaepernick might end up being a great example of this and it helps that he is playing behind what is arguably the NFLs best offensive line (dont get us started on that Arizona weakness). The Cardinals believed they had addressed their quarterback needs as did most observers when they acquired Kolb via trade in the summer of 2011. It hasnt panned out that way, but much to fans chagrin and contrary to widespread belief, there havent been a whole lot of options the Cardinals didnt pursue. You cant just take somebody because hes there. If you dont think hes going to be able to play for you, then you have to go to other avenues, said Whisenhunt, before turning his attention to the acquisition of Kolb. It was a very atypical year because of the lockout and the free agency period coming after the draft, so that changed the dynamic. Unfortunately for the Cardinals, it hasnt changed the three-year dynamic at quarterback. And it hasnt stopped the impossible fantasies of fans that Warner might still return. Follow Craig Morgan on Twitter
Original Story:
http://www.foxsportsarizona.com/11/23...
THE BACKYARD
BEST OF MAXIM
RELATED ARTICLES
The Arizona Cardinals have announced that quarterback Ryan Lindley will make his first start this weekend against the St. Louis Rams due to Kevin Kolb's lingering rib injury and John Skelton's ineffective play. The Cardinals listed Kolb as questionable to play Sunday, as he's been limited at practice all week due to his rib injury. It's not clear if he'll be available...
According to Kent Somers of AzCentral.com reports that QB Ryan Lindley will start at quarterback for the Cardinals week 12. QB John Skelton has been officially benched due to his inefficiency, and with QB Kevin Kolb injured Lindley gets an opportunity to show what he has to offer. That being said it is unlikely Lindley will turn things around for the Cardinals because of the terrible...
Ryan Lindley will be the Cardinals' Week 12 starter at quarterback. John Skelton has been benched. Lindley should remain the starter until Kevin Kolb (ribs, shoulder) is cleared to return, which could be as early as Week 13. According to NFL.com's Albert Breer, the Cardinals "really like" Lindley and were "waiting for the right time" to start him. That's all good and...
Arizona coach Ken Whisenhunt says rookie Ryan Lindley will start at quarterback when the Cardinals play the St. Louis Rams on Sunday. The coach announced his decision to go with the sixth-round draft pick from San Diego State after practice Wednesday. John Skelton, benched in favor of Lindley early in last Sunday's 23-19 loss at Atlanta, says he is ''frustrated'...
It has been no secret that the Arizona Cardinals have had a quarterback competition all year long.  Although John Skelton was named the Week 1 starter, soon he and Kevin Kolb began battling injuries and it became a week-to-week decision on who would start at quarterback.  Now that the season in past the mid-point and the Cardinals are on their third quarterback of the year, Ryan...
SHUFFLE THE DECK
The Arizona Cardinals are in the middle of a massive losing streak, and now they're turning to a new quarterback for Sunday's game.
The Cardinals will attempt to snap a six-game losing streak this week against St. Louis with rookie QB Ryan Lindley expected to make his first career start.
(AP) -- The Arizona Cardinals haven't been the same since they faced the St. Louis Rams back in October. Now Arizona will likely look very different. The Cardinals will try to end their six-game losing streak when they give rookie quarterback Ryan Lindley his first career start Sunday against the visiting Rams, who are winless in their last five. Arizona (4-6) was 4-0 before...
Arizona will roll the dice this week with rookie Ryan Lindley at quarterback, a decision that may just about finish off their playoff hopes if it backfires.Not that they have a lot of choice in the matter with Kevin Kolb still recovering and John Skelton looking lost behind an offensive line that has given up a league-leading 44 sacks.Jeff Fisher and the Rams will be looking to forget...
When the Rams last met the Arizona Cardinals, the birds stood atop the NFC West with a surprising 4-0 record. However, when we talked to Seth Cox of TSHQ at the time, he was not yet ready to start opening champagne bottles. As it turns out, he was right to put the celebrations on hold. Since that Thursday night primetime matchup, the Cardinals have lost six games and two quarterbacks...
Arizona's John Skelton will be back at starting quarterback when the Cardinals play the Seahawks Sunday in Seattle. Coach Ken Whisenhunt says his decision to replace rookie Ryan Lindley was based on several factors, including the environment the Cardinals will face in Seattle, where the crowd is among the loudest in the NFL and the conditions are likely to be cold and wet. ...
NFL News

Delivered to your inbox

You'll also receive Yardbarker's daily Top 10, featuring the best sports stories from around the web. Customize your newsletter to get articles on your favorite sports and teams. And the best part? It's free!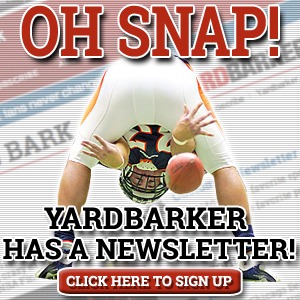 Latest Rumors
The Backyard

Today's Best Stuff

For Bloggers

Join the Yardbarker Network for more promotion, traffic, and money.

Company Info

Help

What is Yardbarker?

Yardbarker is the largest network of sports blogs and pro athlete blogs on the web. This site is the hub of the Yardbarker Network, where our editors and algorithms curate the best sports content from our network and beyond.