Found January 14, 2013 on The Detroit Sports Site:
PLAYERS:
Babe Ruth
,
Matthew Stafford
TEAMS:
Detroit Lions
,
Baltimore Ravens
,
Denver Broncos
,
Atlanta Falcons
,
Seattle Seahawks
,
Houston Texans
,
Chicago Cubs
,
Boston Red Sox
,
Green Bay Packers
,
New England Patriots
The NFL's divisional playoffs were contested this weekend. That's a round the Detroit Lions haven't visited since 1991-92. Given what's happened to the franchise in the meantime and the luck of plenty other franchises in the process, this should be enough to cause fans to wonder if a supernatural curse hangs over their team. Consider this: Saturday afternoon, Lions' fans watched a team who fired their offensive coordinator midseason (Baltimore Ravens) beat a team who replaced their inept quarterback with one of the game's greats (Denver Broncos). Later at night, a team from Detroit's own division that had injured starters most of the year which let their quarterback develop behind a legend for years (Green Bay Packers) were beaten by a team who once whiffed on taking a quarterback with the first overall pick and haven't missed a beat starting his young replacement (San Franscico 49ers). Sunday afternoon, a team which had a recent Sports Illustrated article chronicling their endless playoff misfortunes (Atlanta Falcons) beat a team which has turned things around not two seasons after hiring a college coach (Seattle Seahawks). Then, an expansion team that's only been in the league since 2002 (Houston Texans) went toe to toe before bowing out against football's self made dynasty (New England Patriots). Each one of these teams has relied on plenty of good fortune recently to get where they are in addition to smarts. Sometimes, it feels like the Lions will never be able to join their secret club. Generally, I'm the type of person who doesn't do curses, but in special cases, that's literally all there is left to explain such a run of bad luck and misfortune for a franchise. Are the Chicago Cubs really cursed by a goat? Probably not, but it's convienant to blame every subsequent failure on an obscure animal. Were the Boston Red Sox actually haunted by Babe Ruth's angry ghost? Who knows, but having that excuse in the back pocket sure helped to justify plenty of mistakes along the way. So what can explain the Lions? Since 1957, literally nothing has gone right for the franchise. Owners have botched numerous hirings and firings. Draft picks that were thought to be sure things have failed mierably. Games have been lost in embarassing fashion. Promising seasons and talents have gone to waste. Two players have even been horrifically injured on the field of play. Sure, there was the "curse of Bobby Layne," but that was supposed to die out in 2009, and many believe it to be a hoax. Around 1958, Layne supposedly put a hex on the Lions for 50 years following a trade to Pittsburgh. This curse apparently concluded following the 2009 season. Those determined to claim the curse died out also point to the fact that Matthew Stafford was from Layne's home town and also attended his high school. He was the first pick of the 2009 draft for the Lions. Voila. Demons satisfied. Curse broken. Not so fast. It seems to me the Lions are perhaps the most cursed franchise in sports without the appearance of an actual, acceptable curse. What else could explain the 2012 season? After hope was abound following 2011′s fantastic finish, everything went wrong in a hurry from the minute the offseason began, from arrests to discipline problems. During the year, there were mistakes, incompetence and injuries galore. When the dust settled, a 4-12 record had everyone thinking another corner backward had been turned despite a few meager steps forward. Only some type of curse can explain this dynamic in Detroit, be it Layne's or someone else's. Too many bizarrely negative things have happened for too long for it to be anything else. Quite frankly, Lions' fans could use some type of excuse other than the fact their team has perpetually stunk. That line's getting old. Give me an old fashioned curse to fall back on with every failure from here on out. After watching this play out for 25 years, now, I'd rather blame a goat or an old dead guy anyway. Are the Lions quietly the most cursed franchise in sports? Like me, are you now content to blame their constant failures on an unknown hex, or is that merely a cop out? To send any ideas for future question of the week topics or leave your opinion on this issue, find Max DeMara on Twitter @SportsGuyTheMax and let him know what you've been questioning!
Original Story:
http://www.thedetroitsportssite.com/2...
THE BACKYARD
BEST OF MAXIM
RELATED ARTICLES
The Lions had major regression in their 2012 run, a season that saw a re-energized fan base bail on their team before Thanksgiving. After battling back to 4-4 the Lions lost the last 8 games of the season as the blame and backlash fell upon the team during their free fall and at the end of the season. Heading into next season there's a number of things the Lions will need to do...
Every season in the NFL there are teams that finish near the bottom of the standings that make you shake you head with shock and confusion. On the other side of the coin, the teams that win a division and make you say, "where did they come from?" There are three teams in which these perplexing categories apply. The following contenders and pretenders will give hope, or take it...
According to Detroit Lions GM Martin Mayhew the Lions will not be using their franchise tag on   defensive end Cliff Avril or any other player that will become an unrestricted free agent in the coming months, per Dave Birkett. "I would love to be here, but I know how this thing shakes out. I know how this works," Avril said. "This is basically my third off-season going into...
The Detroit Lions have parted ways with special teams coordinator Danny Crossman. The team announced Monday that Crossman would not return next season. Crossman's coaching was scrutinized after Detroit became the first team since at least 1940 to give up a kickoff and a punt return for touchdowns in consecutive games last season. The Lions hired running backs coach Curtis Modkins...
As the Packers were getting ready to be eliminated from the playoffs by San Francisco 49ers, Lions DT Ndamukong Suh made sure to get his shots in at the Green Bay defensive line as they jumped offsides on a crucial 4th and 1. Football 101 for Dummies. D-Line DO NOT jump on 4th & 1 Yard to go!!!! — Ndamukong Suh (@ndamukong_suh) January 13, 2013 Unsurprisingly Suh, who came...
After a disappointing 2012 season, the Lions are beginning to make changes to their coaching staff for the 2013 season. While no changes were made on the defensive side of the ball, there were numerous changes on offense and special teams. Detroit hired former Buffalo Bills offensive coordinator Curtis Modkins to become the new running backs coach. Last season under Modkins, the...
Detroit Lions defensive tackle Ndamukong Suh didn't endear himself to the Twitter world during Green Bay's loss to the San Francisco 49ers on Saturday.
Tampa Bay receiver Vincent Jackson has been added to the NFC Pro Bowl, replacing Detroit's Calvin Johnson, who broke the NFL's single- season record for reception yards in 2012. The NFL made the announcement Tuesday. Jackson led the Bucs with career bests of 72 receptions and 1,384 yards after signing with them as a free agent last winter. Johnson had 122 receptions and...
With a little more than three months left before the 2013 NFL Draft, we take a look at who some of the experts have the Detroit Lions selecting in their mock drafts. • Dane Brugler, CBSSports.com: Damontre Moore, DE, Texas A&M The Lions' future at defensive end looks uncertain right now with Cliff Avril about to hit free agency and Kyle Vanden Bosch turning 35 years old next...
Detroit Lions wide receiver Calvin Johnson and Green Bay Packers quarterback Aaron Rodgers will not participate in the Pro Bowl later this month. Tamba Bay Buccaneers wide receiver Vincent Jackson has been named to replace Johnson, who has an injury. Rodgers said on his weekly radio show he won't play in the Pro Bowl because of multiple unspecified injuries, according to...
NFL News

Delivered to your inbox

You'll also receive Yardbarker's daily Top 10, featuring the best sports stories from around the web. Customize your newsletter to get articles on your favorite sports and teams. And the best part? It's free!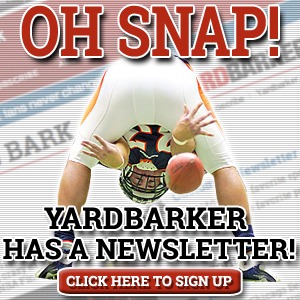 Latest Rumors
Best of Yardbarker

Today's Best Stuff

For Bloggers

Join the Yardbarker Network for more promotion, traffic, and money.

Company Info

Help

What is Yardbarker?

Yardbarker is the largest network of sports blogs and pro athlete blogs on the web. This site is the hub of the Yardbarker Network, where our editors and algorithms curate the best sports content from our network and beyond.