Found August 17, 2012 on WhoDeyFans:
The Bengals faced probably their toughest test of the preseason against an Atlanta Falcons team that is going to be pretty good this year. Really good, actually. Fortunately, this game brought fewer injuries, with both Gresham and Burfict being sat more for precautionary reasons than anything else. Click to the jump to choose one or more questions to sound off about PSG2.
How awesome is A.J. Green? On his TD catch, AJ moved around Asante Samuel like he was standing still, making Samuel's strutting on the play before look silly. DCs simply have no choice but to double-cover him because single coverage is almost useless.
Can we put the questions about Andy Dalton's arm strength to rest? He didn't hit them all, but Andy easily put the ball well downfield when he wanted to. He said he could have gone deeper had he wanted to. The talking heads who continue to ask the questions either aren't paying attention or just can't let go of the template.
Are you worried about the running game? It's hard to draw assumptions with BJGE and Scott on the sidelines, but the fill-ins were pretty rough. They gained 27 yds on 23 carries, with Leonard leading the pack with 13 yds on 6 carries. And don't forget the two fumbles.
How worried are you about the secondary? Injuries have made this group difficult to gauge, but what we have seen so far has inspired little confidence. What once looked like a group stacked with talent needing some care now looks more like a triage unit needing to prep for serious surgery. Matt Ryan & Dominique Davis absolutely shredded them.
Where would you smack Taylor Mays? He is directly responsible the injuries to Maualuga, himself, and now Burfict. Someone needs to remind him that at no point in NFL history have bounty payments ever been made for taking out members of your own team.
Where is the receiver battle now? Tate ended the day with 1 catch for 6 yds, and Binns had no catches, although the balls that came his way were all difficult or impossible catches. Jones had a nice 43-yd grab, and Sanu finally logged a couple of catches as well as a TD. Meanwhile, Shipley's slide continues. Among the TEs, Gresham, Lee and Charles each had a nice grab.
Where can I sign the petition to lobby the NFL to give the real referees what they want? These replacements are gut-wrenchingly awful. The NFL cannot allow these buffoons to ruin the regular season, because they will. Ending this travesty of a lockout is the only way the NFL saves face.
How soon will Weber get the ax? This isn't a competition any more. If Nugent had not sown up the job before this game, hitting a 54-yarder (while Weber missed a 39-yarder) ended it. Let him look for another gig while he still can.
Who are you ready to give walking papers? My choice is Dan Herron. 12 yds on 8 carries over two games… against 3rd-stringers. At this point he is just a camp body. Parting gifts are awaiting backstage. Who is your choice?
Original Story:
http://whodeyfans.com/2012/08/17/ques...
THE BACKYARD
BEST OF MAXIM
RELATED ARTICLES
ATLANTA-Even in defeat the Falcons first team offense continues to look nice in pre-season action. QB Matt Ryan continued to hit a variety of targets including his apparent main man Julio Jones. Ryan went 18-of-21 for 174 yards and a touchdown as he took the Falcons to a halftime lead of 13-10. Please click the link below to read this feature.
ATLANTA (AP) -- Cincinnati Bengals tight end Jermaine Gresham injured his right knee late in the first quarter of a preseason game against the Atlanta Falcons on Thursday night. He was not expected to return to the game. Gresham, a Pro Bowl alternate pick last year in his second season, caught a 25-yard pass from quarterback Andy Dalton to help set up a long field goal that gave...
Atlanta Falcons linebacker Akeem Dent has returned to practice after sustaining a concussion, and the team hopes he'll be fully cleared by Sunday. Dent was injured in the Falcons' first preseason game against Baltimore. He missed the next contest and had not practiced until Saturday, when he took part in the non-contact drills. Coach Mike Smith says Dent must clear one...
I have written several articles in the past few weeks regarding running backs in the realm of fantasy football. I am not particularly high on Adrian Peterson this season and I think the term 'buyer beware" comes into play if you select Chargers RB Ryan Mathews this year. I think it's wise to issue the same warning for Atlanta Falcons RB Michael Turner. Turner's fantasy value...
At this point last season, you would have been hard pressed to find anyone that believed the Bengals would be a respectable football team, much less a playoff contender. Fast forward to today. The Bengals are considered a legitimate threat to unseat the Ravens and the Steelers as the dominant teams in the AFC North, and the Bengals' hopes and dreams for 2012 hinge on...
AP Photo According to Geoff Hobson of Bengals.com, Bengals head coach Marvin Lewis indicated that tight end Jermaine Gresham is fine after last night's preseason game. "Bengals head coach Marvin Lewis said after the 24-19 win that tight end Jermane Gresham was fine. When Gresham walked off the field he said he was fine and thought he could play next week, but he doesn't know...
Halfway through the preseason the Falcons are 0-2, but what does that really tell us? While the first-team offense has played very well and the first-team defense has played well enough, the Falcons have lost games because of poor play by their Nos. 2 and 3 quarterbacks, penalties (some of which are a direct result of bad calls by outmatched replacement officials) and by their second...
  Falcons QB Matt Ryan had one of the most impressive performances of the NFL preseason Thursday Night. We all know that the NFL preseason doesn't really matter. At least the final score at the end of the game doesn't but for fantasy football owners there are plenty of things that can be taken away from these otherwise meaningless contents. Now it is important to remember...
ATLANTA (AP) -- Bengals quarterback Andy Dalton and the Falcons' Matt Ryan each directed a pair of scoring drives before Cincinnati's reserves held on for a 24-19 preseason victory over Atlanta on Thursday night. In a matchup of teams that lost in the wild-card round of the playoffs last season, Cincinnati (No. 14 in the AP Pro32) had the deeper roster. The second- and...
NFL News

Delivered to your inbox

You'll also receive Yardbarker's daily Top 10, featuring the best sports stories from around the web. Customize your newsletter to get articles on your favorite sports and teams. And the best part? It's free!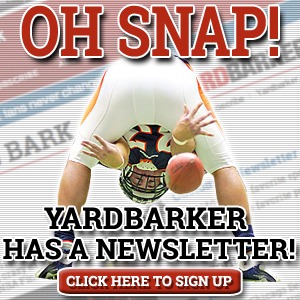 Latest Rumors
Best of Yardbarker

Today's Best Stuff

For Bloggers

Join the Yardbarker Network for more promotion, traffic, and money.

Company Info

Help

What is Yardbarker?

Yardbarker is the largest network of sports blogs and pro athlete blogs on the web. This site is the hub of the Yardbarker Network, where our editors and algorithms curate the best sports content from our network and beyond.