Found July 26, 2012 on Blog So Hard Sports:
PLAYERS:
Kirk Cousins
,
Roy Helu
,
Evan Royster
,
Tim Hightower
,
Pierre Garcon
,
Reggie Wayne
,
Leonard Hankerson
,
Santana Moss
,
Josh Morgan
,
Anthony Armstrong
,
Terrence Austin
,
Niles Paul
,
Brandon Banks
,
Fred Davis
,
Chris Cooley
,
Trent Williams
,
Kory Lichtensteiger
,
Will Montgomery
,
Chris Neild
,
Jarvis Jenkins
,
Adam Carriker
,
Brian Orakpo
,
Ryan Kerrigan
,
Perry Riley
,
Lorenzo Alexander
,
Keenan Robinson
,
Josh Wilson
,
Brandon Meriweather
,
Reed Doughty
,
Neil Rackers
,
Graham Gano
,
Robert Griffin III
TEAMS:
Washington Redskins
,
Indianapolis Colts
Question marks surrounding Redskins camp
Regardless of what the Capitals, Nationals, or Wizards do…. DC is a Redskins town.
The Redskins fan base (which I am a part of) is a large and committed one. With those great qualities though comes a lot of delusion (which is a group I am not a part of). The Redskins have reason for excitement — actually having what seems to be a QB under center — but from looking at the roster that may be about the only thing to be excited about. The Skins are the least talented team in the NFC East.
So let's pump the breaks a little on the Super Bowl bus and break it down by position.
Quarterback:
Robert Griffin III is the most exciting thing to happen in DC in the history of ever, but he has yet to throw an NFL pass. So the position is still a question mark as far as what the production will be. The good news is we know who will be under center, which is a step up from last season where it was like choosing between two different types of toilet paper to play QB. It will also be very interesting to watch how Kirk Cousins handles his situation as he is clearly not the rookie every one is worried about. And of course, we get to watch Sexy Rexy in the preseason which is always must see TV.
Running Back:
I have heard a lot from the fan base saying that running back may be the least worried about position on the field.  I am not going that far, actually I am not even going anywhere close to that. Roy Helu Jr is a dynamic back who can do a lot of things, Evan Royster had a decent rookie season in the time he saw, and there are a lot of questions surrounding Tim Hightower even when he is healthy. More consistency will need to be shown out of the young guys in their sophomore season.
Like the QB position, the backs all have talent it seems, but it has yet to be shown over 16 games.
Wide Receiver:
Well, we signed some new ones! That always works out right!?…..Right guys?
The Skins wideouts on paper are drastically improved compared to last year. Pierre Garcon is a proven receiver who will be a good addition, but how good will he be with no Reggie Wayne on the other side? Leonard Hankerson is coming into this season with some expectations after showing signs of good things (for only 1 game) last year before his injury. That brings us to good old Santana Moss, and with that I would like to remind you that it is not 2006 anymore. Moss has lost a lot of steps and at times seems to lose his hands as well. If he gets put in a position that he is not just a slot receiver the Skins are in trouble. The 4 spot is up for grabs with Josh Morgan, Anthony Armstrong, Terrence Austin, and Niles Paul (assuming the TE thing does not work out). That should be a good battle during camp to see who comes out on top. If you're thinking I forgot Brandon Banks, I didn't because he should never be on the field when the offense is.
Tight End:
Fred Davis is a stud, and can be as good as he wants to be. The question is if he actually wants to be great? If he can keep himself out of trouble, there is no question he is the biggest offensive weapon the Skins have. Chris Cooley has been injured for what seems like 6 years, but he says he is healthy and in his best shape. If those two work out and can be on the field together, then the Redskins have two dynamic and completely different tight ends and that can only help the offense.
O-Line:
The Tackle positions should be alright assuming Jammal Brown stays healthy and Trent Williams lays off the grass. Kory Lichtensteiger is a solid guard when healthy, the Skins just need to find another one. Will Montgomery is an average center who does not really help or hurt anyone. If the group can stay healthy all year it will be a bright spot, but the Redskins have not had good luck in that department in recent years.
D-Line:
The second most talented group on the roster, the defensive line should not be an issue at all. Barry Colefield had a soild year at nose tackle last season along with Chris Neild backing him up. The D-line gets an upgrade with Jarvis Jenkins being healthy because coming out of camp last year he was going to be a starter as a rookie prior to his injury. Adam Carriker, Stephen Bowen, and Kendric Golston round out a solid group.
Linebackers:
There are no questions here. Brian Orakpo and Ryan Kerrigan are both monsters who will only get better. In the middle London Fletcher is the heart and soul the team while Perry Riley is set to have a big season in his second year in the system. Lorenzo Alexander is moving positions once again and will play some inside linebacker. The surprise of this group will be Keenan Robinson, the rookie out of Texas. He is a beast and should help out in pass rushing situations.
Defensive Backs:
As much excitment as there is for RGIII, there needs to be an equal amount of worry when it comes to the defensive backfield. DeAngelo Hall is back, which some weeks is a positive but most weeks a negative. Josh Wilson didn't play bad last season, but he just does not have a lot of big play potential. The safety position should be improved with Brandon Meriweather, but then again we have thought that with a lot of different safeties. DeJon Gomes is a player that needs to be watched. Although small, Gomes plays a lot bigger than he actually is and needs to produce during camp and the preseason more than any other player. Why you ask? Because if he does, it keeps Reed Doughty off the field and that is always a good thing.
Special Teams:
If Brandon Banks makes the team out of camp I will be shocked. The Redskins have too many other return man options who can also help out in different areas to keep a guy around who can only do one thing. Punting wise, Sav Rocca is solid  and has an awesome name. The kicking game will actually have some competition this year, which is good because it has been a black hole forever.  Neil Rackers and Graham Gano will see who has a leg up come preseason.
While there is a lot to be excited about in DC, there are still a lot of questions. Hopefully we will have some answers before the preseason is over.
Original Story:
http://blogsohardsports.com/redskins/...
THE BACKYARD
BEST OF MAXIM
RELATED ARTICLES
What is disturbing about this is Colt Brennan survived a near fatal car accident not to long ago, so more than anyone he should know the dangerous of driving while impaired. Remember these pictures? Colt Brennan — a 2007 Heisman Trophy finalist — was arrested for DUI in Hawaii this morning … and cops say drugs were involved. The former University of Hawaii star quarterback...
With training camp opening up, the Washington Redskins are looking for veteran Tim Hightower to be the starter coming out of the back field even though he's coming off ACL surgery. According to Mike Jones of the Washington Post, the Redskins are concerned about Roy Helu's durability.  Head coach Mike Shanahan needs him to prove that he can be given a heavier load without getting...
Getty Images According to Adam Caplan of TheSidelineView.com, the Washington Redskins claimed former Buccaneers wide receiver Dezmon Briscoe off waivers on Friday, just a day after he was released by Tampa Bay. I really like this move by the Redskins.  They have some talent at the receiver position, but adding a player like Briscoe won't hurt them at all.
Robert Griffin III may be the Redskins' franchise quarterback and a player they traded many draft picks to obtain, but he's not above participating in some traditional rookie hazing. The former Heisman Trophy winner was filmed by CSN Washington carrying the helmets of his teammates after Redskins practice on Thursday. Some players around the league (and even his teammates) are...
The Redskins waived Chase Minnifield on Tuesday, but they'll try to bring him back by adding him to their injured reserve list if he goes unclaimed. Minnifield had knee surgery prior to the draft and suffered a setback that required another procedure recently. The injury will sideline him for the entire 2012 season. Minnifield was in contention for a roster spot and had been...
Washington Redskins rookie quarterback Robert Griffin III, a.k.a. RG3, carried the helmets of some of his veteran teammates after Thursday's practice. Just because Griffin is a former Heisman Trophy winner and a multi-millionaire doesn't mean he is exempt from rookie "hazing". However, this is a time-honored tradition, and RG3 was a good sport about it. ...
  Yesterday, Bill Thompson wrote a piece on the question marks surrounding Redskins training camp and how there are a lot of unproven positions and reasons for concern when looking over the entire Skins roster. While I don't fall in to the category of the delusional Redskins fans who always say we are going to win the Super Bowl in the offseason, I do consider myself a homer...
After being cut by two teams, Kory Lichtensteiger had found a home with the Washington Redskins in his third NFL season, only to see his career turn again with a major knee injury last October. As training camp opens, Lichtensteiger is solidly back in his old spot between left tackle Trent Williams and center Will Montgomery. The 27-year-old Bowling Green product acknowledges he...
They've also never been in my kitchen. Magic Johnson uploaded this photo of himself with two of the more polarizing owners in the NFL to his Twitter account.  I've yet to figure out the context of the pic, or even whose boat this might be on.  All I know is, Magic Johnson seems like a genuinely nice guy, Jerry Jones is slowly morphing into a beautiful, elderly Dutch woman...
NFL News

Delivered to your inbox

You'll also receive Yardbarker's daily Top 10, featuring the best sports stories from around the web. Customize your newsletter to get articles on your favorite sports and teams. And the best part? It's free!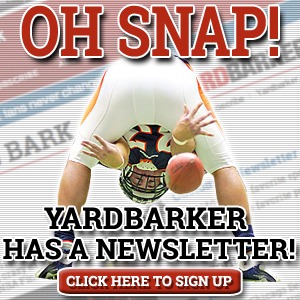 Latest Rumors
The Backyard

Today's Best Stuff

For Bloggers

Join the Yardbarker Network for more promotion, traffic, and money.

Company Info

Help

What is Yardbarker?

Yardbarker is the largest network of sports blogs and pro athlete blogs on the web. This site is the hub of the Yardbarker Network, where our editors and algorithms curate the best sports content from our network and beyond.