Found November 27, 2011 on Thoughts from the Dark Side:
PLAYERS:
Devin Hester
,
Carson Palmer
,
Kamerion Wimbley
,
Brandon Myers
,
Darrius Heyward-Bey
,
Sebastian Janikowski
,
Stanford Routt
,
Caleb Hanie
,
Michael Huff
,
Johnny Knox
,
Marcel Reece
,
LaMarr Houston
,
Aaron Curry
,
Shane Lechler
,
Louis Murphy
,
Michael Bush
,
Matt Giordano
TEAMS:
Chicago Bears
,
Oakland Raiders

The Bears brought their vaunted defense and their All-World kick returner, Devin Hester into Oakland on Sunday. And by the end of the game, it was the Raiders who were able to pull out the win on the shoulders of their defense and special teams play.

The Bears defense was as advertised in this game. They held Carson Palmer and the Raiders offense out of the endzone through much of this game. But the Raiders just kept making plays on defense and thanks to some key turnovers in the first half, were able to continue to put points on the board.

But most of this game was dominated by each team's defense.

"You gotta give their defense credit." Said Kamerion Wimbley. "They were out there playing hard and I think as a defense, you look at the other team's defense and you want to try to do better than them. They have some players over there and they made some good plays and they had some sacks as well."

The Raiders scored on their opening drive thanks in part to a 25 yard catch by tight end Brandon Myers and a 19 yard connection to a wide open Darrius Heyward-Bey. But the Raiders were unable to get in the end zone and settled for a field goal.

Getting into scoring position and settling for a field goal was a recurring theme in this game. So much so that Sebastian Janikowski broke a franchise record that stood for 50 years with six field goals in this game.

The Raiders definitely had their chances too. On the Bears second drive, Stanford Routt was given a gift wrapped interception by Bears quarterback Caleb Hanie. It set the Raiders up in scoring position at the Bears' 31 yard line. But after 11 yards of offense and a first down, Carson Palmer was sacked for an 11 yard loss to put them back where they started, followed by their second field goal ending possession.

The Bears would turn the ball over again on their next drive when Michael Huff intercepted the ball. This time the Raiders could do nothing with it and were forced to punt.

Two possessions later, the Bears were able to mount their first scoring drive. The drive was highlighted by a 24 yard scramble by Caleb Hanie on third and 18. Giving up big scrambles by quarterbacks has been the Raiders' biggest issue this season. A few plays later, Hanie threw to Johnny Knox for a 29 yard touchdown to give the Bears the lead at 7-6.

The Raiders answered on their next drive with a 47 yard screen play to Marcel Reece on the first play. Janikowski capped it off with his third field goal to put the Raiders back up 9-7.

Then the Bears got a big 56 yard kick return from Johnny Knox to set the Bears up in Raider territory. They would drive to the seven yard line after a 16 yard catch followed by a Lamarr Houston offsides penalty. Then Aaron Curry tipped a Hanie short pass and Kamerion Wimbley picked it off and returned it 74 yards to set the Raiders up with first and goal at the six yard line. But with time running out, the Raiders had to yet again settle for a chip shot 19 yard field goal—Janikowski's fourth of the day.

Coming out of the half, the Raiders were looking like they had figured out how to move the ball on offense. On their opening drive, they moved as far as the nine yard line. But a offensive holding penalty put them in a hole and the Bears defense stiffened again. Bring on Janikowski for his fifth field goal of the day.

A couple drives later, the Raiders were able to sustain another long drive. This time they went as far as the nine yard line. They were in first and goal from the nine and were backed up by a tackle for loss (-3), a holding penalty that negated a touchdown run, and a sack. After the penalties, the Raiders were in fourth and 26 and it was Janikowski time. This one was from 44 yards out to break the franchise record. And it put the Raiders up 18-7.

Then the momentum shifted to the Bears who were able to put together two drives and two field goals.

Inbetween those field goal drives, Shane Lechler showed his leg by breaking a franchise mark of his own. He punted a ball from the 20 yard line that had Devin Hester running back toward his own endzone. It bounced into the endzone for an 80 yard punt. The previous franchise record was 77 yards. The drawback to beating the old record was the touchback giving the Bears the ball at the 20 yard line. A few yards less would have had them pinned at their goal line.

The Raiders answered the second drive with a drive of their own. The final two plays of the drive were a 47 yard pass to Louis Murphy followed by a 3 yard touchdown run by Michael Bush. It was the first fourth quarter touchdown the Raiders have had since week five in Houston and it put the Raiders up 25-13.

With just 3:47 remaining in the game, it looked as if the Raiders might cruise to a win from there. But the Raiders just had to make it interesting. On the next series, with the Bears looking at third and 16, Hanie threw a perfect long ball to Johnny Knox that went 81 yards. The Bears scored a touchdown on the very next play. And just like that, they were back in this game.

The Bears lined up for an onsides kick that was knocked out of the waiting arms of Matt Giordano leading to some tense moments. The Raiders came up with it to dodge a bullet. But they were far from out of the woods.

With 2:07 on the clock and the Bears still holding a timeout at their disposal, the Raiders would need to get a first down to secure the win. They couldn't do it and were only able to run 57 seconds off the clock.

The Raiders needed one more stop from their defense and they got it. The game ended when Hanie was called for intentional grounding for a ten second runoff and a 25-20 Raider win.

If the score 25-20 sounds familiar, that's because it is. That was the score when the Raiders beat Houston in week five. Coincidentally, that was the last time they scored a touchdown in the fourth quarter.

This was Caleb Hanie's first start for the Bears and the Raiders got to him early, forcing him into three interception. He was able to settle in later and threw two touchdowns in the second half.

The win gives the Raiders a three game win-streak and keeps them in sole possession of first place in the AFC West with a 7-4 record. They hold a one game lead on the Broncos who are on their own four-game win streak after beating the Chargers.

The Raiders travel to Miami next week to face the Dolphins who had their own three-game win streak snapped this week.

Darrius Heyward-Bey played in this game just a week after being carted off the field on a stretcher. He was cleared to play and finished with four catches for 42 yards.
Box Score
Chicago Bears (7-4-0)
Oakland Raiders (7-4-0)
Passing
CP/AT YDS TD INT C. Hanie 18/36 254 2 3
Rushing
ATT YDS TD LG M. Barber 10 63 0 21 M. Forte 12 59 0 33 C. Hanie 5 50 0 24
Receiving
REC YDS TD LG J. Knox 4 145 1 81 R. Williams 3 37 0 22 K. Davis 2 25 1 16 M. Forte 6 25 0 12 M. Spaeth 1 9 0 9 S. Hurd 1 8 0 8 E. Bennett 1 5 0 5
Fumbles
FUM LOST REC YDS
Kicking
FG LG XP PTS R. Gould 2/2 53 2/2 8 Punting NO AVG I20 LG A. Podlesh 5 44.8 0 52
Kickoff Returns
NO AVG TD LG J. Knox 4 33 0 56 D. Hester 2 19 0 21 E. Bennett 1 9 0 9
Punt Returns
NO AVG TD LG D. Hester 2 3 0 7
Defense
T-A SCK INT FF L. Briggs 6-0 0.0 0 0 M. Wright 6-1 0.0 0 0 J. Peppers 5-0 2.0 0 0 B. Urlacher 5-0 0.0 0 0 C. Davis 4-0 0.0 0 0 N. Roach 4-0 0.0 0 0 C. Conte 3-2 0.0 0 0 T. Jennings 3-0 0.0 0 0 C. Tillman 3-2 0.0 0 0 M. Toeaina 3-0 0.0 0 0 C. Graham 1-0 0.0 1 0 I. Idonije 1-0 0.0 0 0 H. Melton 1-0 1.0 0 0 A. Okoye 1-0 1.0 0 0 C. Wootton 1-0 0.0 0 0 B. Meriweather 0-1 0.0 0 0
Passing
CP/AT YDS TD INT C. Palmer 21/37 301 0 1
Rushing
ATT YDS TD LG M. Bush 24 69 1 14 R. Cartwright 1 4 0 4 M. Reece 2 0 0 3
Receiving
REC YDS TD LG M. Reece 5 92 0 47 C. Schilens 4 58 0 17 L. Murphy 2 53 0 47 D. Heyward-Bey 4 42 0 19 M. Bush 4 24 0 12 B. Myers 1 24 0 24 K. Boss 1 8 0 8
Fumbles
FUM LOST REC YDS
Kicking
FG LG XP PTS S. Janikowski 6/6 47 1/1 19
Punting
NO AVG I20 LG S. Lechler 5 49.2 3 80
Kickoff Returns
NO AVG TD LG B. McCann 1 27 0 27
Punt Returns
NO AVG TD LG B. McCann 1 1 0 1 T. Houshmandzadeh 0 0 0 0
Defense
T-A SCK INT FF T. Branch 8-0 1.0 0 0 L. Houston 5-0 0.0 0 0 R. McClain 5-1 1.0 0 0 L. Sheppard 5-0 0.0 0 0 A. Curry 4-0 0.0 0 0 J. Henderson 4-0 0.0 0 0 K. Wimbley 4-0 1.0 1 0 M. Huff 3-1 0.0 1 0 D. Bryant 2-0 0.0 0 0 M. Giordano 1-0 0.0 0 0 T. Kelly 1-0 0.0 0 0 M. Mitchell 1-0 0.0 0 0 S. Routt 1-0 0.0 1 0 R. Seymour 1-0 1.0 0 0
Follow me on Twitter @LeviDamien or befriend me on Facebook.

[follow]
Original Story:
http://www.tfdssports.com/2011-articl...
THE BACKYARD
BEST OF MAXIM
RELATED ARTICLES
Chicago Bears receiver and return specialist Devin Hester could be held out of the offense due to an ankle injury in Sunday's game against the Oakland Raiders.Hester didn't play a snap with the offense in last week's win over the San Diego Chargers, and was limited to special teams duties after suffering a sprained ankle."It's something that I've got to kind of deal...
Devin Hester and Chris Massey are on opposite ends of the spectrum as special-teams players for the Bears. Hester is the greatest kick returner in NFL history. Massey is a typically anonymous long snapper who nobody in Chicago had ever heard of before he signed with the Bears on Thursday, even though...
Arizona's Patrick Peterson is having a season to remember on kick/punt returns, watch as Peterson returns this punt 80 yards for a touchdown against the St. Louis Rams. This is Peterson's fourth touchdown return of the season which ties him with Chicago's Devin Hester for the most kick returns for touchdowns in a single season:
OAKLAND -- Receiver/kick returner Devin Hester is in the lineup despite missing practice time with a shin injury, and rookie Nathan Enderle is listed as the backup quarterback behind starter Caleb Hanie as the Chicago Bears prepare to face the Oakland Raiders on Sunday.
OAKLAND, Calif. — It's not often argued that the Bears lost the special-teams battle, but there was no dispute after their 25-20 loss Sunday, not even from within their locker room. The Raiders owned the third phase. "They beat us on special teams," returner Devin Hester said. "They overpowered...
OAKLAND, Calif. — Not often is it argued that the Bears lost the special teams battle but there was no dispute after their 25-20 loss here Sunday, not even from within their own locker room. The Raiders owned the third phase. "They beat us on special teams," returner Devin Hester said. "They...
Devin Hester holds the record for most punt return touchdowns, and the Bears' return ace might have some competition for that mark in Cardinals rookie Patrick Peterson.
NFL News

Delivered to your inbox

You'll also receive Yardbarker's daily Top 10, featuring the best sports stories from around the web. Customize your newsletter to get articles on your favorite sports and teams. And the best part? It's free!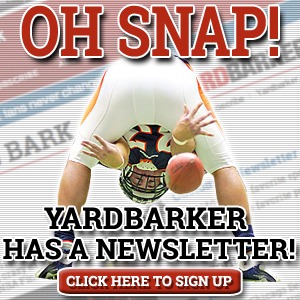 Latest Rumors
Best of Yardbarker

Today's Best Stuff

For Bloggers

Join the Yardbarker Network for more promotion, traffic, and money.

Company Info

Help

What is Yardbarker?

Yardbarker is the largest network of sports blogs and pro athlete blogs on the web. This site is the hub of the Yardbarker Network, where our editors and algorithms curate the best sports content from our network and beyond.