Found September 11, 2012 on 60 Max Power O:
It's an old mantra for football analysts, but if there was ever a time to go for it on fourth down, it was in the MNF nightcap for Oakland. Their long snapper was out with a concussion early, making punts a risky proposition. However, at the end of the first half, the Raiders signaled their intentions by settling for a field goal on fourth and one from the one yard line, despite trailing 10-3 at the time.
That decision was probably the wrong one — Oakland didn't get inside the 20 again until the game was out of reach — but failing to score the touchdown would have been a tough on morale, so it's semi-understandable early in the game (TMQ was frantically scribbling "game over" in his notebook, of course). However, the second half became comical. Oakland had two fourth and ones between the 20s in the third quarter. On the first, the second string long snapper bounced it up to Shane Lechler, who wisely tucked the ball and fell forward to avoid a block ("GAME OVER" in all caps). On the second, the snap was okay, but someone missed an assignment and the punt was easily blocked ("GAME OVER!!!!!!!!!!!!!!").
The Raiders defense didn't get the memo, though, and played their tails off, holding the Chargers to successive field goals (it helped that Phil Rivers seems legitimately afraid of the blitz). When the Raiders faced a third and 21 later on, they were still in the game, and they should have thought ahead. As innovate Kevin Kelley of Pulaski Academy in Little Rock puts it (the man who inspired Louisiana-Monroe's strategy in their gutsy upset of Arkansas on Saturday),
If you get to the point where you know you're going to go for it no matter what, you don't even get in that situation because it changes the dynamics of the play-calling. We don't have to throw on third-and-6 because we know we still have fourth down.
Well, when you can't snap the ball, third and six might as well be third and 21. Instead, Carson Palmer heaved a desperation 25 yard pass with little chance of  success, the Raiders decided to punt, and, lo and behold, the snap dribbled back to Lechler just in time for him to get hammered again.
Maybe I shouldn't be surprised. The Raiders are on their tenth coach since 1995. Tom Cable and Hue Jackson were both fired after posting 8-8 records in 2010 and 2011, respectively (showing improvement from a 5-11 campaign in 2009). The Oakland coaching carousel may have encouraged new man Dennis Allen to play to keep it close, not to win. In that environment, it's safer to punt (and blame the backup long snapper if needed) than to take a chance.
Random Additional Notes
The game had a couple other interesting situations (including two of my favorite opportunities for innovation):
Both Curtis Brinkley (really dynamic backup running back for the Chargers) and Darren McFadden (Raiders) had a chance for the "running back throwaway" in the fourth quarter. The idea here is simple: chuck the ball past the line of scrimmage and out of bounds on sweeps that are bottled up. Instead, Brinkley lost 5 or 6 yards and McFadden lost 11 (putting the Raiders in the third and 21 mentioned above and keeping the clock running).
The final series was bizarre. Up eight, the Chargers had to run off 54 seconds (the Raiders had two timeouts). They could have run it off easily in three downs by scooting around the backfield but instead ran into the line twice, leaving 3 seconds on fourth down. No matter — as I discussed in my football riddle last year (and Trent Dilfer mentioned on air), a roll out and throwaway can kill 7 or 8 seconds. Instead, the Chargers brought in the punter (did they watch the same game I did with three failed punts?). The snap was good, and I thought the punter would just eat it, but he actually punted! Not to be outdone, the Raiders put no one back to receive the kick, and TMQ breathed a sigh of relief.
On their final drive, the Raiders had to go for it on fourth down anyway. Guess what? They converted a fourth and five and a fourth and three (on incomplete passes, saved by defensive penalties). Along with the usual reasons, I suspect that teams punt too often early in games because they want to put off the pain — a standard procrastination argument. If you're losing, you probably have to take chances at some point to get back in it. Avoiding the small risks early on and punting is like putting a charge on your credit card: it costs nothing at the time, but it would be better to swallow the pill upfront, because it comes back with interest as the clock winds down (the Raiders' desperation conversions were longer yardage situations but the clock gave them no choice).
Check out other great articles at Causal Sports Fan.
Original Story:
http://www.60maxpowero.com/patriots/c...
THE BACKYARD
BEST OF MAXIM
RELATED ARTICLES
Oakland Raiders fans, as some — but not all — of them are wont to do, were up to their usual antisocial antics during the team's loss to the San Diego Chargers by the score of 22-14 at Oakland-Alameda County Coliseum (which is actually now called O.co Coliseum but it will always be Oakland-Alameda to [...]
TThe Oakland Raiders showed the world last night how important a long snapper can be to your team's successes (or in this case, mind-numbing failures). After their starting Pro Bowl long snapper Jon Condo left the game with a head injury, back up linebacker Travis Goethel stepped in and tried to fill his shoes … despite not having long snapped since high school.  And almost...
According to Jason La Canfora of CBS Sports, the Oakland Raiders have signed fullback Marcel Reese to an extension. Dynamic FB Marcel Reese and the Raiders will finalize a contract extension today, prior to Oakland opening the season vs. San Diego — Jason La Canfora (@JasonLaCanfora) September 10, 2012 Reese is a versatile fullback that can block and catch the ball out of the back field.  
(Eds: APNewsNow. Will be updated. With AP Photos.) By JOSH DUBOW AP Sports Writer The high-risk, high-reward passes that characterized Carson Palmer's first half-season as Oakland Raiders quarterback were absent in the season opener. Instead of taking chances for big plays down the field in the passing game, Palmer mostly chose the safer route of dumpoffs to running back Darren...
Oakland Raiders receiver Denarius Moore missed the season opener against the San Diego Chargers with a hamstring injury. Moore is inactive for Monday night's game. He originally hurt his hamstring in June and missed of training camp. He returned to practice last week but was unable to go. Among the other Raiders inactives are receiver Jacoby Ford, quarterback Terrelle Pryor...
According to Steve Corkran of the Contra Cost Times, Raiders wide receiver Jacoby Ford will undergo foot surgery. WR Jacoby Ford is going to have surgery on his injured left foot, #Raiders coach Dennis Allen said. — Steve Corkran (@CorkOnTheNFL) September 11, 2012 Ford is expected to be out a long time.  They'll likely have a better timetable once the surgery has been completed...
Oakland Raiders wide receiver Jacoby Ford was scheduled to have surgery on his left foot Tuesday afternoon in North Carolina and will miss a number of games, head coach Dennis Allen said during his weekly media conference on Tuesday. It's uncertain whether Ford is out for the season. "Basically, it's the same injury he had last year. He re-injured it this season ...
I already covered this game, but I recently learned something about NFL history.On September 10, 1978, the Raiders won a game against the Chargers in the most amazing manner-- an offensive fumble recovery for a touchdown.Even back then, NFL rules limited forward passes to once per play and only from behind the line of scrimmage.  If the ball hit the ground, it was considered incomplete...
Are you ready for some Raider Football? It's new year's day for the Silver & Black as the Oakland Raiders host the Chargers to kick off their 2012 regular season. It's the official beginning of a new era for the storied franchise, no longer under the watchful eyes of Al Davis, but now in the [...]
The late Monday night game showcasing the Oakland Raiders and San Diego Chargers was probably missed by fans of either team who reside on the East Coast as the contest ended after one in the morning. That was probably for the best as Oakland lost what looked to be a battle of ineptitude 22-14.Early risers might have been fooled initially by the final score into thinking it was...
Week 1 of the highly-anticipated 2012 NFL regular season wrapped up in the wild west in a division battle between the Oakland Raiders and San Diego Chargers on Sept. 10 on Monday Night Football. The story of the Chargers' less-than-thrilling 22-14 win over Oakland was the Raiders' rudderless offense and shabby special teams play.  Quarterback Carson Palmer was without Jacoby...
WHAT? HUH? WHAT? DEUX DEUX DEUX DANGER DANGER CHRIS BERMAN BROADCASTING DANGER DANGER After a riveting Ravens blowout, we head westward for the annual Chargers vs. Other West Coast Team Doubleheader Special, which a national audience have to interpret through mute. This will be fresh hell on your hearing otherwise. Compelling storylines abound: Ronnie Brown or Darren McFadden –...
Raiders News

Delivered to your inbox

You'll also receive Yardbarker's daily Top 10, featuring the best sports stories from around the web. Customize your newsletter to get articles on your favorite sports and teams. And the best part? It's free!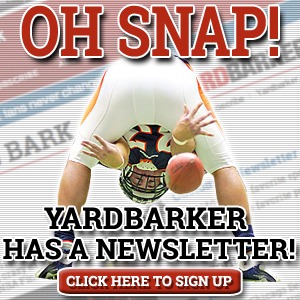 Latest Rumors
The Backyard

Today's Best Stuff

For Bloggers

Join the Yardbarker Network for more promotion, traffic, and money.

Company Info

Help

What is Yardbarker?

Yardbarker is the largest network of sports blogs and pro athlete blogs on the web. This site is the hub of the Yardbarker Network, where our editors and algorithms curate the best sports content from our network and beyond.