Found December 23, 2012 on Thoughts from the Dark Side:
The Raiders were held without a touchdown for the second straight week but unlike last week's victory against the Chiefs, field goals were not enough against the Panthers who put the Raiders away, 17-6. The Panthers' team was not significantly better but, despite being called for 10 penalties for 97 yards they were able to capitalize on their red zone trips and their two TDs and a FG where the Raiders 0-2 in their two trips to the redzone. The Raiders have now gone 2 full games without scoring a TD.  But the ineptitude of the Raiders offense is much more than that.  The Raiders have scored a number of touchdowns in garbage time this year and, in general, have not been able to score when it's needed, trailing most of the teams they are playing throughout the game. In fact, a review of the Raiders previous games showed that the last time the Raiders scored a TD that either put them into the lead or maintained a lead for them was on November 4th, when the Raiders played Tampa Bay – a game they eventually lost.  That was now 7 weeks ago. Pryor again doesn't get meaning-full playing time. The Raiders should be in full-blown play for the future mode at this time but if they are that future doesn't include 2nd year QB Terrelle Pryor who again saw only a few snaps and threw only one pass.  This was in a game in which starting QB Carson Palmer was injured early in the first half and left the game with pain in his ribs.  He did not return. I've said before that it certainly seems unlikely that Pryor is in the Raiders long term plans due to the lack of playing time he is able to get.  The coaching staff's praise of his improvement is hollow if he cannot get onto the field.  Today he saw only a couple of snaps and threw only one pass, a 5 yard pass to Marcel Reece that he completed. He came off the field immediately after the pass and didn't see the field again for the rest of the game. The Raiders' coaching staff has said good things about Pryor developing during his practices but if the team thought he was their future at QB, they would get him some playing time in this lost season and see what he could do. Instead, they praise his dedication and improvement but limit what he does in games which sounds very much like a strategy to set up Pryor to be traded in the off-season.  The Raiders are hoping that some team who liked Pryor coming out of the draft will hear that he's committing himself in practices and sees him getting time during games and will pay more for him as a development QB.  It seems likely the Raiders will be cutting their losses with him and recoup whatever they can. Some young guys continuing to show up If you're looking for a positive to take from today's game you can take a look at the Raiders defense which had a second strong showing this week.  The Panthers offense is no juggernaut but the Raiders defense showed up well against Carolina, getting some pressure on Newton and forcing quite a few errant passes.  Rookie Miles Burris again made a good impact and could have made more of an impact with a few more breaks. Burris showed up fairly well in coverage and he also had a well-timed blitz in which he had a shot at taking Newton down for a safety in the endzone.  Newton used his rare athleticism to escape Burris' arm tackle but the play was a good one none-the-less.  Burris also almost had an interception on a ball that Newton attempted to throw away and had some good tackles at or behind the line of scrimmage. Burris' best play was one in which he combined his skils with another young player, 2nd year CB Chimdi Chekwa.  Chekwa, who was demoted to the practice squad after training camp this year and has only been on the active roster the last two games was able to make a play on a poorly thrown ball by Newton and deflected the pass.  Burris was in position and was able to make a diving interception off the deflection. Knapps offense continues to underwhelm Other than some good plays on defense there was precious little to celebrate in the game.  The offense, which has looked stagnant under QB Palmer got even worse under Matt Leinart.  Leinart, who lacks both the arm strength and gun-slinger-mentality of Carson Palmer, relied on checkdown passes for the most part and the Raiders struggled to get first downs for most of his time on the field.  He also badly misread zone coverage and threw an interception that was returned 25 yards to the Oakland 25 and helped to set up Carolina's second TD. For the game, the Raiders offense averaged only 3.2 yards a pass and only 2.1 yards per carry on 22 attempts.  Matt Leinart, who throw all but 4 passes in the game, only averaged 3.6 yards per pass.  Leinart had decent time to throw and was only sacked once and still wasn't able or interested in going vertical.  He completed exactly 50% of his 32 attempted passes. For comparison the Panthers rushing per carry average (4.0) was higher than the Raiders passing per attempt average (3-9).  Newton, who threw all of the Panthers 29 passes, ended up with a 5.9 per pass average. Greg Knapp is responsible for the offense almost completely as Allen is a defensive minded head coach and has essentially turned the offense over to Greg Knapp.  And yet, despite playing together for 16 weeks, now (including the bye) plus the preseason and the offseason, the Raiders offense looks worse and more out of sync now than when they started the season.  Mark Davis used the word regression earlier this year to describe what he sees on the field and nowhere has that been more accurate than on offense. With the last two weeks' inability to score a touchdown, it says here that Allen must make the difficult decision to fire his friend Greg Knapp and bring in a better offensive coordinator in the offseason.  The Raiders offense would be a good job, I think, for an offensive coordinator.  While they don't have any really elite players they have some key players on offense including an intriguing QB in Palmer, a young receiving corps that has some talent but struggle with inconsistency and a running back in Darren McFadden that can be among the best when healthy and in a scheme that fits him well. In an earlier piece I put forward a prediction that Allen would let Knapp come back for another year but with the Raiders going two weeks and counting without a touchdown, Knapp's job security is being put in further jeopardy. The Raiders play their final game in San Diego next weekend against a Chargers team that has also been well below expectations this year.  Coach Allen will look to go into his first full offseason with a win and then he and McKenzie will get together to discuss where they go from here as they attempt to turn the struggling franchise around.
Original Story:
http://www.tfdssports.com/site/raider...
THE BACKYARD
BEST OF MAXIM
RELATED ARTICLES
What up RaiderNation? Welcome to this week's edition of My Two Cents, with your favorite archaic Raider fan, Old Timer. First of all, I want to thank everyone for all of the responses we have gotten over the last few weeks. We here at silverandblack.com love to hear what you have to say, and we greatly appreciate any and all [...]
With Raiders quarterback Carson Palmer leaving today's game against the Panthers with an injury, defensive tackle Tommy Kelly felt like they needed to try to injure Panthers quarterback Cam Newton as payback.  This is probably why Newton was seen kicking Kelly during the game. "You take our guy out, we're going to go and try to take your guy out," Kelly said after the game...
Another good defensive effort by the Oakland Raiders kept the Silver&Black in the game until kicker Graham Gano nailed a 51-yarder to extend the Carolina Panthers lead to eleven with a little over two minutes left. The Raider offense struggled all day long to move the football, specially after Carson Palmer was knocked out of the contest with a rib [...]
Terrelle Pryor or Matt Leinart is expected to start at quarterback for the Oakland Raiders at the San Diego Chargers in the team's season finale on Sunday now that Carson Palmer is hurt. Palmer got hurt during the team's Week 16 loss to the Carolina Panthers and is out with cracked ribs and a bruised lung. Raiders head coach Dennis Allen says Palmer was in the hospital for observation...
According to Jason La Canfora of CBS Sports, despite a disappointing season, Oakland Raiders owner Mark Davis doesn't plan on replacing head coach Dennis Allen and general manager Reggie McKenzie.  But he might make some other front office changes. After much deliberation, Raiders owner Mark Davis does not intend to part with first-year head coach Dennis Allen and first-year...
SPECIAL TREATMENT?
Cam Newton somehow avoided ejection against the Raiders after kicking Tommy Kelly and bumping an official. See video here.
The latter half of the season has been good to the Carolina Panthers. After a disastrous start, they have gone on a 4-2 run that has included a decisive win over the Atlanta Falcons. With good fortune comes smiles from Hollywood Cam Newton. Two incidents marred Newton's day on Sunday. Oakland's Tommy Kelly admitted that he and the Raiders were targeting Newton after Raiders'...
Oakland Raiders quarterback Carson Palmer suffered cracked ribs and a bruised lung after a hard hit by Carolina linebacker Greg Hardy and will not play in the team's final game. Palmer was hit in the back by Hardy late in the first quarter while rolling out to throw. Hardy appeared to lead with his helmet and drew an unnecessary roughness penalty on the play. Palmer was later...
Carson Palmer has played his last game of the year for the Oakland Raiders. The quarterback has been ruled out by head coach Dennis Allen for the season finale against the San Diego Chargers next Sunday due to broken ribs and a bruised lung. Palmer returned to California with the team following yesterday's loss at Carolina, but had to spend [...]
Oakland Raiders quarterback Carson Palmer suffered cracked ribs during yesterday's loss to the Panthers.  He won't play in this week's season finale. Raiders HC Dennis Allen said QB Carson Palmer has cracked ribs and a bruised lung and will not play again this season. — Adam Schefter (@AdamSchefter) December 24, 2012 The Raiders haven't indicated whether they'll start...
The Oakland Raiders have announced that quarterback Carson Palmer suffered cracked ribs and a bruised lung during Sunday's loss to the Carolina Panthers and the 33-year-old will not play in the team's regular season finale, reports Gregg Rosenthal of NFL.com. Raiders coach Dennis Allen announced that his quarterback suffered cracked ribs and a bruised lung during Sunday's...
The Carolina Panthers were not hospitable in defeating the Oakland Raiders 17-6 at home in Charlotte Sunday afternoon. This was a physical game from beginning to end.  The Panthers extended their winning streak to 3 games and showed some growth after a slow start this season. This recent streak by the Panthers may have taken Head Coach Ron Rivera off the hot seat. Meanwhile, the...
Raiders News

Delivered to your inbox

You'll also receive Yardbarker's daily Top 10, featuring the best sports stories from around the web. Customize your newsletter to get articles on your favorite sports and teams. And the best part? It's free!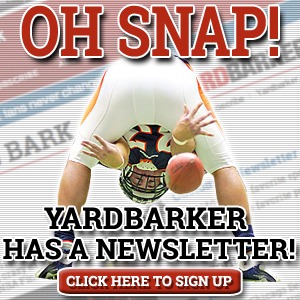 Latest Rumors
Best of Yardbarker

Today's Best Stuff

For Bloggers

Join the Yardbarker Network for more promotion, traffic, and money.

Company Info

Help

What is Yardbarker?

Yardbarker is the largest network of sports blogs and pro athlete blogs on the web. This site is the hub of the Yardbarker Network, where our editors and algorithms curate the best sports content from our network and beyond.