Found November 25, 2012 on Rams Herd:
PLAYERS:
Sam Bradford
,
Janoris Jenkins
,
Larry Fitzgerald
,
Ryan Lindley
,
Brian Schottenheimer
,
Steven Jackson
,
Beanie Wells
,
Nate Potter
,
Robert Quinn
,
Daryl Richardson
,
Greg Zuerlein
TEAMS:
St. Louis Rams
,
Arizona Cardinals
Sam Bradford completed only seven passes against the Arizona Cardinals in their first meeting, only eight in their second. But he'll take winning by two touchdowns apiece any day of the week. For that, he has his defense to thank.  After playing so soft over the last month that they could have been cast in a Charmin commercial, the Rams finally found their aggressive streak, and finally unleashed talented rookie Janoris Jenkins from the Tampa Two hell he's been living in. Jenkins, who drew primary coverage on Larry Fitzgerald for much of the day, intercepted two Ryan Lindley passes and returned them both for touchdowns. In so doing, he became the first Rams player ever and only the third rookie in NFL history to accomplish this double-down feat.  Meanwhile, Brian Schottenheimer finally found occasion to dust off his "ground and pound" playbook, one week too late, giving Steven Jackson 20-plus carries for only the third time this season. Jackson and the defense laid the table for a second-half shutdown effort that drained the drama from a close game and sent the Arizona fans heading to the exits early.  A tale of two halves Beanie Wells, first half: 11 carries for 38 yards and two TDs. Beanie Wells, second half: 6 carries for ten yards.  -- Ryan Lindley, first half: 17-24, 183 yards, 1 INT Ryan Lindley, second half: 14-28, 139 yards, 3 INT -- Rams RBs, first half: 10 carries, 41 yards, 4.1 ypc Rams RBs, second half: 21 carries, 130 yards, 6.2 ypc -- Sam Bradford, first half: 6-12, 146 yards, 1 TD, 1 INT Sam Bradford, second half: 2-5, 59 yards, 1 TD Bend-but-don't-break makes a reappearance The Rams defense has not been a shutdown unit in terms of yardage all season, but when they were at their best, they were putting pressure on the passer and forcing key turnovers. While we didn't get the gaudy sack numbers this week that we did last time around -- credit new LT Nate Potter's improved play on Robert Quinn for that -- we were able to goad Lindley into a trio of rookie mistakes in the second half.  Of course, pressure is only half the equation. Blake Williams, who has been wearing the headset and calling plays without the title of "Defensive Coordinator" most of the season, finally started taking some chances with his defensive backs. Perhaps sick of seeing our guys get beat deep, Williams was willing to give up a constant eight- to ten-yard cushion to even the greenest opposing receivers, giving opposing quarterbacks easy targets and defeating his own pass rush. The "Tampa Two" approach is one that has been around the league for a long time, and a fad that has largely died out, as opposing offenses have been able to counter it. Chris Brown of SmartFootball.com and Grantland.com wrote up an effective dissection of the Cover Two more than two years ago (showing how dated the defensive approach is). And the Cardinals happily took advantage of the Rams' tendencies by running a trips formation right out of the Smart Football playbook to set up the game's opening score. (More on this later in the week.)  However, starting in the second quarter, Blake Williams began varying his coverages much more effecitvely, mixing press coverage with zone and throwing different looks at Lindley and the Cardinals' offensive staff.  The result was a series of throws that only a rookie can make, giving the Rams three second-half turnovers, and taking superstar receiver Larry Fitzgerald (0 second-half catches on six targets) completely out of the game.  Steven Jackson carries us home I don't think it's possible to say enough about how Steven Jackson is running the ball right now. After lighting up the Jets (until being mysteriously shelved) for 6.2 yards per carry last week, and wrecking-balling the 49ers for 101 yards on 29 carries two weeks ago, Jackson put the Rams on his back once again to close out the win. The Rams held the ball for nearly 10 minutes of the final quarter of play, with Jackson and Daryl Richardson getting the bulk of the work. Together they choked out the game clock and, with a Greg Zuerlein chip shot, put the game officially out of reach.  It was a dominant finish to a game that didn't exactly feel dominant through the first 30 minutes of play. It set a tone for a happy flight home, closing out the Rams' first road win and setting their division record at an impressive 3-0-1. That guarantees the Rams their first winning record in the NFC West since 2004.  Is there still progress to make? Yes. But for now, we'll take a win like today, where they finally proved they know how to separate themselves from a team that they should beat. 
Original Story:
http://www.ramsherd.com/2012-articles...
THE BACKYARD
BEST OF MAXIM
RELATED ARTICLES
The Arizona Cardinals season has become a disaster after starting 4-0. The quarterback situation remains undecided with Kevin Kolb still not back in the lineup and John Skelton performing unremarkably. On Sunday, the Cardinals turned to rookie Ryan Lindley. Lindley threw four interceptions, two of which were returned for touchdowns. Given the lack of quarterback play in the last...
This quote from Arizona Cardinals head coach Ken Whisenhunt certainly makes it look pretty bad for Lions HC Jim Schwartz. "They make a point of telling you before the game, on turnovers and scoring plays, you can't throw the flag," Whisenhunt said, via Kent Somers of the Arizona Republic. Good ole Schwartzee must have been blinded by rage at what he saw on the field. He...
Either Janoris Jenkins was really good on Sunday, or the Cardinals' quarterback situation has reached an all-time low. It looked like it was actually a little bit of both. The Rams' rookie cornerback intercepted Cardinals rookie quarterback Ryan Lindley twice, and he took both picks back for touchdowns. The first appeared to be a good read by Jenkins — jumping LaRod Stephens...
St. Louis' long takeaway drought ended spectacularly in the desert. For five games, the Rams failed to force a single opponent turnover. Then on Sunday, they intercepted rookie Ryan Lindley four times in his first NFL start. Janoris Jenkins took two of them back for touchdowns in St. Louis' 31-17 victory over Arizona, the Cardinals' seventh loss in a row. ''...
Even though Arizona Cardinals running back Beanie Wells is just coming off injured reserve, he believes it won't take a long time before he'll be able to carry the full load. Cardinals RB Beanie Wells doesn't believe it will take long before he can resume a full workload after missing seven games with a turf-toe injury and a sore knee. "Not at all," Wells said. "I think...
Cardinals receiver Larry Fitzgerald caught three passes for 31 yards on the team's first drive Sunday against the Rams but watched his final nine targets fall incomplete.Fantasy Spin:According to AzCardinals.com, it was St. Louis' plan to take Fitzgerald out of the game. Rookie QB Ryan Lindley did that for them. The receiver has only reached the century mark once this season...
GLENDALE, Az. -- A season that started with so much promise has completely disintegrated for the Arizona Cardinals. That's how Sunday's 31-17 loss to the St. Louis Rams began and ended, too. The Cardinals flexed their muscles early behind rookie quarterback Ryan Lindley in his first NFL start, but when things began to unravel, it was too much to overcome as Arizona dropped...
By BOB BAUM AP Sports Writer TEMPE, Ariz. -- The Arizona Cardinals are sticking with Ryan Lindley at quarterback, at least until Kevin Kolb is healthy enough to play. Coach Ken Whisenhunt says that while Lindley had three bad throws that resulted in interceptions, two of them returned for touchdowns, in his first NFL start on Sunday, the rookie did have other times when he was...
Two teams, two nosedives. One will pop a parachute. The other will whisper the Rosary. The last time we saw the St. Louis Rams against the Arizona Cardinals, both teams had crashed the NFC West penthouse. The Rams were 2-2, coming off a surprise victory over the Seattle Seahawks. Meanwhile, the Cardinals were 4-0, spinning straw into gold by claiming three triumphs by a combined...
No more bye weeks. It's all up to health and strategy from here on out to get you to a fantasy football championship. Here are some updates on...
Top 5 Free Agent 1) Beanie Wells ARI RB - 48 Rushing Yards 2 TD Beanie Wells came off the snide and instantly became the lead back in Arizona. Beanie had 17 carries, while the rest of Arizona running backs combined for just five. 2) Knowshon Moreno DEN RB - 89 Total Yards 0 TD Moreno took over as Denver's starting running back and filled in admirably. Just two season ago, Moreno...
Arizona running back LaRod Stephens-Howling is active for Sunday's game against St. Louis, but is not expected to start.Fantasy Spin:Despite 127 yards on the ground last weekend, Stephens-Howling is thought of as a change-of-pace back and a third-down receiving option. Beanie Wells is the starter and is expected to carry the majority of the workload.
NFL News

Delivered to your inbox

You'll also receive Yardbarker's daily Top 10, featuring the best sports stories from around the web. Customize your newsletter to get articles on your favorite sports and teams. And the best part? It's free!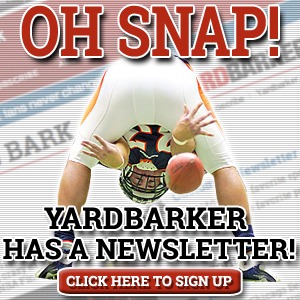 Latest Rumors
Best of Yardbarker

Today's Best Stuff

For Bloggers

Join the Yardbarker Network for more promotion, traffic, and money.

Company Info

Help

What is Yardbarker?

Yardbarker is the largest network of sports blogs and pro athlete blogs on the web. This site is the hub of the Yardbarker Network, where our editors and algorithms curate the best sports content from our network and beyond.