Found August 09, 2012 on Fox Sports Midwest:
PLAYERS:
Lance Kendricks
,
Brian Schottenheimer
,
Sam Bradford
,
Josh Mcdaniels
,
Michael Hoomanawanui
,
Matthew Mulligan
,
Dustin Keller
,
Jeff Fisher
TEAMS:
St. Louis Rams
,
Detroit Lions
,
Denver Broncos
,
Jacksonville Jaguars
,
New York Jets
ST. LOUIS This is a moment Lance Kendricks will work to forget. Its early in a drill Wednesday at Rams Park. The second-year St. Louis Rams tight end jogs toward the middle of a practice field, churning and grinding and laboring with his 6-foot-3, 247-pound tank of a frame while trying to leave a positive impression on new offensive coordinator Brian Schottenheimer. Quarterback Sam Bradford ***** back his 78 million right arm, looking calm and composed with a routine throw on the way. The ball floats in the cool evening air, then it approaches the Wisconsin product with no defenders close by, then it glides into Kendricks palms for the simple catch no, wait hold on cant be yes, this is happening it dribbles off his chest like a BB pellet shot against a steel door. The dreaded drop. The necessary evaluation. Oh, baby! Schottenheimer says, crouched near Kendricks as the player runs past. Oh, Slippery Hands Syndrome. Its a stigma that has followed Kendricks even before the Rams chose him 47th overall in the 2011 NFL Draft. (Seriously, his NFL.com Combine profile reads, Has inconsistent hands and drops too many catchable balls, aside the label, WEAKNESSES.) Its a stigma that he fights one month before the Rams open the regular season against Suhperman and the Detroit Lions. Its a stigma thats one of the NFLs cruelest burdens a struggle thats part personal, part public and one that involves a whole lot of soul-searching. The dreaded drop. The necessary self-study. I know there were moments where I would run a route, and Im like, Cool, Ive got the ball, and I would just drop the ball, Kendricks says. You dont have it until you have it. Will he have it this season? Its one of the Rams' questions as they try to heal from parading a weak pass offense last season. Former coordinator Josh McDaniels was the lost mind between the headset for a group that mustered an average of 179.4 yards per game through the air good (bad) for 30th in the league in the category. Only the Denver Broncos (152.1) and Jacksonville Jaguars (136.2) were more of a mess from the pocket. Kendricks struggled to keep it all together too. His rookie season was a letdown, in part because of the passes he let down. He had 28 catches for 352 yards with no touchdowns and a fumble. But imagine how much larger those numbers could be without The dreaded drop. The necessary adjustment. For me, its trying to play fast, Kendricks says of his largest growth area. College, it was so easy, because I was in the same system for four years, and I got to grow in it and learn it. Here, everythings a lot faster, and its a lot more complex. Just getting out there and playing fast is the main thing that sticks out to me. There are signs that Kendricks is working to get himself up to speed. Third-year Rams tight end Michael Hoomanawanui has noticed change in his teammate this training camp: The Milwaukee, Wis., native has attacked his conditioning with more edge, he has managed the humidity better in long workouts, he has improved his hands and his focus, he has quizzed tight end Matthew Mulligan who played under Schottenheimer during time with the New York Jets before the Rams signed him in March about pass-protection techniques and how someone like Dustin Keller (a career-high 65 catches for 815 yards and five touchdowns last season) became a Latex-glove fit in the West Coast-like system St. Louis will employ this fall. From last year, (he has) really grown as far as being a professional, doing the little things not just on the field but off the field, Hoomanawanui says of Kendricks. I think this offense is going to be great for him. You see what the Jets did with Dustin Keller. Sure, the potential is there. But can it happen? Its all part of a transition that hasnt escaped coaches during their training camp study. The bosses eyes have seen a more seasoned Kendricks both with his muscle near the line of scrimmage and as a lumbering pass option for Bradford. Make no mistake: There is plenty of room to improve, but there has been progress in placing a cough-it-up rookie campaign behind. The dreaded drop. The necessary climb toward recovery. I think hes improved, Rams coach Jeff Fisher says. The coaches feel like hes improved, we feel like hes improved. Not only in the on-line blocking or in-line blocking with the matchups with the big guys but also the route running. The hands could become a little more consistent, but he is raw. I think hes having a good camp. So how does Kendricks work to forget the moments that arent good? It starts with remembering sage words from tight ends coach Rob Boras. The advice is simple but has depth. The message, as Kendricks recalls it, goes like this: Be patient. Its a long season. Its a long learning process, so dont try to beat yourself over the head if you make a drop or miss a play. Just pick up and learn from it and try not to make the same mistake twice. There it is. The necessary help. Just making plays whether thats catching the ball or blocking or opening it up for Steven (Jackson), Kendricks says when asked about his goals for this year. Just going out there and making plays. I want to feel that after the game, I really contributed to that win or I really improved my game. That would be a moment worth remembering.
Original Story:
http://www.foxsportsmidwest.com/08/09...
THE BACKYARD
BEST OF MAXIM
RELATED ARTICLES
ST. LOUIS -- Here Isaiah Pead stands, yards behind Steven Jackson as the ninth-year veteran cradles a pass from reserve quarterback Tom Brandstater during drills at Rams Park, the rookie resembling the lightning to Jackson's thunder. "Of course, we're two different types of running backs," says Pead, all of 5-feet-10, 197 pounds. "But you can always learn...
Today we tackle the St. Louis Rams cheerleaders and superfans. Like most of you, we are itching for football season to start. In the midst of the dog days of summer, many get sick of baseball and start turning their attention to football. Don't blame you a bit. To help quench your thirst, BC is going on a 32 team, 32 day, 32 gallery tour of NFL cheerleaders & superfans. Sorry...
The St. Louis Rams appear to have options in easing the workload on running back Steven Jackson. Jackson remains the feature back but he might find himself getting fewer carries - and fewer bumps and bruises - after recording 70 percent of the team's carries the past seven seasons. St. Louis took two backs in this year's draft, grabbing Isaiah Pead with the third of three...
Rookie Janoris Jenkins draws a vivid description of how he wants to play cornerback for the St. Louis Rams. ''I play like a ninja, an assassin,'' Jenkins said Thursday after practice at Rams Park. ''I love to be around the ball. I'm quick and physical. I just play the position with a chip on my shoulder.'' The 5-foot-10, 193-pound Jenkins has...
ST. LOUIS, Mo. (AP) -- The St. Louis Rams appear to have options in easing the workload on running back Steven Jackson. Jackson remains the feature back but he might find himself getting fewer carries -- and fewer bumps and bruises -- after recording 70 percent of the team's carries the past seven seasons. St. Louis took two backs in this year's draft, grabbing Isaiah Pead...
Getty Images St. Louis Rams quarterback Sam Bradford recently claimed that his ankle still isn't 100 percent.  Head coach Jeff Fisher isn't concerned about it. "There's going to be residual effects from high-ankle sprains, especially when you come back into practice like he is," Fisher said. "But we don't anticipate it to be a problem, and it hasn't been one. He's...
By X Ramsondemand.com Jeff Curry/US Presswire It's still early, and you can only put so much stock in reports coming out of Rams Camp right now, but when reports start
The most intriguing home game on the slate for the Rams this season jumps off the page for a laundry list of reasons. They already will have had a tough first-half schedule leading up to this contest, facing Detroit, Chicago, and Green Bay, along with a couple divisional games against the Cardinals and Seahawks. After all of that, they will square off with the New England Patriots...
Do the Rams finally have plan in place to protect Steven Jackson? For what appears to be the first time since splitting time with Hall of Famer Marshall Faulk the St. Louis Rams appear to have options in easing the workload on running back Steven Jackson. One year closer to the ominous wall of turning 30 as an NFL running back.  Jackson remains the feature back but he might...
NFL News

Delivered to your inbox

You'll also receive Yardbarker's daily Top 10, featuring the best sports stories from around the web. Customize your newsletter to get articles on your favorite sports and teams. And the best part? It's free!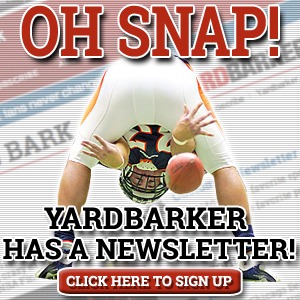 Latest Rumors
The Backyard

Today's Best Stuff

For Bloggers

Join the Yardbarker Network for more promotion, traffic, and money.

Company Info

Help

What is Yardbarker?

Yardbarker is the largest network of sports blogs and pro athlete blogs on the web. This site is the hub of the Yardbarker Network, where our editors and algorithms curate the best sports content from our network and beyond.