Found October 12, 2012 on Fox Sports Midwest:
PLAYERS:
Greg Zuerlein
,
Johnny Hekker
,
Steven Jackson
,
Patrick Peterson
,
Justin Bethel
,
Brit Miller
,
Eugene Sims
,
Matt Conrath
,
William Hayes
TEAMS:
St. Louis Rams
,
Arizona Cardinals
,
Oregon State Beavers
ST. LOUIS (AP) The perfect rookie kicker with the cannon leg has nothing on his rookie roommate with the St. Louis Rams. Just like Greg Zuerlein, who's 13 for 13 on field goals this year, punter Johnny Hekker is fast making a name for himself. Together, the youngsters have made quite an impact. One has been able to put the Rams (3-2) in scoring position not long after they cross midfield this season and the other has done his best to pin down the opponents. The 6-foot-5 Hekker was undrafted out of Oregon State, the alma mater of running back Steven Jackson. He set a franchise record with a 56.9-yard average in last week's victory over Arizona and had a 46-yard net average with three punts downed inside the 20. A week earlier, the former high school quarterback threw a perfect spiral for a touchdown off a fake field goal attempt in a win over Washington. He's the franchise's lone punter to throw a TD pass since the AFL-NFL merger. "I felt good, put the foot to the ball really well," Hekker said. "It's great when it can work out like that. It's not going to happen like that every game, I wish I could have my expectations set that high." Now, they may be the first roommates to win special teams player of the week honors in successive weeks. After watching with a wide grin while Zuerlein was getting interviewed the last few weeks, Hekker has turned the tables this week, calling out "check, check, check" for the tape recorders and TV cameras. This week, it was Zuerlein's turn to smile at the musings of the outgoing punter while waiting patiently for the crowd of reporters to clear away from his locker. The pair share a two-bedroom apartment above a pizzeria in the St. Louis suburbs. The 22-year-old Hekker said neither does the cooking. Special teams coach John Fassel marvels at the kids' composure, and said their success has nothing to do with teaching them the finer points. "The best thing I do is just say Hey guys, tell me what you need and I'll get out of the way,'" Fassel said. "Those guys have been good. They can definitely get better, but the last couple of weeks they've been pretty good." During training camp, general manager Les Snead said the Rams could afford to part ways with veteran kicker Josh Brown and veteran punter Donnie Jones because they were rebuilding and were prepared for growing pains. So far, there's been none of that with either one. A week earlier, Zuerlein became the first kicker in NFL history to make field goals from 50-plus and 60 or longer yards. He holds the franchise record with a 60-yarder that had plenty to spare, and was the longest field goal by a rookie in NFL history. Zuerlein finished his college career with 21 field goals in a row at Division II Missouri Western, giving him a personal streak of 34 in a row heading into Sunday's game at Miami (2-3). He missed just one of 24 attempts as a senior after beginning the year nursing a lingering hip ailment that cost him a season at Nebraska-Omaha before transferring. Hekker had 52 punts of 50 or more yards in four years as the starting punter at Oregon State, and set a school record with a 52.5-yard average on six punts at Utah last season. He's doing even better at the next level up with a season average of 49.5 yards, fifth best in the league, and a net of 41.2 yards that's 10th best. The Rams prized his directional punting skills out of college, the better to avoid some of the league's best return men, and against Arizona he twice avoided Patrick Peterson with efforts of 68 and 57 yards that bounced out of bounds. On the punts that he hasn't been able to put into the corners, Hekker hasn't been afraid to mix it up. Running downfield after one punt that Peterson returned for 18 yards, the 227-pound punter sent the Cardinals' Justin Bethel sprawling with a push. The hit landed Hekker's name on the Rams' "big board" for knockdowns, tackles and lockdowns. "That's a legal play, get rid of the guys trying to block our guys," Hekker said. "He would have knocked one of our guys down if he had a chance, so I had to get him first." Hekker added: "I talked to him after the game to make sure he was OK." The Rams don't seem to mind the youthful exuberance. Attention to detail, too, from what he's absorbed in the meeting room. "Like somebody said about him, he's a free spirit and he feels like he's a part of the cover teams," Fassel said. "So, he sees us in there talking about them, coaching some things for the cover guys and he must've thought I was also talking to him. I really wasn't, but at least he's paying attention in the meetings." Notes: FB Brit Miller (ankle) was a full practice participant after being held out Wednesday. DE Eugene Sims (head) and DT Matt Conrath also were full go after being limited a day earlier, but DE William Hayes (back) did not practice after being limited Wednesday.
Original Story:
http://www.foxsportsmidwest.com/10/12...
THE BACKYARD
BEST OF MAXIM
RELATED ARTICLES
According to ProFootballWeekly.com, there's at least one source within the St. Louis Rams' organization that believes wide receiver Danny Amendola could be back sooner than expected from his separated AC joint."Our Rams sources are putting their money on WR Danny Amendola returning to action much sooner than later after suffering a shoulder joint injury that normally takes...
Now that St. Louis Rams wide receiver Danny Amendola is out with a dangerous shoulder injury, the St. Louis Rams must turn to second round pick Janoris Jenkins to handle the team's punt return duties.  The rookie corner back out of South Alabama has played superbly in his primary position and has received rave reviews around the league for his tough, physical play at corner...
Bounty Gate has taken on a life of its own, and even after its resolution, there will probably still be conversation. Fresh off of Roger Goodell re-issuing his bounty punishments, news has leaked out possibly involving another witness to the transgressions. Only thing is, the new key witness says he's not a witness and was never spoken to. I know it sounds like an episode of The...
ST. LOUIS (AP) With prolific wide receiver Danny Amendola sidelined by a collarbone injury, the St. Louis Rams will probably need a group effort to make up the volume for the next several weeks. They're doing their best to put a positive face on the situation. Amendola is among the NFL leaders with 32 receptions, and has nearly 40 percent of the Rams' catches on the year...
The St. Louis Rams are 3-2 but have yet to win a road game. The Miami Dolphins are 2-3 but have won only one of their last three games.There is much buzz about coach Jeff Fisher playing against the team he turned down. Below are three bold predictions for the game.Greg Zuerlein breaks the NFL kicking recordSo far Greg Zuerlein has gotten close to a 65-yard field goal but it hasn...
We all make choices in life. They range from serious to frivolous: Which car to drive, where to attend college, whom to approach at a nightclub, whom to date, whom to call at 3 a.m. if we need to post bond. We face decisions each day. Go back to January, and Jeff Fisher had a choice between South Florida sun and a Midwest franchise that had set. The St. Louis Rams were as stable...
  Looking at the numbers, this doesn't look good for the Rams. Since the end of the 2007 season, the Rams have won exactly five road games. Yes, this is a different team, but this new team is 0 and 2 on the road. The Rams need to be able to run the ball, or at least threaten the run to have offensive success. Turns out, Miami is the number one defense against the run in the...
The Miami Dolphins have a chance to even their record at 3-3 on Sunday, and keep pace (although it's early) in both the AFC East and Wild Card races.  The Dolphins have played better than most people expected before the year started. They've been rushing the ball effectively, getting solid play out of their rookie [...]
The St. Louis Rams come to town this week, and I noticed an interesting stat. The Rams play better at home than they do at away games. I guess we could say that about every team couldn't we? With the... Come here for the best Miami Dolphins blog on the web. We have all of the most up to date new and opinions on the Dolphins organization for its fans.
Beware Thy Neighbor! Week 6 NFC West Matchups + Previews RAMS vs. DOLPHINS (SAT Oct 14 1 PM ET) The Rams are off to a good start at 3-2 and their D has been stellar in their last 2 wins only giving up a combined 16 points. The defense may have to play well since the Rams' offense is not a high scoring one and on top of that they led their best WR in Danny Amendola, who is out...
This Sunday, the Miami Dolphins take on the St. Louis Rams in what will prove to be a good match up for both teams.  However, the St. Louis Rams have started to turn some heads with quality victories over the Redskins, Cardinals, and Seahawks.  The Rams feature a tough defense anchored by their always up to no good Safety in Cortland Finnegan and incredible play by Robert Quinn...
NFL News

Delivered to your inbox

You'll also receive Yardbarker's daily Top 10, featuring the best sports stories from around the web. Customize your newsletter to get articles on your favorite sports and teams. And the best part? It's free!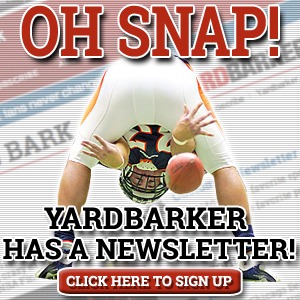 Latest Rumors
The Backyard

Today's Best Stuff

For Bloggers

Join the Yardbarker Network for more promotion, traffic, and money.

Company Info

Help

What is Yardbarker?

Yardbarker is the largest network of sports blogs and pro athlete blogs on the web. This site is the hub of the Yardbarker Network, where our editors and algorithms curate the best sports content from our network and beyond.