Found September 27, 2012 on Fox Sports Midwest:
ST. LOUIS (AP) Looking for a sure thing on offense three games into the Jeff Fisher era with the St. Louis Rams? It might be Greg Zuerlein. The rookie kicker is 8 for 8 on field goals this season, including a 56-yarder last week - 1 yard shy of the franchise record. Sam Bradford passed for 310 yards and three touchdowns two weeks ago, but didn't get the Rams into the end zone in Sunday's loss at Chicago. Running back Steven Jackson is nursing a groin injury. An offensive line that had been keeping Bradford fairly clean surrendered six sacks to the Bears. Zuerlein, a sixth-round pick out of Division II Missouri Western, has been on the money all three games. He's been effective on kickoffs, too, with special teams limiting opponents to a 17.4-yard average return. "I guess I'm just confident in my abilities. I expect to make the kick, so I don't get nervous really," Zuerlein said. "I just go out there focused on what I have to do and make it happen." Special teams coach John Fassel said he's never worked with a kicker this talented so early in his career. If the timing is right, at the end of the half or end of the game, the Rams would be willing to give Zuerlein a shot from 60 yards or beyond. "I'll put it this way, he can set an NFL record if the conditions are right," Fassel said. Fisher, who is in his 17th season as a head coach, said the only kicker he's coached that comes close to Zuerlein's booming leg is Rob Bironas. "Bironas has got a very strong leg," Fisher said. "But I've not seen anybody like Greg." Bradford needs a bounceback game after passing for 152 yards against the Bears, and the Rams (1-2) are hoping to get more out of Jackson, who had just 29 yards on 11 carries. They'll hope for a more cohesive day against Seattle this Sunday from the patchwork line that made its first start as a unit and gets another week to work on fine tuning. As for Greg the Leg, they just want more of the same from the 6-foot, 187-pounder with some serious hidden power. "You see him in the mall, he looks like any other 24-year-old walking around," Fassel said. "But his leg speed is incredible. One of the best things about him is he gets the ball up fast. I mean, that thing gets up fast and the distance is there." Zuerlein's 56-yarder in the second quarter against the Bears is second-best in franchise history behind Jeff Wilkins' 57-yarder in 1998, and it beat the elements, too. Fisher had the punt team on the field because the wind was in the kicker's face, but after a timeout by the Bears the wind changed and Fisher got Zuerlein on the field. Zuerlein said he made a 60-yarder during pre-game warmups at Soldier Field. Zuerlein set a Division II record his senior year at Missouri Western with 21 consecutive field goals, nine from 50 yards or longer with a pair of 58-yarders. The Rams drafted him in the sixth round and released veteran kicker Josh Brown, preferring to rebuild the downtrodden franchise with youth. The Rams also have a rookie punter in undrafted Johnny Hekker, who replaced veteran Donnie Jones. Zuerlein said years spent playing soccer probably accounts for his explosive leg power, and not because of "anything too strenuous" in the weight room. He has a quick approach to the ball with an angle that's not as pronounced as most kickers. "I go in and do the work we're supposed to do, but I can't squat a house or anything like that," Zuerlein said. "It's probably about the same amount of weight just an average person might lift." Fassel believes Zuerlein's strength comes from a strong mental approach, and technique that doesn't change whether it's a chip shot or from midfield. "A 25-yard field goal to him is the same as a 65-yard field goal. Every kick, which is great about him, is the same," Fassel said. "He doesn't kind of just tender-foot the short ones and he doesn't try to kill the long ones." So far, he's been unflappable. Redskins coach Mike Shanahan called last-second timeouts to ice the rookie to no avail, although a kick that didn't count ended up inches wide to the left. Protecting his kicker, Fassel said Zuerlein missed on purpose. "It would have been no good, but luckily he did call that timeout," Zuerlein said with a chuckle. "It worked out for me."
Original Story:
http://www.foxsportsmidwest.com/09/27...
THE BACKYARD
BEST OF MAXIM
RELATED ARTICLES
The topic of whether the St. Louis Rams should return to L.A. needs to be discussed. St. Louis Rams fans will hate this article, because it threatens your very existence as a fan for the ones who go to the games in St. Louis, MS. However with the actual building of a stadium in Los Angeles, CA, the Rams should be given the opportunity to return to the city the Rams called home for...
I think an apology is in order before I kick this article off. I am sorry Steven Jackson. You have spent your entire career playing for a woeful franchise. You have put up Hall of Fame numbers. You have been a first class citizen in the St. Louis community. You have been an outstanding teammate.  You could have went to another franchise and maybe go for a ring, but you chose...
ST. LOUIS Michael Brockers wouldnt say what he did with the big, bulky boot he was forced to wear on his right foot the past few weeks. But rest assured, he gladly disposed of it. Oh yeah, its gone, Brockers said. Thats a taboo. You dont want to keep that around. Get that thing away. The defensive lineman was back on the field Wednesday, practicing for the first time since suffering...
ST. LOUIS (AP) St. Louis Rams running back Steven Jackson did not practice for the second straight day Thursday while nursing a nagging groin injury. While Jackson watches, rookie Daryl Richardson has been making his mark with Seattle up next on Sunday. Richardson was the next to last pick of the draft out of Abilene Christian and at 196 pounds is 40 pounds lighter than Jackson...
St. Louis Rams running back Steven Jackson (groin) missed his second consecutive practice on Thursday, according to ESPN. Jackson picked up the injury in week 2 against Washington, and struggled the next week in Chicago. Daryl Richardson is next in line if Jackson is held out or limited on Sunday's game against Seattle. Jackson has been a durable running back in...
Scary as it may seem, this Rams offense has made progress. Okay, feel free to read on once you're done face palming at the concept of this offense being an improvement. Writers Disclaimer: Be prepared for the tone of this article to swing from positive to negative, hopeful to panic and back again. The first two weeks of the NFL season were relatively encouraging...
Although controversial calls — or, in some instances, the lack thereof — have certainly marred the first three weeks of the NFL season, an objective look at each team's performance will show that this is probably the most competitive season the league has had in a while. No one could have predicted the following tidbit before the season: only three teams (Arizona Cardinals...
It's not the same NFC West anymore. The teams are improving and getting tougher.This week will feature an NFC West matchup between the Rams and Seahawks at the Edward Jones Dome.The last few meetings were quite exciting and this one is guaranteed to have fans on the edge of their seats as well.Below is a list of three bold predictions from one bold Rams fan.Will the big stars...
NFC West matchup: SEAHAWKS vs. RAMS (Sun Sept 30 1 PM ET) The Seahawks are coming off their controversial win over the Packers at Monday night and they are tied at 2-1 with the 49ers 1 game back of the surprising Cardinals. It is no surprise that the Rams are at the bottom of the division at 1-2, but at least they are home in this NFC match up. The Rams are coming off a weak offensive...
The rookie kicker is 8 for 8 on field goals this season, including a 56-yarder last week — 1 yard shy of the franchise record. Sam Bradford passed for 310 yards and three touchdowns two weeks ago, but didn't get the Rams into the end zone in Sunday's loss at Chicago. Running back Steven Jackson is nursing a groin injury. An offensive line that had been keeping Bradford fairly...
NFL News

Delivered to your inbox

You'll also receive Yardbarker's daily Top 10, featuring the best sports stories from around the web. Customize your newsletter to get articles on your favorite sports and teams. And the best part? It's free!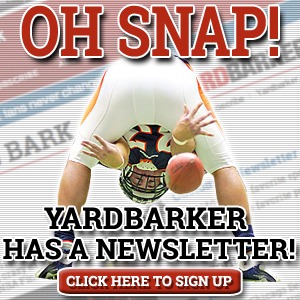 Latest Rumors
The Backyard

Today's Best Stuff

For Bloggers

Join the Yardbarker Network for more promotion, traffic, and money.

Company Info

Help

What is Yardbarker?

Yardbarker is the largest network of sports blogs and pro athlete blogs on the web. This site is the hub of the Yardbarker Network, where our editors and algorithms curate the best sports content from our network and beyond.