Found November 13, 2012 on Fox Sports Midwest:
PLAYERS:
Chris Long
,
Donovan McNabb
,
Dashon Goldson
,
David Akers
,
Greg Zuerlein
,
Andrew Whitworth
,
Eric Decker
,
Rahim Moore
,
Pete Carroll
TEAMS:
St. Louis Rams
,
Minnesota Vikings
,
San Francisco 49ers
,
Cincinnati Bengals
,
Denver Broncos
,
Seattle Seahawks
(AP) -- When St. Louis and San Francisco couldn't produce a winner during 75 minutes of play, the complaints came from all corners of the NFL. Tie games, after all, aren't much fun for the fans or the players, who finish just as unsatisfied as anyone else. "I never had to think about it until now, and I sure don't like it," Rams defensive end Chris Long said. "I think everybody on the field would have liked to have gone back out and just settled it, but that's where we are. That's the rule right now, so it is what it is." The Rams-49ers game Sunday finished at 24-all, the first tie in four years and only the fifth since 1990. So the rule right now that limits regular-season overtime to one period is likely to stay the same for a while. "It's an occasional event. There is no real concern we need to change the system," said NFL executive vice president of football operations Ray Anderson, who happened to attend Sunday's game in San Francisco and was also present for the Atlanta-Pittsburgh draw in 2002. The other recent occurrence was Nov. 16, 2008, when Philadelphia and Cincinnati played at 13 apiece. Eagles quarterback Donovan McNabb infamously acknowledged afterward he was unaware tie games were still possible. San Francisco safety Dashon Goldson said the same Sunday. "When I saw both sides walking onto the field, I was like, Where's everybody going?'" Goldson said. "Did somebody quit? Forfeit?" Goldson, for the record, knew about the new wrinkle that now gives one team the chance to match if the other team gets the ball first in overtime and makes a field goal. (Touchdowns still immediately end the game.) "But I didn't know there wouldn't be a second overtime if nobody scored," Goldson said. Now he does, due to a rare sequence of events during the extra period that kept the two teams even. The Rams had an 80-yard pass on the first play negated by an illegal formation penalty. Then stalwart David Akers missed a 41-yard field goal for the 49ers. Rams kicker Greg Zuerlein made one from 53 yards, but that didn't count because of a delay-of-game call. His next attempt from 58 yards was wide right. By then, the anticlimactic ending seemed inevitable. "Ties just don't seem to make sense in football," said Bengals left tackle Andrew Whitworth, who played in that previous draw in 2008. "There's too much effort, too much sacrifice that goes into this game to end in a tie, that's for sure." The 49ers (6-2-1) now have a hard-to-figure-out lead on the Seahawks (6-4) in the NFC West, which makes Sunday's outcome all the more maddening. "A division game? Oh, wow. I guess that could make it interesting at the end of the year," Broncos wide receiver Eric Decker said. Overtime was introduced at the college level in 1996, and there the teams trade possessions from the 25-yard line until there's a winner. But the time when ties were permitted below the NFL was so long ago that current players never experienced that. Denver safety Rahim Moore dug deep in his memory bank to Pop Warner ball to recall one. "I believe we went triple overtime and we ended up winning and I don't remember how it all went down," Moore said. "It was like the 90s, so I forget. Also, I would say it was in the rain." Even the NHL has abolished ties, using a penalty shot competition after scoreless overtimes in a regular season game with mixed reviews. (Imagine the NFL switching to a punt-pass-kick contest to settle the score!) "I would've loved to see a shootout," Seattle coach Pete Carroll said, joking. "A couple of guys firing the ball at the goal posts. Anything to settle the thing." Uh, don't count on that. Anderson said the NFL's competition committee will consider the overtime rules annually, but in a league where injuries are common the likelihood of a change is slim. "To have these guys going into an additional overtime period or more, we would be taking on some risk we don't think is prudent to take on," Anderson said. The NFL Players Association didn't respond to a request for comment. Another factor working against a change is game quality. With the promise of endless overtimes, if necessary to determine a winner, teams could be tempted to play conservatively down the stretch and bog a contest down in safe runs and punts. There's also the stake the television networks have in this multi-billion-dollar business to consider. CBS and Fox already have to push back lucrative Sunday night shows if games run long during the afternoon. The possibility - even if it's an improbability - of a three-overtime game, then, is not ideal for them even though they'd undoubtedly keep fans glued to their sets for more time in that scenario. Anderson said the NFL has not sought opinion from the networks on the potential of a format switch, though he said of squeezed programming, "I am sure those are legitimate concerns." Anderson said player health and safety is the driver of such discussions. NBC's "Sunday Night Football" producer Fred Gaudelli said he didn't see the need for a change because of the rarity of ties and echoed Anderson's concern of greater injury risk with longer games. But, Gaudelli said, "from a TV perspective, I don't know what the downside would be."
Original Story:
http://www.foxsportsmidwest.com/11/13...
THE BACKYARD
BEST OF MAXIM
RELATED ARTICLES
Jeff Fisher has been around the NFL for 31 seasons as both a player and a coach, so it shouldn't come as much of surprise that the Rams head coach went old school on a pair of rookies who broke team rules. The Rams deactivated rookie wide receiver Chris Givens and rookie cornerback Janoris Jenkins ahead of Sunday's game against the 49ers for breaking an unspecified team rule...
ST. LOUIS - A day after participating in just the NFL's sixth regular season tie in the past 23 years, the St. Louis Rams still couldn't believe what happened Sunday at Candlestick Park in San Francisco. They also couldn't believe the rule. The Rams and 49ers players to a 24-24 draw Sunday after neither team could score in the extra 15-minute overtime period. It was...
Pro Football Talk's Mike Florio writes that Rams WR Danny Amendola is "performing at a level that will compel the Rams to apply the franchise tag" on him during the offseason. Last year, St Louis placed a second-round tender on Amendola and was able to retain him for a very reasonable salary of $1.972 million. He's clearly out performed that deal and is deserving a long...
Danny Amendola's first game in a month for the St. Louis Rams was a huge success. And that's without the 142 yards on a pair of big plays that were nullified by penalty. A day after repeated mistakes cost the Rams an upset at San Francisco, the wide receiver said he'd try to take the positives out the NFL's first tie game in four years. Easy to say, hard to swallow...
(Eds: APNewsNow. Stands for BC-FBN--Rams Rookie Lessons. Will be updated. With AP Photos.) By R.B. FALLSTROM AP Sports Writer St. Louis Rams rookies Janoris Jenkins and Chris Givens are back on the field, and anxious to produce after serving one-game suspensions. Coach Jeff Fisher said both would play Sunday against the New York Jets, but didn't say whether they'd be starting...
ST. LOUIS Smacking lips with your sister can sting for a few moments. Meanwhile, tying in the NFL can leave a foul taste for 38 years. Meet Otis Armstrong. He was a Denver Broncos running back from 1973 to 80. On Sept. 22, 1974, he was part of the NFLs first regular-season overtime tie when Denver and the Pittsburgh Steelers slugged each other before leaving Mile High Stadium even...
I did predict that the game was going to be close!  In fact, the game was so close that nobody ended up winning it.Shortly before the game started it was announced that the rookies Chris Givens and Janoris Jenkins were made inactive becase they had violated the team rules.  Which rule or rules were broken is still unclear.  However, fans are supportive of head coach Jeff Fisher...
Last week: 20 (+1) Record: 3-5-1 On a bye…oh wait…the Rams played last week? But their record didn't change, so they couldn't have played right? It wouldn't be worth busting your ass for 75 minutes if your record didn't change afterwards right? **** ties. Studs QB Sam Bradford: 26 of 39 for 275 yards and 2 touchdowns, 3 throw aways, 3 batted passes, 2 spikes, 1 hit as...
Surprises arise every week in the National Football League. It was no different Sunday, as upsets were abound and teams played out of their character.Coming off the bye week with a home game against a losing team, the San Francisco 49ers were set to route an outmatched divisional rival. Guess again! While the Rams clearly entered Candlestick Park ready to play, the Niners started...
Pay attention, Donovan McNabb. The 49ers and Rams battled to a 24-24 tie on Sunday afternoon, marking the NFL's first tie since 2008 when McNabb's Eagles couldn't beat the Cincinnati Bengals. McNabb famously did not know that games could end in ties back then, and judging from Danny Amendola's comments after this game, it appears that many players still aren't studying...
NFL News

Delivered to your inbox

You'll also receive Yardbarker's daily Top 10, featuring the best sports stories from around the web. Customize your newsletter to get articles on your favorite sports and teams. And the best part? It's free!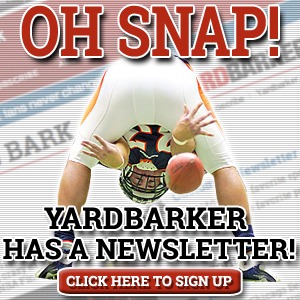 Latest Rumors
The Backyard

Today's Best Stuff

For Bloggers

Join the Yardbarker Network for more promotion, traffic, and money.

Company Info

Help

What is Yardbarker?

Yardbarker is the largest network of sports blogs and pro athlete blogs on the web. This site is the hub of the Yardbarker Network, where our editors and algorithms curate the best sports content from our network and beyond.