Found August 21, 2013 on HTTR4LIFE.COM:
When I heard Randy Moss was hired by Fox Sports my first thoughts were not exactly positive, although I knew it wouldn't be long before he made a statement worth quoting. As it turns out, I was right as Moss recently stated that "if RGIII's knee hold's up, It's straight 'Skins homie." Moss also commented [...]
Original Story:
http://httr4life.com/randy-moss-strai...
THE BACKYARD
BEST OF MAXIM
RELATED ARTICLES
Randy Moss, one of the most well known modern day football stars is already beginning to show his true colors on national television. During an episode of the new Fox Football Daily, Moss was asked about who he predicted to win the NFC East this season. Although Randy Moss has always been one for quotable moments on camera, this one may just take the cake. Moss was quoted saying...
According to a BlackSportsOnline article Randy Moss doesn't want people to consider him as a member of the media. "I don't like that term. I just like being called part of FOX Football Daily and our Sunday show. I am not part of the media. That's not my label, and I don't want it to start now. I love the game of football, and this is just a new way for me to be part of...
Randy Moss is already killing it as a commentator for FoxSports1.  Check out the highlight below for some classic Randy: NFL on FOX Analysts Party at Encore Beach Club Randy Moss Thinks Drew Brees Should of Given 'Straight Cash Homie' To That Waitress (Video)
I bet he'll "straight cash" those media checks. During his NFL career Randy Moss wasn't one of the most "media friendly" players.  And now that he's technically a member of the media, as an analyst for the new Fox Sports 1 network, he doesn't like that label. "I don't like that term. I just like being called part of FOX Football Daily and our Sunday show. I...
Randy Moss was a one-of-a-kind player, and he's hoping to be a one-of-a-kind football analyst on TV. But forgive him if he's not quite ready to assume the title that was a dirty word when he was playing for the other side. "I don't like that term," Moss said of being called an analyst in an interview with Sports Illustrated's Richard Deitsch. "I just like being called...
Peyton Manning never truly had the success he wanted at the University of Tennessee. Manning finally won a SEC title as a senior, but eventually lost to Nebraska and Tom Osborne during the 1998 Orange Bowl. The question remains though, what would have happened had Manning been able to play with an elite wide receiver. Manning recently told Fox Sports that he tried to get one of the...
One and only Randy Moss likes Skins to repeat as NFC East champs. [Bog] Skins Kirk Cousins looks to have avoided major injury on his foot. [CSNW] Mike Vick will start for Eagles in MNF opener against the Skins. [MMQB] A look at what the Orioles need to do to make the playoffs. [Camden Chat] Losing another game they can't afford, Orioles go down to Tampa. [BS] Even in an ugly, boring...
In one of the greatest moments of Minnesota Viking history, Randy Moss caught a touchdown in Lambeau Field during a playoff game against the Brett Favre-led Green Bay Packers, essentially putting the nail in the coffin, embarrassing the Packers on their home field, and knocking them out of the playoffs. And then he mooned the fans. I mean, is that not every single item you would...
Some people have a hard enough time catching a damn pass, never mind trying to do it while attempting backflips.  Can this be an extra point in PPR leagues?  Check out the video: Antonio Smith Takes Off Richie Incognito's Helmet and Smacks Him With It (Video) Randy Moss on His NFC East Prediction is 'Straight Skins' Homie' (Video)
This has to be one of the most awesomely horrific things that has ever been created.  The best part is that I am almost 100% sure this was on purpose.  See the video below and I dare you not to laugh your ass off: Randy Moss on His NFC East Prediction is 'Straight Skins' Homie' (Video) Antonio Smith Takes Off Richie Incognito's Helmet and Smacks Him With It (Video)
The Champions League is back this morning, if you have a random midweek afternoon off. People don't seem to like Richie Incognito.Also, Randy Moss, studio analyst. Every new college football uniform for the season. Nice work, Sports Illustrated. SCOREBOARD MLB New York Mets 6, Minnesota 1 – The Mets have been unstoppable in interleague play.
49ers News

Delivered to your inbox

You'll also receive Yardbarker's daily Top 10, featuring the best sports stories from around the web. Customize your newsletter to get articles on your favorite sports and teams. And the best part? It's free!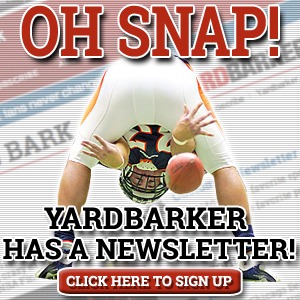 Latest Rumors
The Backyard

Today's Best Stuff

For Bloggers

Join the Yardbarker Network for more promotion, traffic, and money.

Company Info

Help

What is Yardbarker?

Yardbarker is the largest network of sports blogs and pro athlete blogs on the web. This site is the hub of the Yardbarker Network, where our editors and algorithms curate the best sports content from our network and beyond.