Found December 21, 2012 on Ravens Football Machine:
PLAYERS:
Justin Tuck
,
Osi Umenyiora
,
Jason Pierre-Paul
,
Ahmad Bradshaw
,
Hakeem Nicks
,
Eli Manning
,
Tom Coughlin
,
Victor Cruz
,
Martellus Bennett
,
Michael Oher
,
Mathias Kiwanuka
,
Perry Fewell
,
Adrian Tracy
,
Chris Snee
,
David Baas
,
Ray Lewis
,
Bernard Pollard
,
Jameel McClain
,
Vonta Leach
,
Torrey Smith
,
Bernard Pierce
,
Terrell Suggs
,
David Wilson
,
Matt Bosher
,
Justin Tucker
,
Paul Kruger
,
Matt Birk
,
Jimmy Smith
TEAMS:
New York Giants
,
Baltimore Ravens
,
Atlanta Falcons
Alex Raskin of CBS Sports.com is a respected analyst who is unbiased toward New York sports teams. Still, I didn't expect Raskin to get on the Ravens bus for this one. This game to me is a pick'em. Both teams match up evenly across the board. Even their injury counts are eerily similar. I would even argue that the Giants have more motivation and need to win than the Ravens, who have already backed into the playoffs. Raskin calls for the Ravens to win big on Sunday...I mean really big. Here we can follow his reasoning:         Giants at Ravens -- Week 16 Where: M&T Bank Stadium, Baltimore, Md. (Shaw Sportexe Momentum Turf, outdoors) When: Sunday, 4:25 p.m. ET (Fox) Spread: Giants by 2 Forecast: Temperatures in the high 40s. Mostly sunny with winds out of the west at 10 mph. Records: Giants (8-6; NFC East 2-3), Ravens (9-5; AFC North 4-1) What Raskin thinks matters: A major reason the Giants have just 32 sacks so far this season is because they haven't been able to play with a lead much over the second half of the year. Logically, teams tend to pass more when they're playing from behind...therefore, less sack opportunities for the Giants as they have trailed in the score for most games. Making issues worse for the Giants has been their porous run defense, which has yielded 4.6 yards per carry (26th in the NFL). All of this points to one thing: The Giants need an early lead on Sunday. When New York plays with the lead, they don't have to worry about opposing running backs as much and they can let defensive ends Justin Tuck, Osi Umenyiora and Jason Pierre-Paul focus on rushing the passer. When they trail they're putting a lot of pressure on the defense to stop the run and they basically take the potency out of their own pass rush. Who Raskin thinks matters: A lot of eyes will be on RB Ahmad Bradshaw (knee/foot) if he's able to return this Sunday, but the real difference maker on offense remains WR Hakeem Nicks. Nicks admitted on Thursday that he and QB Eli Manning have been "a hair" off on their timing this year, but he thinks that's about to change. On Friday coach Tom Coughlin acknowledged that the Giants have had fewer big plays this year, and the absence of that "threat" has changed the way opposing defenses have played the Giants. If Nicks and Manning can get on the same page, things will open up for Bradshaw, WR Victor Cruz and TE Martellus Bennett, but for that to happen, Nicks needs to be feeling like his old self. Raskin's key matchups: Ravens LT Michael Oher will see both Umenyiora and Pierre-Paul (and possibly even DE/SLB Mathias Kiwanuka) on Sunday. The Ravens rank 15th in the NFL in passing attempts and 13th in sacks allowed, so there could be some opportunities for the Giants pass rush. Pierre-Paul (6.5 sacks) isn't having the same success he had last year (16.5 sacks), but defensive coordinator Perry Fewell insists the third-year end is playing very well. Even if Pierre-Paul doesn't get sacks, he is creating pressure and making things more difficult for opposing quarterbacks. Injuries of note: Tuck (shoulder) is questionable and did not practice at all this week, so we could see some movement along the Giants defense. Kiwanuka, Pierre-Paul or DE Adrian Tracy could all see themselves on the left side of the line at some point. Everyone else worked on Friday, including Bradshaw (knee/foot), Nicks (knee), RG Chris Snee (hip) and C David Baas (hip/shoulder). Coughlin said he expects Ravens LB Ray Lewis (biceps) to be active on Sunday. Ravens S Bernard Pollard (chest), LB Jameel McClain (neck--now ruled out) and RB Vonta Leach (ankle) are also battling injuries. Ravens WR Torrey Smith (head) has yet to take his baseline test. RB Bernard Pierce is also likely out with a concussion. Terrell Suggs is playing with one arm (biceps) on one good leg. Raskin's Inside Stuff: Giants' KR David Wilson came tumbling back to earth in last week's loss to the Falcons. After gaining 227 yards and a touchdown on four returns in Week 14, Wilson was held to just 66 yards on three returns in Atlanta. The obvious difference was that Falcons P Matt Bosher produced four touchbacks and sent three other offerings deep into the end zone. So, in the course of two weeks, the Giants' average starting field position went from their opponents' 49-yard line to their own 18. Of course, the second leg of that came in a dome. Baltimore plays outside, not inside a dome, but that hasn't stopped K Justin Tucker from ranking fifth in the NFL in touchbacks. The bottom line is, if Coughlin was expecting to be starting around midfield as the Giants did in Week 14, he's likely going to be disappointed on Sunday. All of this adds up to Raskin's prediction: Ravens 30, Giants 10. Wow. I think he's underestimating the injury situation for the Ravens. Baltimore's linebacking crew is a debilitated mess injury-wise, with the possible exception of Paul Kruger. And Raskin doesn't mention the injuries on the Ravens offensive line, which has really struggled to get any kind of good push in recent weeks. RG Marshal Yanda may give it a go (bad ankle). C Matt Birk is pretty banged up but will go. The Ravens are very thin at cornerback right now, too. Jimmy Smith (groin) is back but still not 100 percent. Unless the Ravens get up early on the Giants, something like 14-0 in the first quarter, I can't see Raskin's prediction coming true. I think it may well turn into a grind-it-out game to the end. I think the Ravens are a weaker team right now than Raskin realizes.  
Original Story:
http://www.ravensfootballmachine.com/...
THE BACKYARD
BEST OF MAXIM
RELATED ARTICLES
IN HINDSIGHT...
Osi Umenyiora's contract with the Giants expires after this season, and he said he blames himself if he does not finish his career in New York.
On Friday we posted that Baltimore Ravens safety Bernard Pollard spoke up about finding solutions to the team's recent woes. The return of their emotional backbone Ray Lewis may be step one towards a complete recovery. Team sources that are claiming that Lewis will more than likely face the New York Giants in a pivotal game for both teams.  Please Click Here To Read This Story...
Former New York Giants linebacker Antonio Pierce told ESPN Radio in New York that he believes Giants defensive end Justin Tuck isn't the  player that he once was. "I played with Justin Tuck and have a tremendous respect for him. But he has not been the same player emotionally, mentally or his play in the last three years. It's just the facts," Pierce said, per ESPNNewYork...
According to ProFootballTalk.com, Bob Glauber of Newsday was a guest on Pro Football Talk on the NBC Sports Network and he mentioned that New York Giants defensive end Justin Tuck was held out of practice both Wednesday and Thursday because of a shoulder injury. Tuck has a shoulder injury, which has kept him out of practice the last two days.  Bob Glauber of Newsday said earlier...
The New York Giants never had a chance to make a comeback against the Atlanta Falcons on the road last Sunday. The simple, and usually comforting reality surrounding this team is that it will live and die by the right arm of quarterback Eli Manning. When Manning is on, there are very few teams around the league that can beat the Giants. However, when Eli plays like he did last Sunday...
According to Ian Rapoport of the NFL Network, Baltimore Ravens linebacker Ray Lewis isn't expected back before the playoffs.  There's a chance he'll be able to play in the postseason, but nothing is certain at this point. #Ravens LB Ray Lewis is NOT expected to return from his triceps tear for the regular season, I'm told. Back for the playoff still possible — Ian Rapoport...
Last week: 13 (+0) Record: 8-6 Net points per drive: 0.42 (8th) DVOA: 13.3% (7th) Weighted DVOA: 10.5% (8th) I went back and forth on Chicago/NY Giants for the final playoff spot. The Giants control their own destiny, but the Bears have very winnable games against Arizona and the team who lost to Arizona (Detroit) to finish their season, while the Giants have to go to Baltimore....
Public opinion backs the Giants on the road this week but the selection is misguided. After losing to the Broncos last week Baltimore has now lost consecutive home contests after winning 16 in a row on their home turf; but have traditionally played their best ball at home and appear ready to bounce back after a beating at the hands of the Broncos for their 9th straight victory. Jim...
Jack Pinto was a huge New York Giants fan who considered wide receiver Victor Cruz his favorite football player. So it was only fitting that Jack, one of the 20 children killed in last week's horrific school shooting in Connecticut, was laid to rest paying tribute to his favorite player. The 6-year-old was buried in a replica Cruz jersey, something that obviously touched Cruz....
Unlike for the New York Giants, the FOX America's Game of the Week is not a must-win affair for the Baltimore Ravens. The Ravens are in the playoffs already. They could even fall Sunday to the Giants (4:25 p.m. ET kickoff) and still capture the AFC North title with a Week 17 victory in Cincinnati. However, such a scenario doesn't make the possibility of a fourth consecutive...
NFL News

Delivered to your inbox

You'll also receive Yardbarker's daily Top 10, featuring the best sports stories from around the web. Customize your newsletter to get articles on your favorite sports and teams. And the best part? It's free!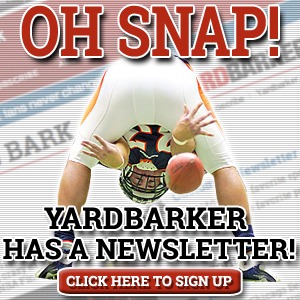 Latest Rumors
Best of Yardbarker

Today's Best Stuff

For Bloggers

Join the Yardbarker Network for more promotion, traffic, and money.

Company Info

Help

What is Yardbarker?

Yardbarker is the largest network of sports blogs and pro athlete blogs on the web. This site is the hub of the Yardbarker Network, where our editors and algorithms curate the best sports content from our network and beyond.