Posted January 30, 2013 on AP on Fox
PLAYERS:
Jim Harbaugh
,
John Harbaugh
,
Ray Lewis
,
Colin Kaepernick
,
Alex Smith
,
Joe Staley
,
Frank Gore
,
LaMichael James
,
Cam Cameron
,
Jim Caldwell
,
Joe Flacco
,
Peyton Manning
,
Tom Brady
,
Dennis Pitta
,
Patrick Willis
,
Aldon Smith
,
Ahmad Brooks
,
Donte Whitner
,
Art Modell
TEAMS:
San Francisco 49ers
,
Baltimore Ravens
,
New England Patriots
Preparing their respective teams for Super Bowl XLVII might be easier for John and Jim Harbaugh than having to downplay the distraction of becoming the first brothers to coach against one another on the NFL's biggest stage. With each focused on trying to take home the Lombardi Trophy, Jim's San Francisco 49ers look for a record-tying sixth Super Bowl title Sunday in New Orleans when they face John's Baltimore Ravens, who hope to send one of the game's greatest players off to retirement in style. Moments after Baltimore's 28-13 win at New England in the AFC championship game Jan. 20, the colorful descriptions for this season's Super Bowl began to surface: The Brother Bowl. The Har-Bowl. The Super-Baugh. For game broadcast network CBS, advertisers and certainly those in the NFL front office, the matchup has the potential to be a ratings smash. For the brothers Harbaugh, at least publicly, it's just another game. "Well, I think it's a blessing and a curse,'' said Jim Harbaugh, 15 months younger than 50-year-old John. "A blessing because that is my brother's team. And, also, personally I played for the Ravens. Great respect for their organization. "The curse part would be the talk of two brothers playing in the Super Bowl and what that takes away from the players that are in the game. Every moment that you're talking about myself or John, that's less time that the players are going to be talked about.'' John Harbaugh understands the magnitude of this meeting in terms of football significance, but that's about it. "I like reading a lot of history ... I guess it's pretty neat,'' he said. "But is it really going to be written about? It's not exactly like Churchill and Roosevelt or anything. It's pretty cool, but that's as far as it goes.'' Perhaps the matchup will be hardest on the Harbaughs' parents, Jack and Jackie. The couple has lived through this experience once on a lesser scale when Baltimore improved to 3-1 in the all-time series with a third straight win over the 49ers, 16-6 on Thanksgiving Day in 2011. "I am going to be neutral in the game,'' Jackie Harbaugh said. "I know one is going to win and one is going to lose, but I would really like to end in a tie. Can the NFL do that?'' Regardless of who wins, the family can celebrate the accomplishments that brought the brothers to this point. Jim, who never made a Super Bowl appearance during his 15-year playing career, has guided the 49ers (13-4-1) to New Orleans after losing 20-17 in overtime to New York in the conference championship last season. Aiming to equal Pittsburgh's record six Super Bowl titles, San Francisco has not played on this stage since a 49-26 win over San Diego capped the 1994 season. Jim's brother has the Ravens (13-6) here for the first time since they ended the 2000 season with a 34-7 rout of the Giants in Super Bowl XXXV, their first championship. Future Hall of Fame linebacker Ray Lewis was MVP of that game, and he can try to win the award again in his last contest before retiring after a stellar 17-year career with Baltimore. As with his last appearance in the Super Bowl, however, controversy has surrounded Lewis, albeit on a significantly lower level. When Lewis hoisted the Lombardi Trophy in January 2001, it was almost a year since his involvement in the stabbing deaths of two people outside an Atlanta nightclub hours after St. Louis' Super Bowl win over Tennessee at the Georgia Dome. Lewis, who had been charged with two counts of murder before striking a deal to testify against two of his friends, pleaded guilty to a misdemeanor charge of obstruction of justice and received a one-year probation and a $250,000 fine by the NFL. The trial made headlines for a good portion of 2000 before Lewis led the Ravens on their championship run that fall. The murders were never solved. Lewis has since rehabilitated his image, but this week has been forced to answer questions regarding a recent Sports Illustrated report linking him to a company that makes deer-antler spray, which contains a banned performance enhancer. The report stated Lewis sought help from the company that makes the product to speed his recovery from a torn right triceps injury which forced him to miss 10 games this season. Lewis has denied the allegations. "I've never took what (the report) said, or did whatever I was suppose to do," said Lewis, who brought down Jim Harbaugh for his first career sack. "I don't need it, my teammates don't need it, the 49ers don't need it. Just to entertain it, I won't. I can't." His coach does not expect this to be a distraction. "He's been through this so much, he's a singularly focused individual," John Harbaugh said. "As far as football, it's not even a factor for us. It's too bad it's something that gets so much play." Lewis and a defense that held the Patriots to one touchdown in the AFC title game will do their best to stop versatile San Francisco quarterback Colin Kaepernick. A second-round pick in 2011, Kaepernick has gained sudden stardom for going 7-2 after taking over as the starter after Alex Smith suffered a concussion in Week 10. In those nine games, Kaepernick has completed 62.7 percent of his passes and thrown 13 touchdowns with four interceptions while averaging 7.3 rushing yards and a 101.2 passer rating. In San Francisco's 45-31 divisional-round win over Green Bay on Jan. 12, he threw for 263 yards with two TDs and set an NFL playoff rushing record for a quarterback with 181 and two scores. The 49ers have averaged 28.6 points in the last nine games with Kaepernick starting - 4.9 more than the previous nine started by Smith. Mobile and athletic, Kaepernick has brought a new dimension to the 49ers offense as his ability to scramble also buys him time to employ his powerful and accurate right arm. "We're going to have to keep him inside and in front of our defense," John Harbaugh told the Ravens' official website. "We're not going to be able to run past him. He's fully capable of putting 200 yards on you in a second." Kaepernick's effect on the offense was evident during his team's 28-24 conference championship victory at Atlanta, when he threw for 233 yards and a TD as the 49ers rallied from a 17-point first-half deficit. "Anybody that is out there on the football field, you want to see them produce and get results,'' left tackle Joe Staley said. "I think it was one of those things where we saw him in practice and we just wanted to see how he was going to handle the situation in the games. He has done that.'' Kaepernick is complemented by the 49ers' powerful ground attack, which was fourth in the NFL with 155.7 yards per game. Frank Gore rushed for 1,214 yards and eight TDs on the season, while speedy LaMichael James provides a change of pace to Gore's bruising style. Like his brother's move to stick with Kaepernick when Smith was again healthy, John Harbaugh's decision to fire offensive coordinator Cam Cameron and promote quarterbacks coach Jim Caldwell in December also has paid off. Baltimore is 4-2 with Caldwell running the offense, and Joe Flacco has thrown 10 TDs and no INTs while posting a 111.5 passer rating to lead his team to victories in four of the last five. The first quarterback to win a playoff game in each of his first five seasons, Flacco has won an NFL-record six playoff road contests. He's thrown eight touchdowns while beating Andrew Luck, Peyton Manning and Tom Brady this postseason. His three second-half TDs helped the Ravens overcame a 13-7 halftime deficit at New England two weeks ago, and he engineered a miraculous tying drive in the final minute against Denver in the divisional round of that overtime victory. "You naturally become more of the guy when you spend a number of years in the league,'' said Flacco, who will become an unrestricted free agent after the season. "As a quarterback, it's my job to lead from Day 1. "I think it's just one of those things you dream of when you are a little kid. So, to be here at this point is pretty special.'' Flacco threw for 161 yards and tossed an 8-yard pass to tight end Dennis Pitta for the game's only touchdown against San Francisco last season. Though much less mobile than Kaepernick, he also boasts a strong and accurate arm that will likely present a serious test to the 49ers' secondary. Though the 477 yards the 49ers gave up against the Falcons were the second most they've allowed this season, Flacco and the Ravens know they're in for a major challenge Sunday. Led by arguably the most feared linebacking corps in the league - a group highlighted by Patrick Willis, Aldon Smith and Ahmad Brooks - San Francisco's defense ranked second in the NFL in scoring defense at 17.1 points per game and third in yards allowed at 294.4. That unit remains the heart of a team which believes it's meant to be in this spot. "I would say this is the most talented team I have been on," safety Donte Whitner told the 49ers' official website. "Not only talented, but guys come and work hard. When you mix talent and hard work, the results are the Super Bowl." This will be the 10th time New Orleans has hosted the Super Bowl and first since Hurricane Katrina ravaged the area in 2005. It's yet another sign of the resurgence of a city that also has hosted the BCS national title game and the men's Final Four over the last 18 months. "That is an extraordinary run of events for a city that seven years ago was 15 feet under water and the last on every list in America that mattered,'' mayor Mitch Landrieu said last week. "Now we find ourselves in a city that's on the world stage.'' This Super Bowl will be something of a bittersweet moment for the Ravens with longtime owner Art Modell passing away Sept. 6 at age 87. The players have worn patches that read "Art" on their jerseys throughout the season.
Original Story:
http://msn.foxsports.com/nfl/story/Ra...
THE BACKYARD
BEST OF MAXIM
RELATED ARTICLES
In advance of the much-hyped Harbowl (or "Super Browl", if you will), Reddit brings us this absolute gem from the Harbaugh brothers' childhood. Check out young John and Jim decked out in their Baskin Robbins little league unis, with the elder John towering over the befuddled looking Jim: (via reddit) And after some incredible interweb sleuthing, we uncovered a few more classic...
Mark Kac was a Polish-born mathematician, best remembered for a paper he wrote in 1966 entitled "Can One Hear the Shape of a Drum?" I have not read it. That little bit of info I know only from his bio which had no record of him loving American football, the NFL or any team in particular. He is dead, or I would ask. I bring Kac up only because he had a theory that best...
John Harbaugh: Almost game time. Jim Harbaugh: Mmhmmm. John: The talking is finally done. Time to play this thing. Jim: Oh, I'm ready. John: I was ready before I got to New Orleans. Jim: I was born ready. John: I was born ready. And I was born first, so I'm more ready. Jim: The people and creatures I was in previous lives were ready. We carried out our various existences just...
NEW ORLEANS -- John Harbaugh and his younger brother Jim shared a bedroom growing up, but they can't split the Lombardi Trophy. One will experience the elation of winning Super Bowl XLVII, the other deflated by defeat. "In any game, that's always something you think about. Jim has pointed this out before, it's not really about how we're going to feel,&quot...
Not much setting up needed for this one. World Wide Interweb has tracked down and compiled some photos of San Francisco 49ers players (and their head coach, Jim Harbaugh) and Baltimore Ravens players (and their coach, John Harbaugh) as they were when they were much, much younger, long before these men were preparing to play in all likelihood the biggest game of their lives on the...
After one of the most memorable regular seasons in recent memory, the 49ers have finally made it to the Super Bowl for the first time since 1995.John Harbaugh has only been the head honcho in San Francisco for two seasons, but he's already made back-to-back NFC Championship appearances, and is heading to his first Super Bowl this Sunday.Harbaugh was lucky to be surrounded by...
Super Bowl fever is in full force and rightfully so as this years matchup most likely will be the most gambled single sporting event of all time. Although, I can say I am a bit worn out and emotionally perplexed after religiously betting NFL games week to week, my spirit is picking up and I am ready for one more run; hopefully I end the season on a high note. After doing some minor...
StraitPinkie looks at some of the better/more interesting props available for this years Super Bowl. If you don't have a bookie to take your action or don't understand money lines, no worries this is for entertainment purposes not financially advice…bet an adult beverage drink (aka shot) with you game watching pals. If you decide to go my way, please make sure to have a D.D...
NFL News

Delivered to your inbox

You'll also receive Yardbarker's daily Top 10, featuring the best sports stories from around the web. Customize your newsletter to get articles on your favorite sports and teams. And the best part? It's free!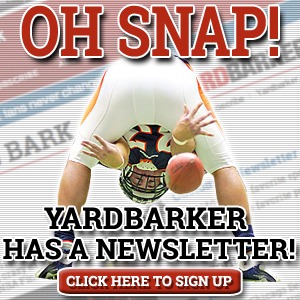 Latest Rumors
The Backyard

Today's Best Stuff

For Bloggers

Join the Yardbarker Network for more promotion, traffic, and money.

Company Info

Help

What is Yardbarker?

Yardbarker is the largest network of sports blogs and pro athlete blogs on the web. This site is the hub of the Yardbarker Network, where our editors and algorithms curate the best sports content from our network and beyond.