Found November 19, 2012 on Ravens Football Machine:
PLAYERS:
Joe Flacco
,
Torrey Smith
,
John Harbaugh
,
James Harrison
,
Byron Leftwich
,
Ray Rice
,
Corey Graham
,
Jimmy Smith
,
Lardarius Webb
,
Jerricho Cotchery
,
Mike Wallace
,
Jacoby Jones
,
Terrell Suggs
TEAMS:
Baltimore Ravens
,
Pittsburgh Steelers
Byron played his heart (and his right rib cage) out in this one, but the Baltimore defense prevailed...           When the Ravens won here last year, Joe Flacco threw a game-winning, 26-yard TD pass to Torrey Smith with eight seconds on the clock. This time? "We won by taking a safe sack," Ravens coach John Harbaugh said inside a festive visitor's locker room after the 13-10 squeaker against the Pittsburgh Steelers. Talk about winning ugly. When Flacco was dumped for a three-yard loss on third-and-two by James Harrison on Baltimore's last offensive play just after the two-minute warning, the most important objective was to keep the clock moving. Sure, a completion that moved the chains would have been even better. But in a survival-of-the-fittest bloodbath when the teams combined to convert just eight of 31 first downs and with the Steelers out of timeouts, it was a matter of beating the clock. Harbaugh's defense finished the job after a punt pinned the Steelers and fill-in quarterback Byron Leftwich into a corner, allowing the Ravens (8-2) to open up a two-game lead atop the AFC North. "What we didn't do was give them an opportunity to win the game, which is just as important," Harbaugh said. "More teams lose than win in this league." Take it from Ray Rice, the dynamic Ravens running back. He rushed 20 times for 40 yards, and so often when he thought he saw an open hole it was closed by the fast-pursuing Steelers defense. Rice averaged 2 yards per carry. Yet he looked like one of the happiest Ravens in the house. He was even seen twirling a Terrible Towel and singing the Styx classic, "Renegade" as he entered the locker room. "We don't play for stats here," Rice said. "We're playing to win games. The world gets caught up in fantasy stats. For us, the fantasy stat is 8-2." They came to town with the NFL's 27th-ranked defense, and had the traditionally-stiff run defense gashed for 134 yards and 5 yards per carry. The battered unit started Corey Graham at cornerback for just the second time this season as Jimmy Smith joined the other top cornerback, Lardarius Webb, among the ranks of the injured. But by the end of the night, Graham was a shining example for the virtues of next-man-up expectations. Graham collected Leftwich's only interception, a leaping snag deep down the middle early in the third quarter. On the next series, he broke up a pass in the end zone for Jerricho Cotchery and crowded Mike Wallace enough that the pass was caught out of bounds, forcing the Steelers to settle for a chip-shot field goal, which chalking up another stop for the NFL's best red-zone unit. But who cares about stats? This was another resourceful win for a team that has had five of its games settled by three points or less. Baltimore's only touchdown came on a 63-yard punt return by Jacoby Jones, and what a difference it made. Flacco had such a big arm to power an explosive offense the last time he visited. But with his assortment of wild passes and an apparently conservative approach, he was not the same quarterback this time around. In fact, on his final snap, he was instructed to take the safe sack rather than risk a costly mistake. Done. Although he completed 20-of-32 passes for 164 yards, he never threw a pick or fumbled the ball away. Still, the Flacco-armed unit converted just 3 of 14 third downs. "I don't care," Harbaugh said of the third-down rate, with this weekend's trip to San Diego looming. "Prognosticators, you take that in account and predict the next game. That's what guys do. But every week is different." "Yes, we have to get better to win this next game. We're not going to be able to put that kind of offensive performance out there in San Diego. But if we do, if we have to, I don't care." The big takeaway for the Ravens is improvement, even with another smackdown of their biggest rival and a padded division lead. This is still a Super Bowl-or-bust type of mission, and it takes a complete team that is peaking at the right time to win titles. "Everybody's looking for consistency," Harbaugh says. "Maybe there's a few teams that do that. I'd like to be one of them at some point. But the main thing is playing the game to win that game." True enough, but the deeper this season goes, the more the issues that plague the Ravens will threaten the ultimate mission. Said Rice: "I think it was Terrell Suggs who said, 'We're a pissed-off 8-2.' We've got to get better. Every week, it's something different."  
Original Story:
http://www.ravensfootballmachine.com/...
THE BACKYARD
BEST OF MAXIM
RELATED ARTICLES
Tweet Pittsburgh Steelers back up quarterback Byron Leftwich isn't exactly known as the fastest QB in the league. He's actually one of the slowest. That didn't stop Leftwich from scampering by the Baltimore Ravens defense for a 31-yard touchdown in the first quarter of their matchup Sunday night: Leftwich's previous longest run from scrimmage was [...]
After taking a beating during last night's loss to the Ravens, Pittsburgh Steelers quarterback Byron Leftwich may not play next week after suffering multiple injuries, per Jason La Canfora of CBS Sports. The Steelers plan on working out some quarterbacks this week, since Charlie Batch is their only healthy quarterback right now. Steelers concerned Leftwich will be out for a while...
The Pittsburgh Steelers are running out of quarterbacks with healthy ribs. A person familiar with the injury told The Associated Press quarterback Byron Leftwich injured his ribs in the first quarter of Sunday night's 13-10 loss to the Baltimore Ravens and will not start next week in Cleveland. The Pittsburgh Steelers are running out of quarterbacks with healthy ribs.
The Pittsburgh Steelers didn't skip a beat with Byron Leftwich replacing injured Ben Roethlisberger at quarterback Sunday night. That's right. Leftwich can do everything Roethlisberger can do. He showed the same stage presence as Roethlisberger when he clutched his throwing shoulder on every other play. His shoulder bothered him because for some reason his touchdown dance involved...
Baltimore shined in prime-time once again and improved to 8-2 on the season taking a two game lead in the AFC North standings.  The Ravens have played in prime-time four games this season and remain undefeated when the bright lights are on. Sunday night's game was much closer than expected, as the Ravens escaped Pittsburgh with a 13-10 victory over the Steelers. The Ravens struggled...
The Pittsburgh Steelers were already without their starting quarterback Ben Roethlisberger when they took on the Baltimore Ravens Sunday night, and now the team has announced it will likely starter third-stringer Charlie Batch against the Cleveland Browns due to Byron Leftwich's fractured ribs. Leftwich's inability to get the ball out quickly coupled with the Steelers'...
With both Byron Leftwich and Ben Roethlisberger injured, the Pittsburgh Steelers will be working out both Mike Kafka and Brian Hoyer this morning., according to Jason La Canfora of CBS Sports. From what I can gather, sounds like Mike Kafka and Brian Hoyer the only 2 QBs being worked out by the Steelers Tues. They intend to sign one — Jason La Canfora (@JasonLaCanfora) November...
Mike Tomlin labeled Byron Leftwich's performance as "gritty," but Mike Prisuta points out that "gritty" wasn't enough with all of the other mistakes being made.
Most Steelers fans weren't giving the team a shot during the first of two bouts against the Baltimore Ravens in the next 3 weeks. The Steelers were without 3 Pro Bowlers: Ben Roethlsiberger, Troy Polamalu and Antonio Brown. The Ravens were coming off a dynamite performance last week and have a healthy Joe Flacco/Ray Rice combination that has given the Steelers fits. Pittsburgh...
Yes, it's me again. After a month off, cause that's how I roll, I'm here to bring you a summary of last night's football themes event colored with my own funny ha-ha's, hopefully some charming and profoundly sensual anecdotes, all mixed with plenty of Roethlisberger rape references. And don't worry, the fact that Byron Leftwich started last night will not lead me astray...
With Ben Roethlisberger — and now Byron Leftwich — sidelined with rib and shoulder injuries, the Pittsburgh Steelers are on the hunt for more depth behind new starting quarterback Charlie Batch. To that end, NFL.com's Ian Rapoport reported that the Steelers will host former Philadelphia Eagles backup Mike Kafka for workouts today, according to sources who…
There was so much to talk about in the Ravens vs Steelers matchup at Heinz Field this past weekend that we decided to break it up into a two part show so we covered as much as possible. Matt and Marc are joined by long time friend of the show, Dominic from TribLive Radio and PittsburghSportingNews.com . Dom always has great insight both from the media perspective as well as the fan...
NFL News

Delivered to your inbox

You'll also receive Yardbarker's daily Top 10, featuring the best sports stories from around the web. Customize your newsletter to get articles on your favorite sports and teams. And the best part? It's free!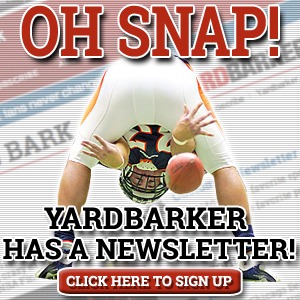 Latest Rumors
Best of Yardbarker

Today's Best Stuff

For Bloggers

Join the Yardbarker Network for more promotion, traffic, and money.

Company Info

Help

What is Yardbarker?

Yardbarker is the largest network of sports blogs and pro athlete blogs on the web. This site is the hub of the Yardbarker Network, where our editors and algorithms curate the best sports content from our network and beyond.