Found August 04, 2012 on Ravens Football Machine:
The Ravens gave their fans a treat with an open practice held at their home stadium on Saturday, August 4th.  I don't know why more teams don't do the same in their respective hometowns... It's such a great PR gesture.
Gates opened at 3:30 p.m. and practice started at 5. The practice was free and open to the public.
Nice.
One of the things Garrett Downing of the Ravens.com staff advised us to watch in the 11-on-11 drills was the emergence of undrafted linebacker Albert McClellan as he fights for a spot in the LB rotation.
Albert McClellan, OLB and special teams, 6-2, 255, acquired by Ravens in 2009 as undrafted free agent out of Marshall...spent 2010 on PS8...got some playing time in 2011...and now looking to establish himself in the defensive rotation.
McClellan is hoping to take on a larger defensive role this season and is competing with Paul Kruger for a starting outside linebacker spot. He has not generated much buzz in the media, but the coaching staff has said on numerous occasions that he's off to an impressive start. "That guy, really, I think has had a real good camp so far," Defensive Coordinator Dean Pees said. "It's early, but he's had a good camp." McClellan primarily played special teams last year, but did get defensive action in seven games. His biggest performance came when he started for injured linebacker Ray Lewis on Thanksgiving Day against San Francisco. McClellan registered four tackles and helped lead the Ravens to a 16-6 victory. He came into the NFL as an undrafted free agent out of Marshall, and spent the 2010 season on the Ravens practice squad. At 6-foot-2, 255 pounds, McClellan is built to play a number of different positions. He was a defensive end in college, but during his time with the Ravens he has played inside and outside linebackers, as well as special teams. "Albert is very versatile," Head Coach John Harbaugh said. "The more you can do in our whole system, the better off you are going to be. Albert can play a lot of positions because he is so smart." In addition to competing with Kruger for a starting job, McClellan will challenge Sergio Kindle and rookie Courtney Upshaw for playing time. And if one of the inside linebackers like Lewis or Jameel McClain were to go down with an injury, McClellan has shown he is capable of filling in for them. Wherever he ends up playing, McClellan's focus right now is to keep performing at a high level in practice and continue to work his way up. "I'm looking at it as an opportunity," he said. "I'm just taking every chance that I get. I'm not going to turn down anything and I'm going to take on as much as I can handle."
Another guy Downing says Ravens fans should focus on during practice is newcomer Corey Graham.
Graham, 27, signed with the Ravens after five years with the Chicago Bears. He played every aspect of Chicago's special-teams unit and was a Pro Bowler last season after recording 22 special-teams tackles and one forced fumble. But he also wanted to have a chance to play defense, which drew him to Baltimore as a free agent. The Ravens released veteran cornerbacks Domonique Foxworth and Chris Carr this offseason, creating an opening in the secondary that Graham thought he could capture...
Graham has been a consistent standout of the defense, working as the nickel and dime cornerback and taking a number of reps with the first team. He's made several interceptions in practice – including one Thursday that he picked off in the end zone are returned to midfield – and looks primed to take on a valuable role on defense. "I knew that when they got an opportunity to finally see me play that they would like what I could do out there," Graham said. "It's not something where I didn't know if I could play defense or corner in this league. I knew it from the beginning."
Original Story:
http://www.ravensfootballmachine.com/...
THE BACKYARD
BEST OF MAXIM
RELATED ARTICLES
Baltimore Ravens quarterback Joe Flacco has in recent years said some things that have garnered national attention. He once said he thought the Ravens organization was disrespected by the national media who spent more time talking about Tim Tebow's accomplishments than the Ravens, who at the time were fighting the Pittsburgh Steelers for the top [...]
Ravens offensive tackle Bryant McKinnie returned to town Sunday afternoon, arriving at Baltimore-Washington International Airport with his luggage and a sore lower back. The former Pro Bowl blocker said after his flight that his four-day absence from training camp was due to a lower back injury suffered during an accident at his home in South Florida last week. McKinnie said he...
Imagine yourself a defensive end in 1996, actually, imagine yourself Pat Swilling, the Oakland Raiders starting right defensive end on opening day of the 1996 NFL season. You've been in the league 10 seasons, been to five Pro Bowl's, you've had a good run, but you know you're on the down side of your career. You're just trying to finish out the rest of it without getting...
Two of the more prominent Ravens passed their conditioning tests and will now be able to practice with the team, according to reports. Left tackle Bryant McKinnie, who was dealing with a bad back, passed his conditioning test and will now have to earn a starting spot. The biggest name to pass is Haloti Ngata. The mammoth defensive tackle had missed the beginning of training camp...
You probably know Joe Flacco the most for  saying that he is the best quarterback in the league, even better than Aaron Rodgers. How will Joe Flacco fare in 2012 (Courtesy Zimbio) Flacco is overall, a pretty good quarterback but sometimes gets a little too full of himself. Last season, him and the Baltimore Ravens had a very good season. Flacco threw 12 interception and had  9...
The preseason opener for the Ravens is four days away and the offensive line will be missing one key component: center Matt Birk. Birk is dealing with back spasms and will miss the preseason opener in Atlanta on Thursday, according to multiple reports. This shouldn't be a big deal as Birk has never missed a start in the regular season since signing with the Ravens.
Growing up near D.C., the only team in the area at the time was the Washington Redskins and that is the only team I've ever rooted for. Then in 1996, in comes the Baltimore Ravens moving into town and quickly they made noise throughout the AFC North and in the area I lived in. No, I never converted to be a Ravens fan and my dad would appreciate that but I have a lot of respect...
Ravens: Corey Graham proving he's more than a special-teams ace Cornerback has had a strong training camp
NFL News

Delivered to your inbox

You'll also receive Yardbarker's daily Top 10, featuring the best sports stories from around the web. Customize your newsletter to get articles on your favorite sports and teams. And the best part? It's free!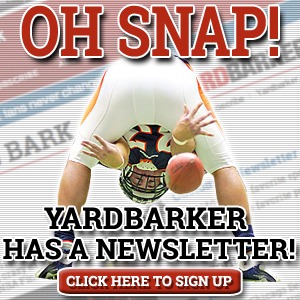 Latest Rumors
Best of Yardbarker

Today's Best Stuff

For Bloggers

Join the Yardbarker Network for more promotion, traffic, and money.

Company Info

Help

What is Yardbarker?

Yardbarker is the largest network of sports blogs and pro athlete blogs on the web. This site is the hub of the Yardbarker Network, where our editors and algorithms curate the best sports content from our network and beyond.