Found January 18, 2013 on BlackSportsOnline:
Ravens star linebacker Ray Lewis will be playing his final game or two in the next few days and Baltimore fans are beyond sad to see him go. Lewis is beloved in the city, and we know some fans will take their appreciation a little overboard just to express themselves. Such is the case of Ravens and Lewis fan James E. Long Jr, or better known on twitter as @ravenmanic.  Long loves the Ravens and in tribute to Lewis, got this amazing haircut. Long reportedly has been walking around with some type of Ravens haircut since January 4. Rev Ray would be proud.
Original Story:
http://feedproxy.google.com/~r/blacks...
THE BACKYARD
BEST OF MAXIM
RELATED ARTICLES
The Baltimore police department put together a video to show support for the Ravens as they head to New England to face the Patriots in Sunday's AFC Championship playoff game. In addition to the cops having some important messages for the Patriots, we watch them imitate the Ray Lewis pregame dance. The video features special messages to the police department from Ravens stars...
We have all been planning for Ray Lewis to play in his last game for the last few weeks, maybe we should stop? People in the Boston are pretty confident that the New England Patriots will be able to do what the Broncos and Colts failed to do in previous weeks, and end the career of the Baltimore Ravens legendary linebacker. They are so confident that they are counting down the days...
More specifically, a retirement party. Everyone please meet in the conference room after the AFC Championship Game for refreshments and a farewell speech. Ray Lewis will then be presented with a nice send-off gift, like a diamond-studded bowie knife. Though if the Ravens win, that could make things a touch awkward. Dare I say this is "bulletin board material"? Can you fit a billboard...
Bill Belichick may eventually end his career as the ultimate coach of his era. During the last press conference before his New England Patriots vie for a Super Bowl against the surging Baltimore Ravens, Belichick stepped away from his usually stoic demeanor to display excitement for the road ahead. Please Click Here To Read This Story & Our Ravens at Patriots Prediction. The...
For those who are fans of when Tom Brady gets worked up and starts calling out his fellow Patriots, the unfiltered version of such passion will be on full display Sunday. Ray Lewis has brought emotion and intensity to every game he's ever played, but it's been at another level for the last two games, now that Lewis has announced that he is retiring once this season is over. With...
A man with the Twitter handle @RavenManiac is swept up with the fever that only the playoffs and Ray Lewis' farewell to bionic arms can bring. With only a little hair dye, a clipper and some bath salts, you too can be a Ravens Maniac with a bird face for a skull. I suppose it's also possible he's a big fan of the old "Battle of the Planets" cartoon series. I have my doubts...
Ray Lewis' powerful locker room speech from last year's heart-tearing loss in the AFC Championship at the hands of the New England Patriots included the prospects of holding heads high, getting back to work, and returning to the very same position this season.Despite the incredible odds against accomplishing such a feat, the Ravens defeated the top seeded Broncos, 38-35, in Denver...
Ok, so the Bengals are out. However, NFL football is still going on and like us, most of you will be watching. Who do you root for? Personally I am torn. Part of me wants to root for the Ravens. My reasoning is that they are a division opponent and whats good for the division is good for the Bengals. The Bengals will get to play them twice next season and it would be nice to beat...
Playoffs: 5-3  REGULAR SEASON: 168-86-1 (66%) Def. I can't believe I'm making this selection, but I just have a feeling the Ravens are on that kind of roll the Giants had last year. The return of many players including Ray Lewis has really rejuvenated this team. I don't have a big write-up on this one because logic does indeed point to the Patriots...
8 a.m. ET: The day of reckoning is upon us, at least for those of us who intently follow the NFL. The NFL's conference judgment day will begin with the San Francisco 49ers' visit to Atlanta for the NFC crown, but all eyes will be peeled for the Ravens' trip to Foxboro to mark a repeat of last season's AFC title game. Tom Brady has been preparing for his chance at a sixth...
are you f**king kidding meIf you needed a reason to hate the Baltimore Ravens, here is a group of their fans becoming an accessory to a goddamn Carly Rae Jepsen 'Call Me Maybe' cover in 2013. 2013. They went with 'Bring On Brady' as their hook, too, which apes the "Brady sounds like maybe, let's do a Call Me Maybe parody about him" joke somebody made eight months ago...
I'm going to keep the ranks post short and sweet this week as we wind down.  The ranks were only 2-2 last week predicting games, as the Ravens upset the Broncos in stunning fashion and the Falcons finally cooled off the Seahawks, but not after a valiant effort to come back. Here are power ranks' picks this week: #1 Patriots over #6 Ravens The Ravens win over Denver allowed them...
Ravens News

Delivered to your inbox

You'll also receive Yardbarker's daily Top 10, featuring the best sports stories from around the web. Customize your newsletter to get articles on your favorite sports and teams. And the best part? It's free!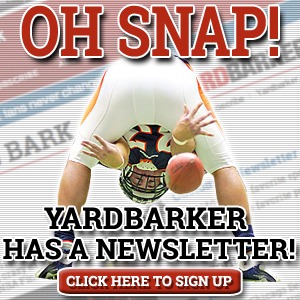 Latest Rumors
Best of Yardbarker

Today's Best Stuff

For Bloggers

Join the Yardbarker Network for more promotion, traffic, and money.

Company Info

Help

What is Yardbarker?

Yardbarker is the largest network of sports blogs and pro athlete blogs on the web. This site is the hub of the Yardbarker Network, where our editors and algorithms curate the best sports content from our network and beyond.